O . . . M . . . Gossip Girl.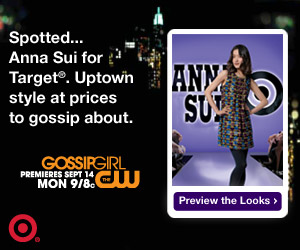 This just in: Anna Sui and Target have hooked up to create fashion inspired by the designer's favorite show, Gossip Girl. Best of all, it's available at prices to gossip about. Now, the big question is: which of the show's four main characters best reflects your fashion sense and personality? Is it charming and ruthless Blair's love of glamorous classics with a modern twist? Self-assured Serena's ability to make haughty Euro-styles look easy breezy? Innocent and quirky Jenny's rocker-chic fashion turn? Or outcast Vanessa's penchant for bold colors and patterns that set her apart from the Upper East Side elite?
Whatever style is right for you, you can get it at Target now. Best of all, you don't have to have the finances of an heiress to afford it.