Pantone's 2012 Color of the Year: Tangerine Tango
Fire Things Up With Pantone's 2012 Color of the Year
Like us on Facebook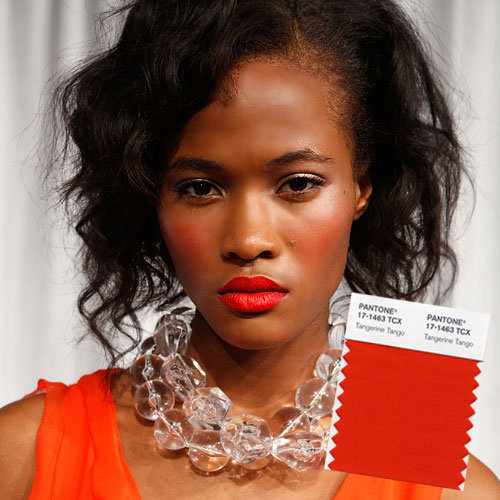 The color experts and trend forecasters at Pantone have just named Tangerine Tango the 2012 color of the year. "Reminiscent of the radiant shadings of a sunset, Tangerine Tango marries the vivaciousness and adrenaline rush of red with the friendliness and warmth of yellow, to form a high-visibility, magnetic hue that emanates heat and energy," the institute's Leatrice Eiseman said in a statement. We saw the vivid hue all over the runways at Spring 2012 Fashion Week, with shows such as

Jason Wu

(lipstick),

Chris Benz

(lipstick), Milly (nails), and Joy Cioci (lipstick and blush, pictured above) featuring the reddish-orange shade.

Why is this color so versatile? It can look fresh practically anywhere on the face, including the cheeks and eyes. It also makes blue and green eyes pop and gives brown eyes an amber tone. Look forward to the release of a Pantone-branded makeup line in March — featuring the red-hot color, naturally.