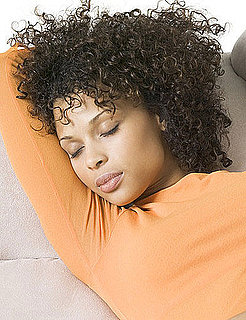 When you're feeling less than perky, those dark under-eye circles that show the telltale signs of fatigue sure don't make it any better, now do they? Celebrity makeup artist Brett Freedman is here to help. He's already shared with us his tips for
perking up those tired eyes
with concealer — and a chilled spoon — and now, he's got some more ideas for creating an instant "face-lift." Check them out when you keep reading.
Go against the grain: If you're feeling a little gray, you might head for darker, muted shadows, blushes, and/or cheek colors to hide behind. Freedman advises you to think again. "Do what your instinct tells you not to," he says.
Think juicy: When it comes to makeup shade selection, instead of wearing low-on-color pigments, think juicy, brighter shades instead. They'll provide an immediate lightened effect.
Curl power: In times when you're feeling a bit burned out, reach for a tool. "A lash curler is your best friend," he says.
It's all about the contrast: In keeping with the go-against-your-instinct advice, while you might think that adding a dark liner and mascara to your eyes will only make them look more tired, it's actually quite the opposite. A deep-colored liner, along with a couple layers of mascara on the lashes, will help to bring out the white of your eyes by creating contrast. It's an instant brightening effect.