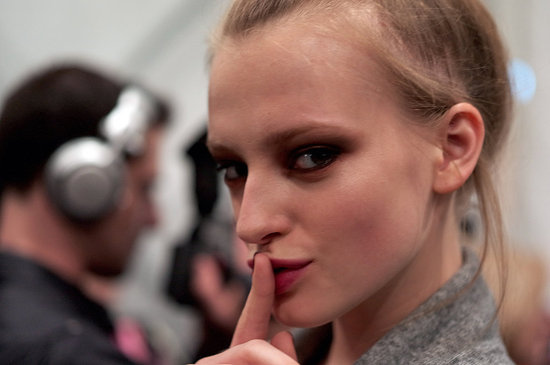 Can you keep a secret?
Rebecca Taylor
isn't necessarily as sweet as her feminine clothes suggest. Case in point: the strong, sexy makeup at her spring 2011 show.
"We're going for a strong '70s look, not too literal," lead makeup artist Sil Bruinsma explained. "We're going easy on the foundation, but it's definitely going to be about eyes and lips." On the center of lids, he applied a copper-colored MAC eye shadow called Spectacle of Yourself. To define eyes more, he applied MAC's Stubborn Brown eye pencil around the eyes, then layered the shadow on top. (MAC eye pencil in Coffee was used on the waterline of the eyes.) Lips sported MAC Pro lipstick in Charred Red, the finishing touch to what Bruinsma termed a YSL-inspired look.