There's nothing more classic than a red lip and winged eyeliner. While you can get away with wearing that basic look all year round, you'll want to try this amped-up summertime version. With the help of MAC Cosmetics senior artist Regan Rabanal, we've created two makeup looks for day and night that focus on a crimson lip. The first is a washed-out stain that's definitely office appropriate. The second is an intense ruby pout with a blue cat eye (yes, blue). It's one timeless look, done two different ways!
Photos by: Caroline Voagen Nelson [1]
Day: (Eye) Color Theory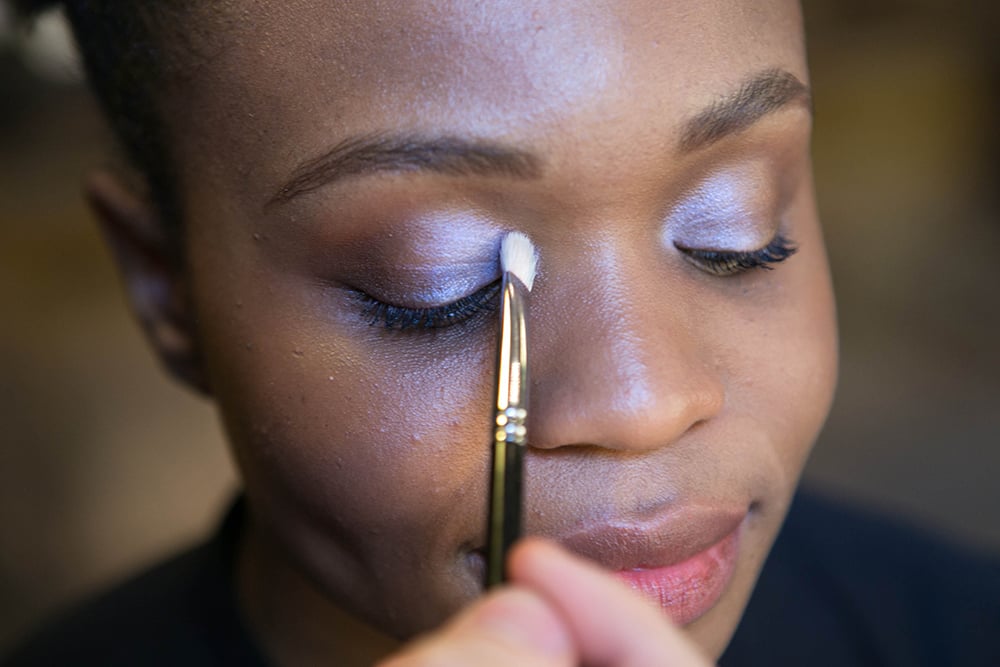 The highlight of the daytime look is the eyes. First, Rabanal coated lids with an iridescent shadow called Vellum [2] ($17) in a nod to the '60s. The cool bluish-purple hue is the perfect complement for brown eyes. It will make hazel pupils look warmer and brighter. Try a reddish, bronze shade if you have green eyes or an orangey hue if you're a blue-eyed lady.
Photos by Caroline Voagen Nelson [3]
Day: Light on the Lip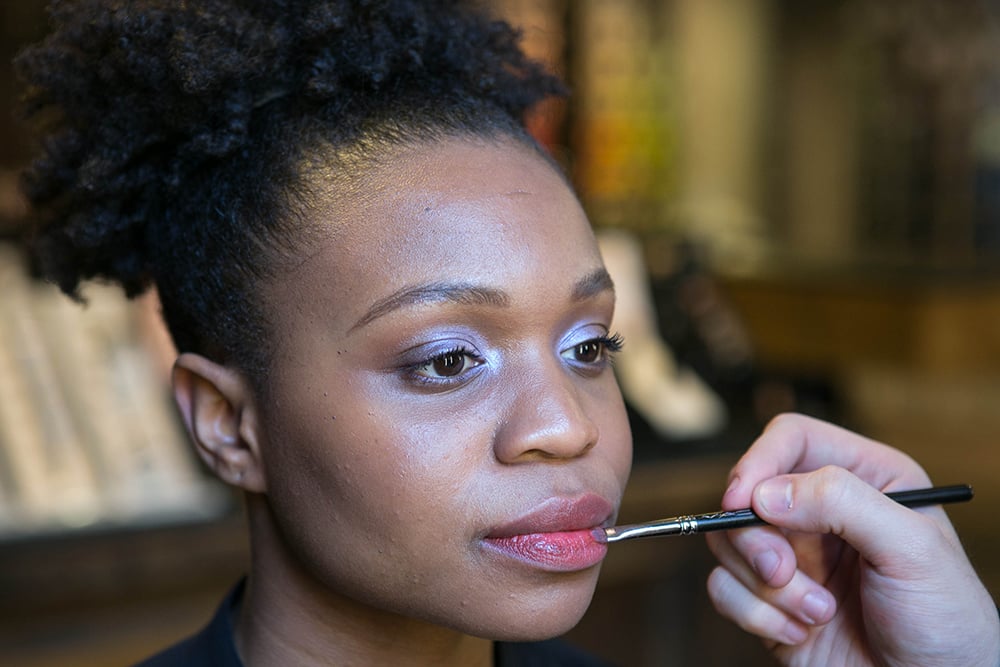 For daytime, you don't want your lip to be too overpowering. Swipe on a light coat of a red shade like MAC Viva Glam I [4] ($16), which has a brown undertone to it. No lip liner necessary!
Photos by Caroline Voagen Nelson [5]
Day: Ruddy Cheeks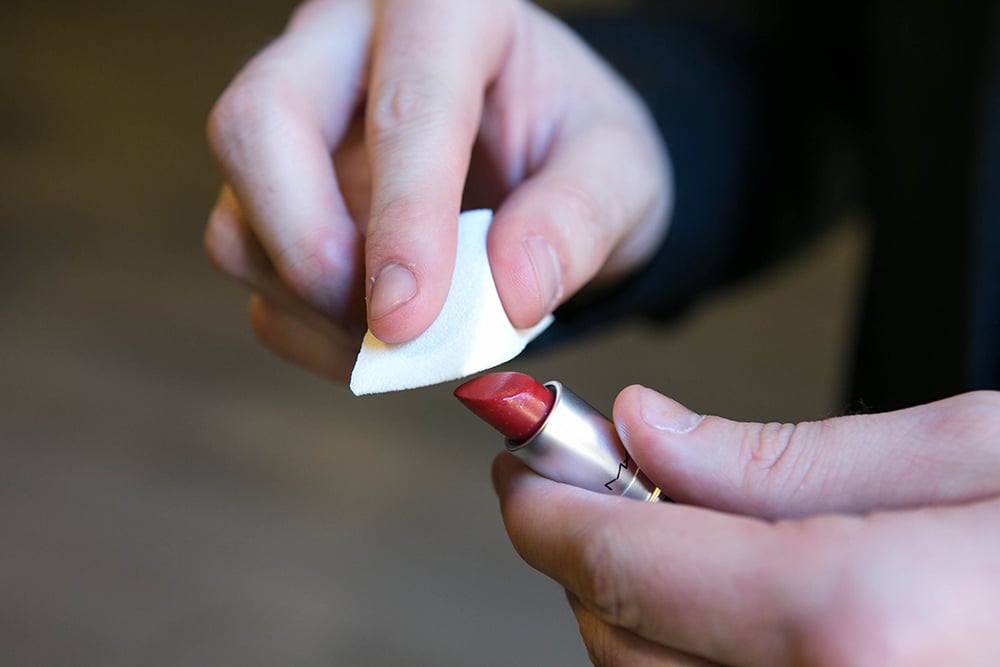 Rabanal also used the lipstick as blush. Apply the product to a sponge, and press into the apples of the cheeks. Even though you might avoid red blush, it works to give you a natural flush.
"Cream makes the skin look hydrated, and the red looks like a blood-induced glow, embarrassed, happy, excited," he said. Women with lighter skin tones should only use a dab to avoid looking sunburned.
Photos by Caroline Voagen Nelson [6]
Day: Finished Look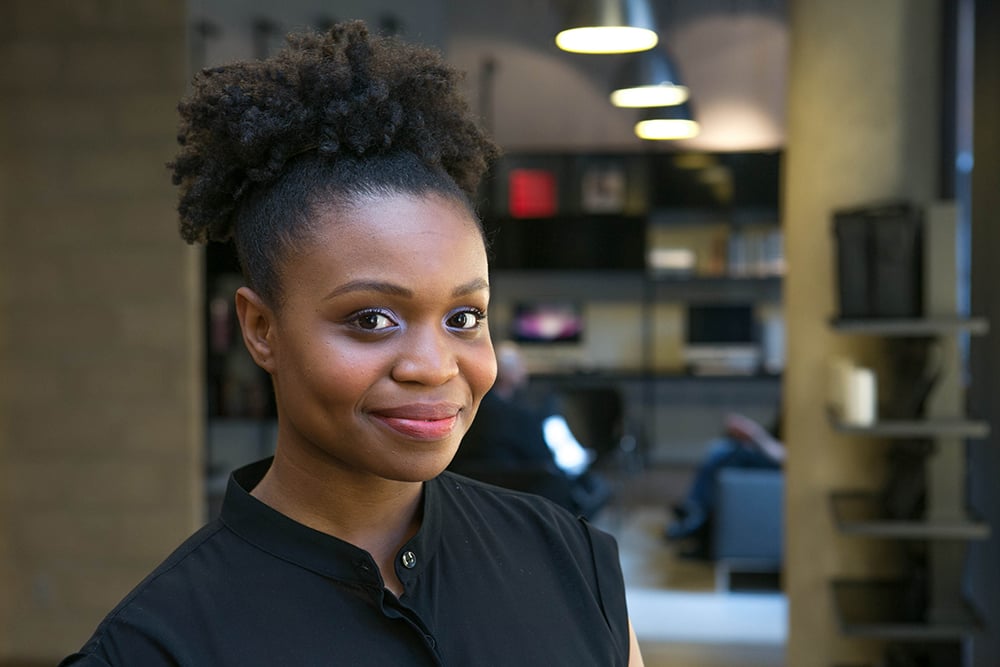 Photos by Caroline Voagen Nelson [7]
Night: Faded Out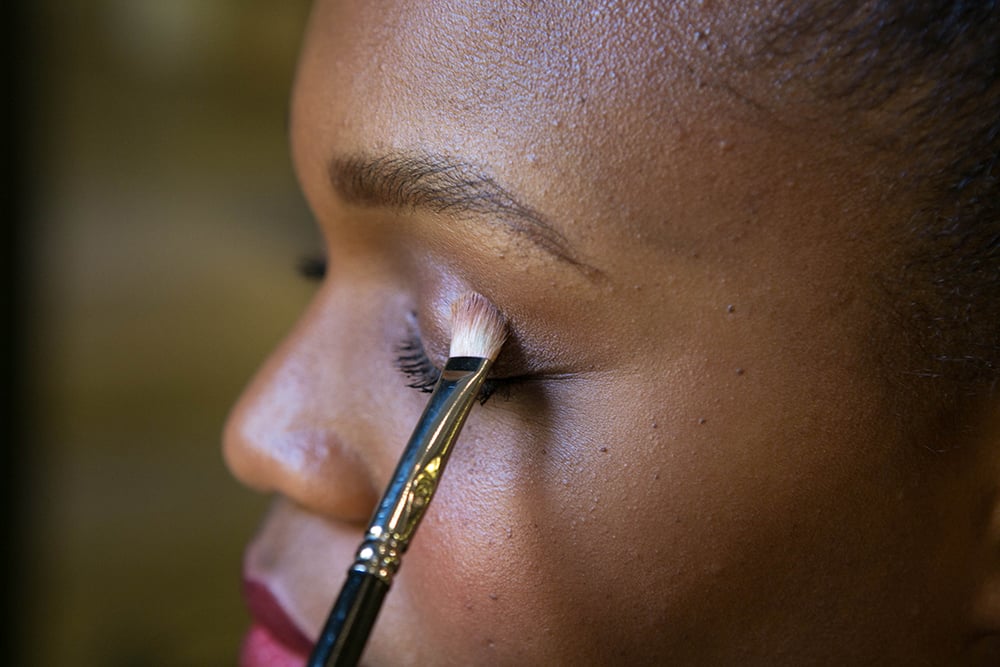 After a long workday, your makeup has likely faded a bit. "At the end of the day, you're not going to have the intensity that you had earlier," Rabanal said. "Your eyelid might have a bit of oil or moisture. Just take a dry brush, and rub through that to reset it."
Photos by Caroline Voagen Nelson [8]
Night: Blurred Lines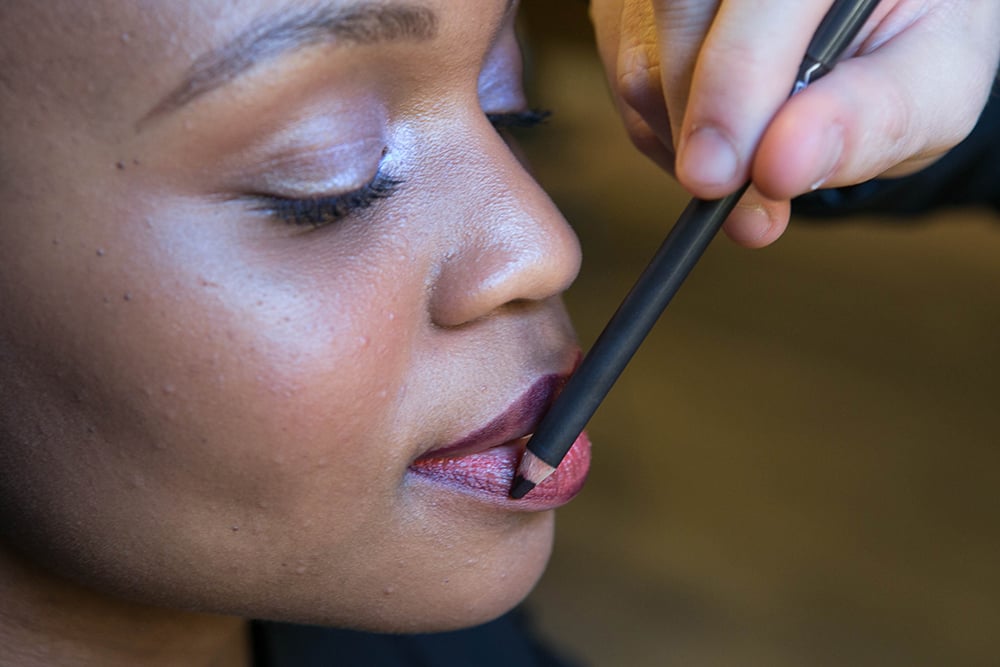 To deepen the red lip color for night, Rabanal outlined lips with the MAC Lip Pencil in Currant [9] ($15) to create an blurred effect.
Pro tip: your lip pencil is actually one makeup tool you don't want too sharp. "A blunt lip pencil lays against the lip better," Rabanal explained. "Take a tissue and pinch the tip of the pencil so it flattens." He topped the brick red pencil with MAC Lipstick in Lady Bug [10] ($16).
Photos by Caroline Voagen Nelson [11]
Night: Wings First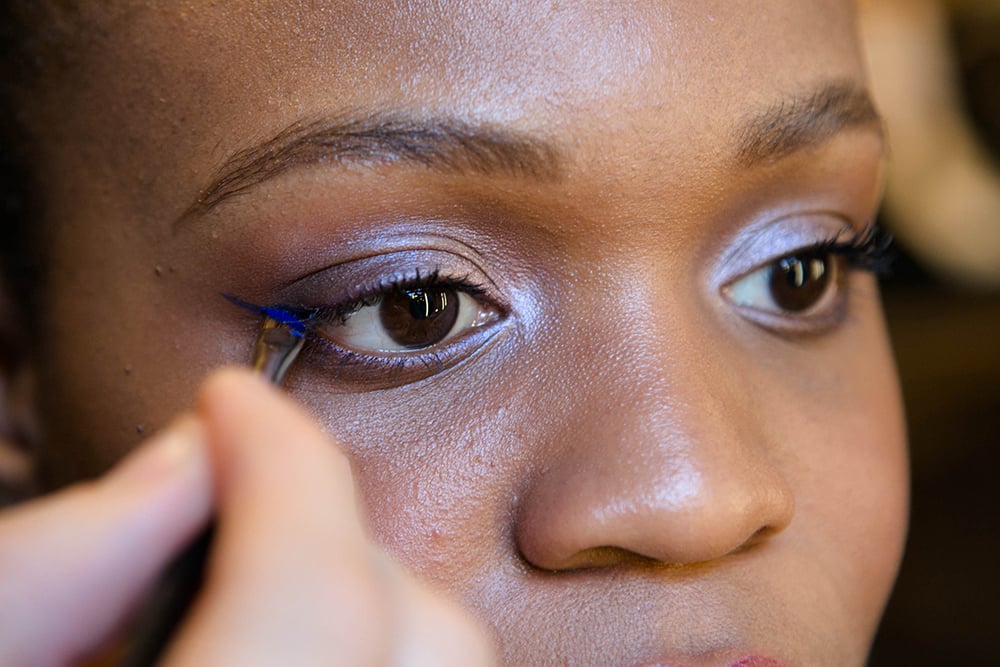 The winged eyeliner look is one that even seasoned beauty editors have trouble pulling off consistently. Here are Rabanal's tips. "When you're a beginner, you're going to need a cream or gel-based eyeliner medium to work with because it's a little bit more forgiving than something that's straight-up liquid." He also recommends using a brush — like MAC No. 266 [12] ($20) — over a felt-tip pen to get more control.
Photos by Caroline Voagen Nelson [13]
Night: Chin Up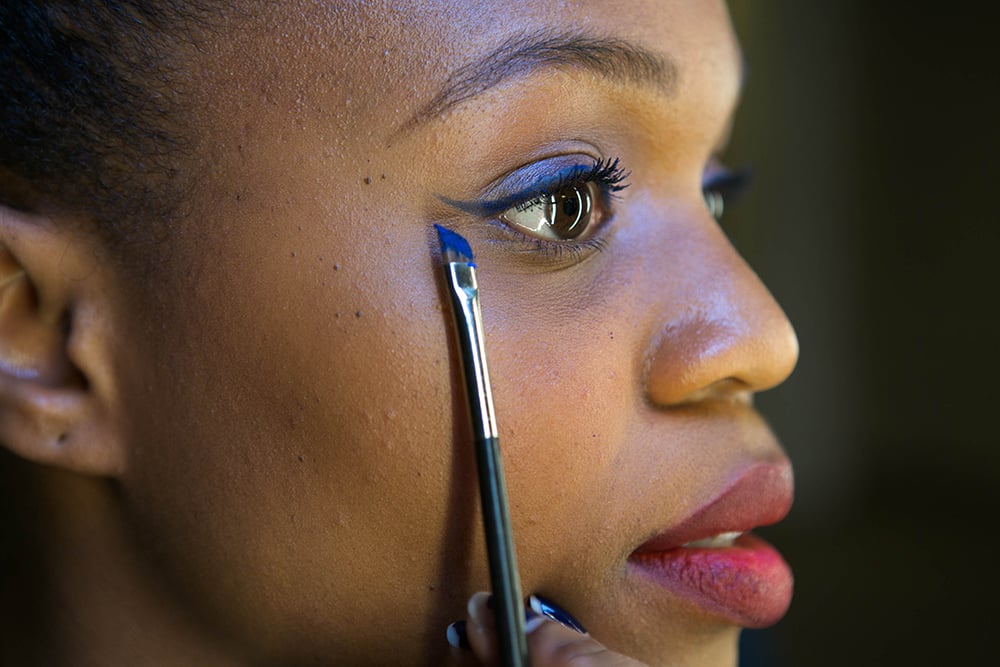 "The most important part of the winged liner is the wing, so start with the tail first," Rabanal said. "You want to make sure it complements your eye. The most complementary shape is built off your bone structure." Once both flicks are symmetrical, go back in, and draw a thin line along the top lashes.
Rabanal used Chromaline in Marine Ultra [14] ($20). You can also try Fluidline in Waveline [15] ($16) for a more subtle, navy look. When you're doing this in the mirror at home, keep your chin up and eyes open to get the best results.
Photos by Caroline Voagen Nelson [16]
Night: The Finished Look
Photos by Caroline Voagen Nelson [17]