At the Salute the Runway Spring 2015 fashion show, we got to see something very rare for New York Fashion Week: real women walking down the runway. And these weren't just your everyday ladies — they are all retired veterans (army chic!). The unique presentation was sponsored by Fatigues to Fabulous [1], an organization that helps female soldiers transition to civilian life. And this opportunity was a dream come true for the participants. "You just don't think you're going to be in this situation — getting all glammed up by professionals who believe in what you've done," said veteran/model Heather Kline. "The empowerment that comes from this is almost really emotional." Each woman was styled by a hair and makeup expert to achieve her perfect night-out beauty look. Steal all the real-girl beauty secrets from backstage when you read on.
Natural Curls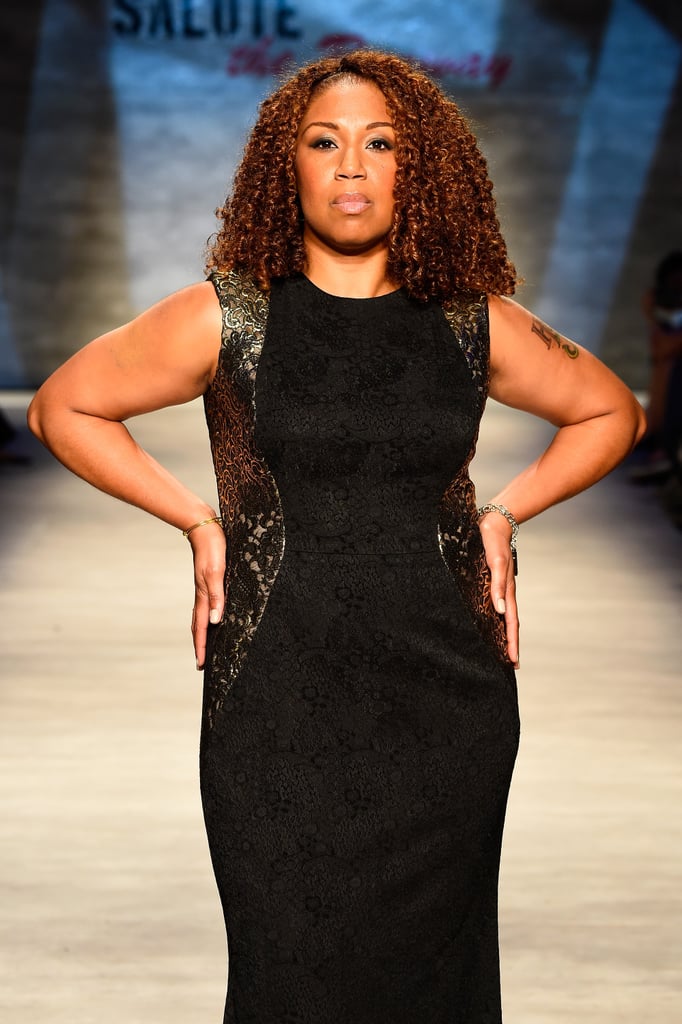 "You have to wear your hair within a certain regulation in the military to make sure you can wear your head cover — a beret, patrol cap, Kevlar," explained veteran Letrice Titus. "There are a lot of things that females have to worry about that men don't. When I was active duty, I would shampoo it, blow-dry it, put gel on it, and slick it in a bun. Even with all the choices and freedom to do what I want, more often than not, I still wear a bun every day. I never wear it like this, because for me it's just too big."
To prep Letrice's curls for the runway, hairstylist Britt Dion and her team twisted two strands of hair together using Aveda Brilliant Anti-Humectant Pomade [2] ($22) to minimize the volume, calm frizz, and add shine.
Red-Lipped Raven
"I like a lot of '40s jazz-era style, and I'm wearing a Michael Kors dress that's a little more edgy, so [the red lip] seemed like the right way to go," said veteran Elana Duffy.
Makeup artist Yuby Leoce used Bobbi Brown Art Stick in Harlow Red [3] ($26) on her lips. Then, she balanced out the bright pout with a subtle shimmer on her eyes using Bobbi Brown Sparkle Shadow in Mica [4] ($32). "Because it's an evening dress, I thought the sparkle would look really pretty," Leoce noted. "Since we were going a little stronger on the lip, I didn't want to do too dark on the eye. We kept it more neutral on the lids."
Blond Bombshell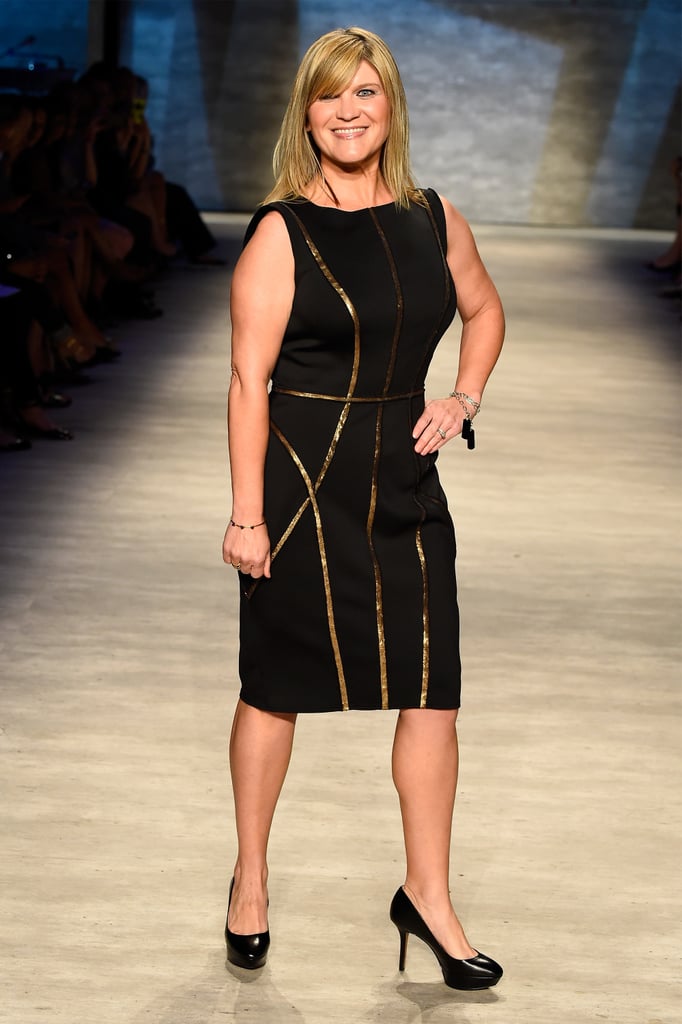 "When I look at [Heather Kline], she has the typical blond, blue eye, beautiful pink skin," Bobbi Brown said. "So I'm going to bring out the pink blush and do some sparkle and glow on her, but not have the beauty of her face fight with her sexy dress."
Brown also revealed her blond-brow secret: "You've got to use an eyebrow color that matches your brow hair color, and that will work with your [actual] hair color. You're not going dark brown. So probably like a grayish taupe color, not too red." Try Bobbi Brown Brow Pencil in Ash [5] ($22) to get this look at home.