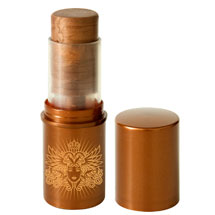 It may be nearing the end of warm times (unless you live somewhere in the southern part of the country), but that doesn't mean you can't still get your bronzer on.
NYX
's new
Tango With Bronzer Stix
($15 each), creamy in texture, give the perfect light-reflecting glow without being too glittery, shiny, or flashy. Recently, on a daytime date with Mr. Bella, I had about negative two minutes to get ready. It was Bronzer Stix to the rescue. To find out what all the fuss is about, just keep reading.
A sweep of this bronzer on the cheeks, a bit of under-eye concealer, a dab of gloss, and a little eyebrow powder was all that time allowed. The Light Bronze and Highlighter (#1) shade I used had just the right amount of subtle golden undertones to warm up my skin with minimal effort, but with three other shades in the line — Shimmery Blush Glow (#2), Medium Bronze and Highlighter (#3), and Deep Bronze (#4) — there's something for everyone. In fact, I liked mine so much, I've even been replacing my foundation with it.