Review of YSL Forever Youth Liberator Serum
What We're Sweet On: The Mother of All Facial Serums
Like us on Facebook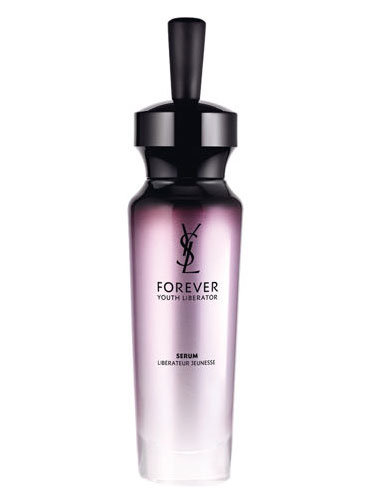 As an esthetician friend once explained, "Serums are like vitamins for the skin." And while that may be the case, for

Yves Saint Laurent

Beaute, they're more like the Fountain of Youth. The luxury brand has just come out with a new line of antiaging products, including the Forever Youth Liberator Serum ($150 to $200) that use synthetic saccharides to stimulate the skin's regeneration. (Editor's note: YSL's serum was sent to us by

Neiman Marcus

for review.)

Once applied using the perfect-amount-every-time dropper, you'll love the way this serum sinks luxuriously into the skin. The complexion is instantly brightened and plumped. After several uses, the face feels more smoothed out and even, but not tight or tacky. Perfumed skincare haters beware, though. This serum, while not overly strong in scent, still contains that perfumed essence many high-end department store brands possess. And unlike other premoisturizers of its ilk, Forever Youth is not sticky, won't cause pilling, and doesn't leave an oily residue on skin. But is it worth the price tag? If you have the cash to spend and are looking for a bit of luxury, then yes. The Fountain of Youth may not actually exist, per se, but today's technology might just be bringing us closer.