I rely on liquid liner on the daily. A cat eye is admittedly my signature look, so I'm constantly on the hunt for the best product to give me the most pristine wing. And despite my black belt in feline flicks (I've been perfecting the technique since college), I'm still not immune to trying every liquid liner that passes my desk in the hopes of one day hitting the jackpot of eyeliners. Welp, I think I might have just discovered it (or at least the closest thing to my ideal thus far).
Introducing Revlon ColorStay Skinny Liquid Liner [1] ($8), which just launched for Summer and will now remain in the brand's permanent lineup. Hand to God, this eyeliner has the finest brush I've ever used. In fact, the felt applicator is so thin, the tip clocks in at an unprecedented 0.1 mm. I repeat: not one millimeter. Point. One. Millimeter. As a result, you're able to draw whisper-thin lines with more swiftness and ease than ever before. Check out how this needle-like brush stacks up compared to other popular options below.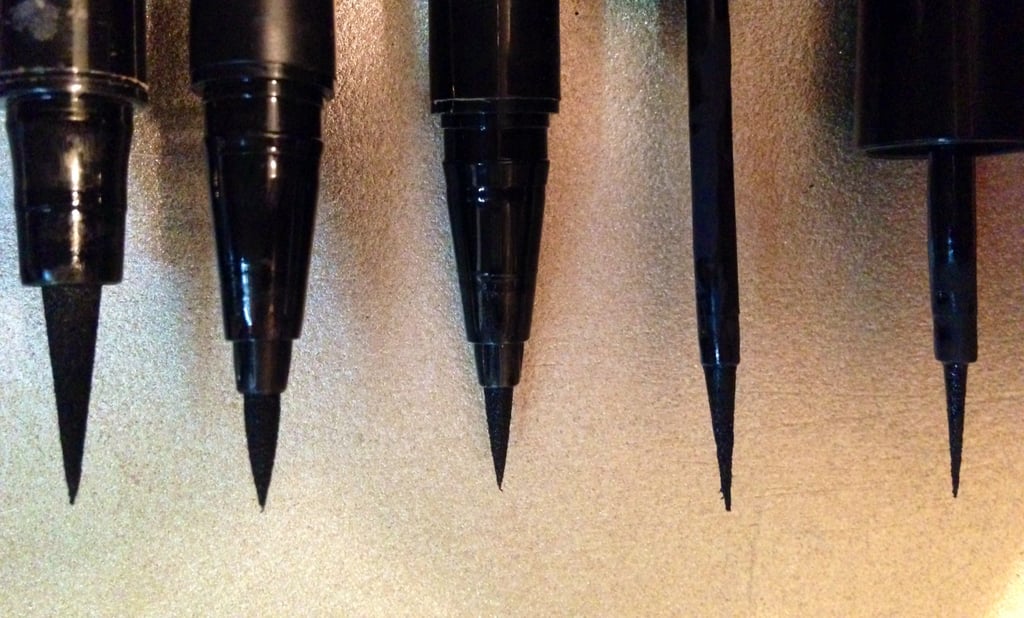 The Revlon Skinny Liner is on the far right, and clearly boasts the slenderest brush from base to tip out of all of them.
What's more, this product also features a raven-black formula that dries quickly with a matte finish, which I definitely prefer to a shiny one. To me, a matte texture gives you more of a doe-eyed retro look as opposed to a glitzier patent-leather-like one. I also had zero problems with the color fading or imprinting into my crease throughout the day, which I've struggled with when using other liners. The only caveat is that I wish the applicator was a little firmer. It was too flexible for my taste. I find that stiffer brushes offer more control because they retain their arrow-straight edge better, but that's admittedly a personal preference.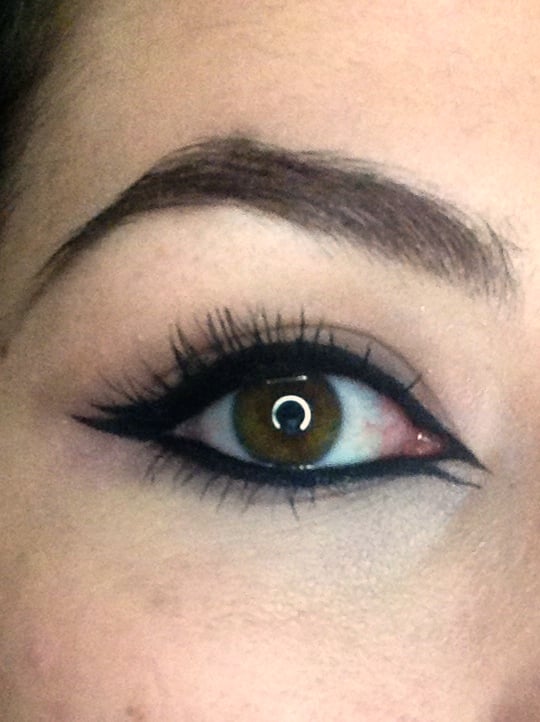 Regardless, the results are still nothing to complain too much about. In fact, I'd go as far as to say they're pretty damn exceptional. I sketched the above eye on myself with double wings on both ends in a whirlwind five minutes. And look at those edges! Do you see how crisp they are? Did you ever see such razor-sharp wings?! Never before has it been easier for me to draw such a detailed and precise eye.
Thanks to this Revlon Skinny Liner, I think I've gone from a black belt to a bona fide swoop samurai.