See a Gun-Shaped Makeup Kit by Artist Ted Noten
I Need This Awesome Makeup Kit Gun
Like us on Facebook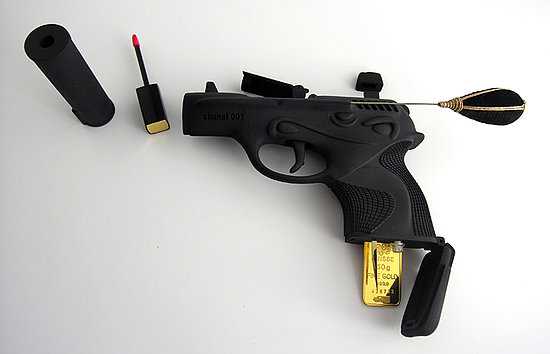 If you ever loved the pink "girl" Transformer (

Elita

One in the house!), you're gonna be really excited about this makeup kit gun by artist Ted Noten. The guns, which are two pieces in a seven-part series called Necessities For a Woman (to Feel Like a Woman Through the Eyes of a Man) are packed with feminine "necessities" like lip gloss, perfume, a hairpin, and even Viagra, along with a whole bunch of miscellaneous meds. It's an interesting commentary on the way men view what it means to be a woman, and to be a "good" or attractive woman at that.

Noten's piece succinctly examines gender expectations, and I especially love that the lip gloss is hidden inside the "silencer," but I also really want one now. Check out all the cool stuff hidden inside "Dior001" and "Chanel001" (yep, those are the guns' names, and the products inside come from those brands) when you keep reading.