See You Lather: The Dove® Body Wash Difference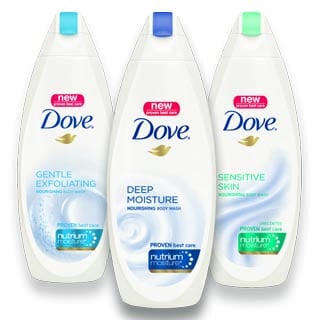 Here's a little soap "dish"— did you know that some types of lather, created from cleansing ingredients know as surfactants, has historically been seen as damaging to your skin? Look at the evidence: most so-called "mild" cleansers aren't super-soaper-uppers; some lather-rific favorites can actually be quite drying. Until now. New Dove® Body Washes not only offer your skin the best care with a unique combination of gentle cleansing and NutriumMoisture technology, they also provide you with the best-ever shower experience, including rich lather that won't strip your skin of essential nutrients. It's all thanks to the addition of sodium cocoyl glycinate, an ultra-gentle cleanser which delivers rich lather that rinses cleanly and quickly.
So lather up—and check it out for yourself! But first click here to learn more about why Dove® Deep Moisture, Sensitive Skin, and Exfoliating Body Washes are the proven best care, and put them to the test against some of the most popular brands on the market.