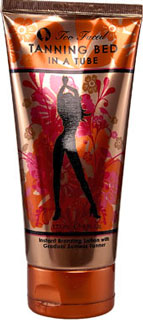 Self-tanner can be one of the most frustrating products to buy, because each brand has its own color formulation that's not going to be flattering on everyone, and you rarely get to try before you buy. And that's where our new feature comes in. We asked women with different skin tones to test out a ton of self-tanners, took before and after pics so you can see what they actually look like on skin, and got the pros and cons once our testers had been using them for a few weeks. Our inaugural product is
Too Faced Tanning Bed in a Tube
($21), a gradual sunless tanner that also has an instant bronzer in it, so you get an immediate glow and a deeper tan that develops afterward. Our tester used it several times, so to see what she had to say and check out how the color really looks, just keep reading.
Pros:
Looks very natural and not streaky.
It's a great bronze color that doesn't go orange-y
Actually does get darker each time you apply, so you really can control the shade.
Cons:
The lotion is shimmery, so not great for people who don't like glitz.
The scent was nice, but strong — a little less would have been preferable.