Lately there has been a lot of talk about backsides . . . rear ends . . . derrières. Whether you're lacking in that department or generously blessed, there are ways you can get your best bum without hitting the gym. We're tackling issues like sweat and saggy seats, so we can't promise these tips will be the most glamorous, but they're totally necessary to get your best belfie (butt selfie)! Just follow our ultimate butt guide to get your rear end looking firmer, rounder, and smoother without the need for a butt pad or squats [1]. You'll finally look better going rather than coming.
Source: Instagram user msleamichele [2]
Sweat
Sitting out on the patio for a Summer BBQ seems chic and all until you get stuck to the seat because of butt sweat. The solution for this problem is best stolen from the boys. There are numerous products on the market to cure swamp crotch. Try Gold Bond Powder Spray [3] ($7) and Fresh Baby's Bottom [4] lotion ($12) to dry any rear-end dampness. You can also spritz any antiperspirant spray on your cheeks for invisible sweat relief. A word to the wise: avoid powders, which can cause uncomfortable clumping.
Source: Instagram user angelcandices [5]
Hair
Many ladies can agree that the best part of a Brazilian bikini wax is the back half. However, we recommend you leave hair removal on your behind to the professionals (just imagine the ER embarrassment if your butt cheeks got waxed shut). Shaving can be a safer option, but beware ill-placed nicks and cuts from the razor, which are more likely to get infected. Removing too much hair from the area can also cause extra butt sweat (see above). All in all, those fine hairs were probably put there for a reason.
Source: Twitter user ladygaga [6]
Stretch Marks and Sagging
As we age, our tush takes a turn for the worst, and even the plumpest butt can start to droop. While squats are the ultimate cure [7], you can fake a rounder bum with self-tanner. First apply an all-over base coat to hide stretch marks and bruises. Then go back and give the W-shaped crevice under your bum an extra coat. This will give the illusion of a rounder, perkier derriere. Yes, it's called butt contouring.
Source: Instagram user msleamichele [8]
Rough Spots
Smooth as a baby's bottom can refer to you, too! Use your favorite body scrub on your heinie for a softer seat. You can also splurge on a fanny facial (yes, they're real). Spas like Skin by Molly [9] in Brooklyn, NY, will peel, steam, and mask your behind. Even your face will get jealous!
Source: Instagram user heidiklum [10]
Cellulite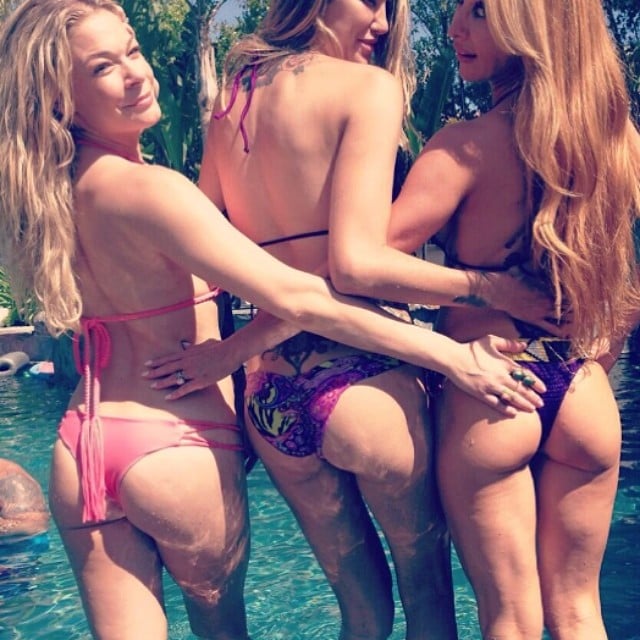 Minimizing the appearance of cellulite is easy with a regular routine. Start by dry-brushing on a regular basis, which not only exfoliates but also flushes out any lymphatic system swelling. Think of it as a massage for your fanny. There are also numerous creams to help firm and tone. Mio Shrink to Fit [11] ($56) contains caffeine to help increase circulation on your bum and beyond.
Source: Instagram user leannrimescib [12]
Acne
Body acne is the arch nemesis of bikini season, and your bum is the most awkward place to get bumps. Prevent a breakout on your backside with a medicated body wash that also exfoliates like Neutrogena Body Clear Scrub [13] ($8). You can also treat any current zits with salicylic acid using the Murad Clarifying Body Spray [14] ($37). A** acne, begone!
Source: Instagram user mileycyrus [15]
Skin Tags or Moles
If you notice any skin tags or moles appearing around your bum, keep a close eye on them. It's best to see your dermatologist for diagnosis and removal because suspicious booty bumps could be a sign of something more like hemorrhoids, HPV, and warts.
Source: Instagram user jenselter [16]