A snood is a netted or solid cloth hairpiece that's gone in and out of fashion over the years. This hairnet-like cap, which is placed onto the back of a hairstyle, like a chignon or braid, is often knitted, crocheted, or made from silk or lace. The odd-sounding word was first recorded in Old English around the year 725. During the Middle Ages, women wore versions of the snood, and these hair "sacks" have also been used throughout history for hair-covering purposes for religious reasons, and even to indicate married status.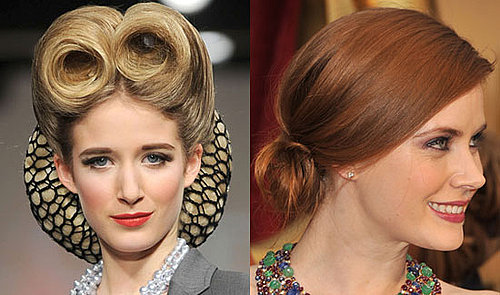 During World War II, snoods regained popularity once again. While we don't see too many women wearing these types of netted hair accessories these days, for modern options, you might find snoods that are closer in appearance to closed scarves,
resembling neck protectors
. Or, you might also recall
Amy Adams's hairstyle
at the
2009 Oscars
, for which her hairstylist used this super old-timey hairnet for the inspiration behind the actress's tousled chignon.