Let me start by saying Solange Knowles is my spirit animal. Her red carpet looks from five years ago are on my inspiration board because she's always 10 steps ahead of the trends when it comes to fashion and beauty. Solange never met a color she won't try, and that inspired me to take on neons. Then there's her natural hair — Solange's Afro confirms the saying "the bigger, the better." And in addition to her vibrant eye shadow and wild strands, she knows how to drop funky beats when she's on the ones and twos or rock a kaleidoscope print like no other (who you calling Beyoncé's kid sister?).
I reigned in my lady lust to round up her 21 best beauty moments — and let me tell you, editing it down was hard. Since the music darling is performing at Coachella this season, we thought she'd be the perfect person to give you tons of festival beauty inspiration. I've accepted that I'll never be as cool as Solange, but picking up pointers from these looks is a start.
September 2009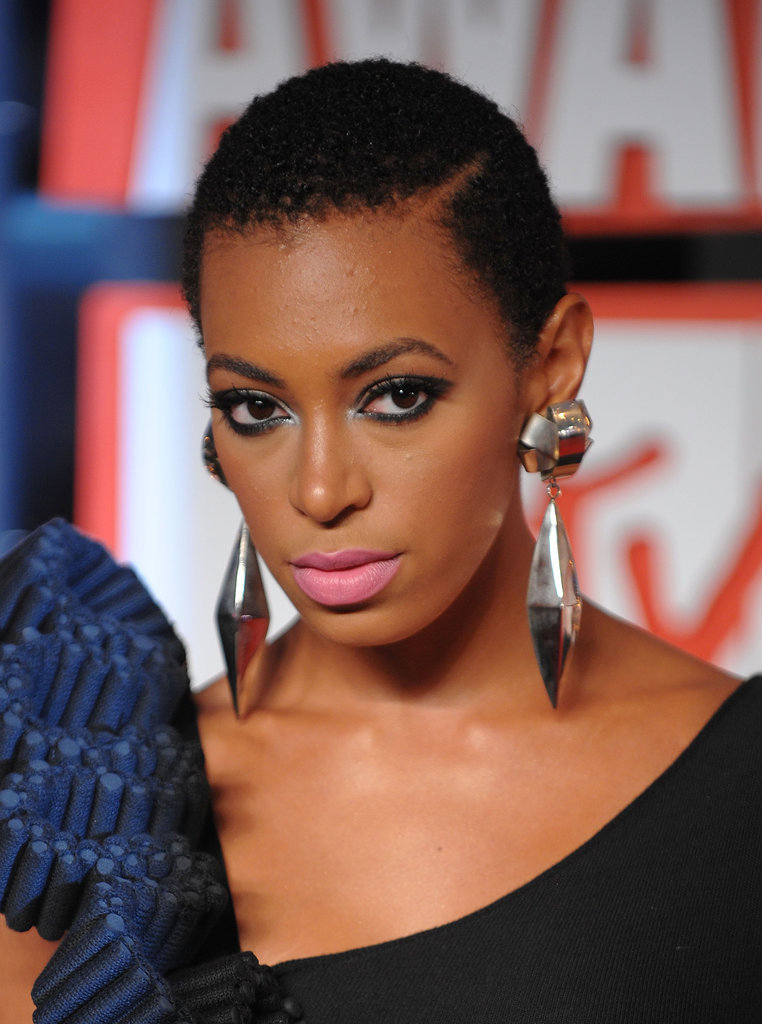 Before Lupita Nyong'o was making the close-cropped Afro famous [1] on the Oscars red carpet, Solange wore hers with a deep side part and bubblegum-pink lipstick. One word: trendsetter.
January 2010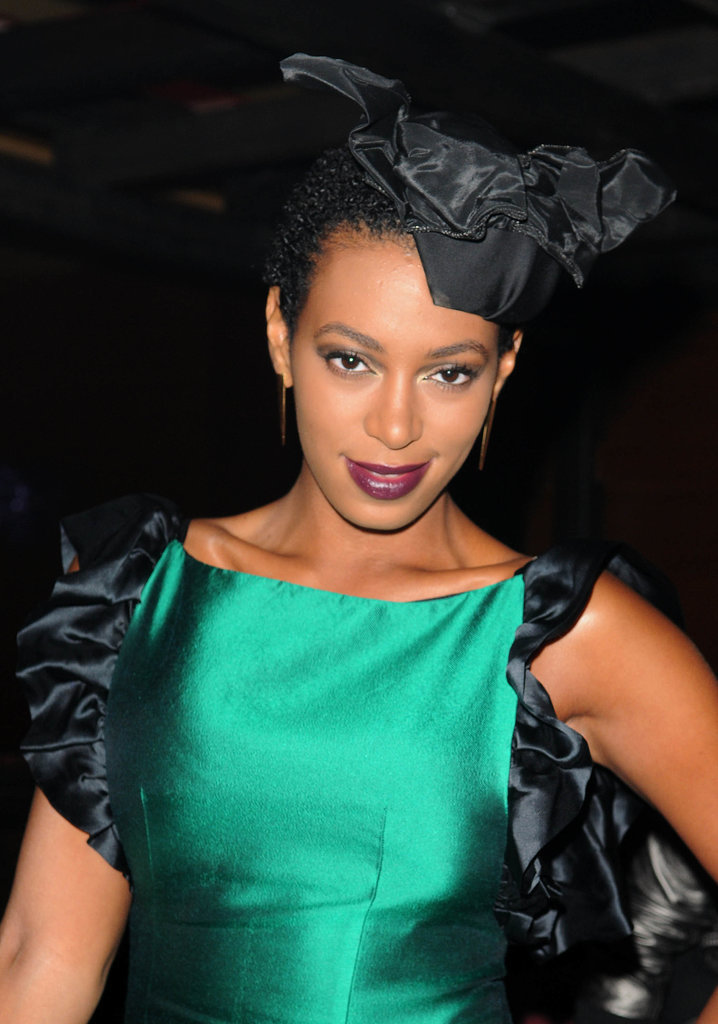 I don't exactly know what to call this hair accessory (headband? fascinator?), but paired with this vampy lip color, it's to die for.
April 2011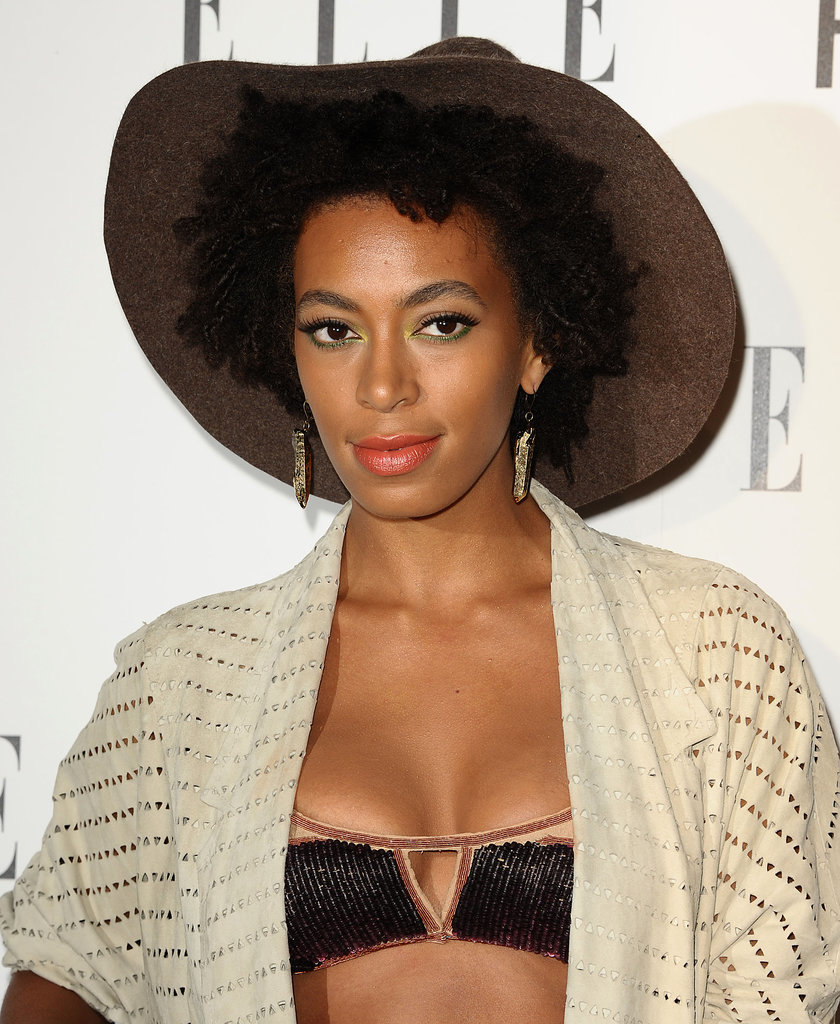 What to pack for a beach day: green eyeliner, orange lipstick, and a wide-brim hat. Solange doesn't just do edgy, she also has a bohemian-chic side (so versatile that one).
April 2011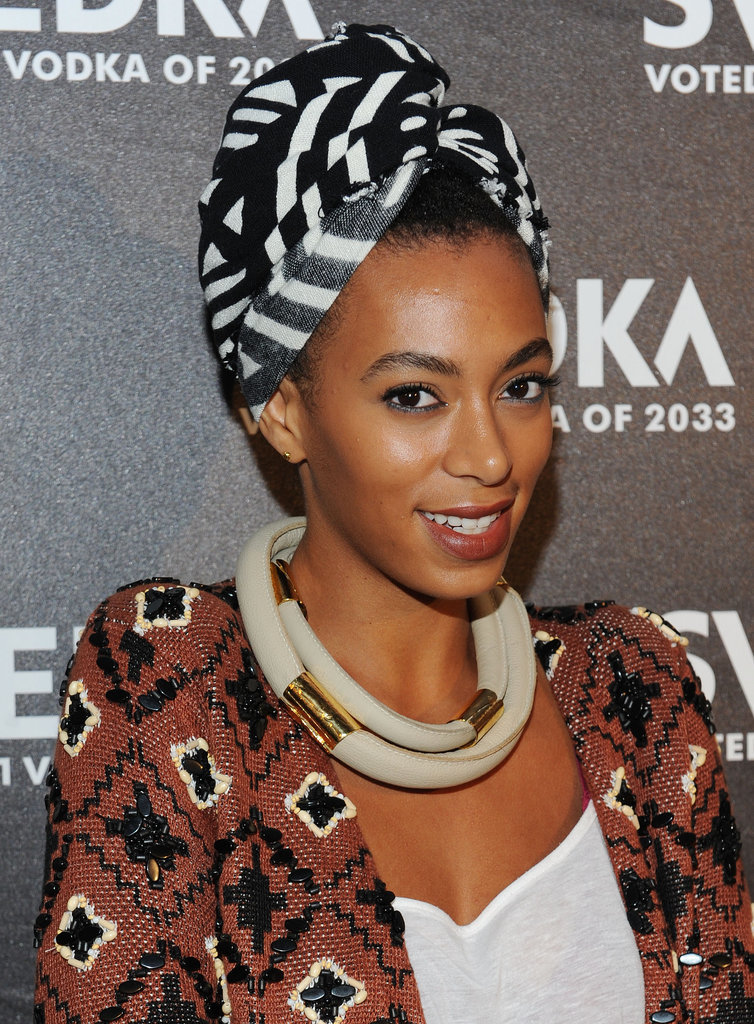 Solange is the master mixtress when it comes to prints, and this turban wrap would look so chic poolside or while you're rocking out to your favorite festival act.
May 2011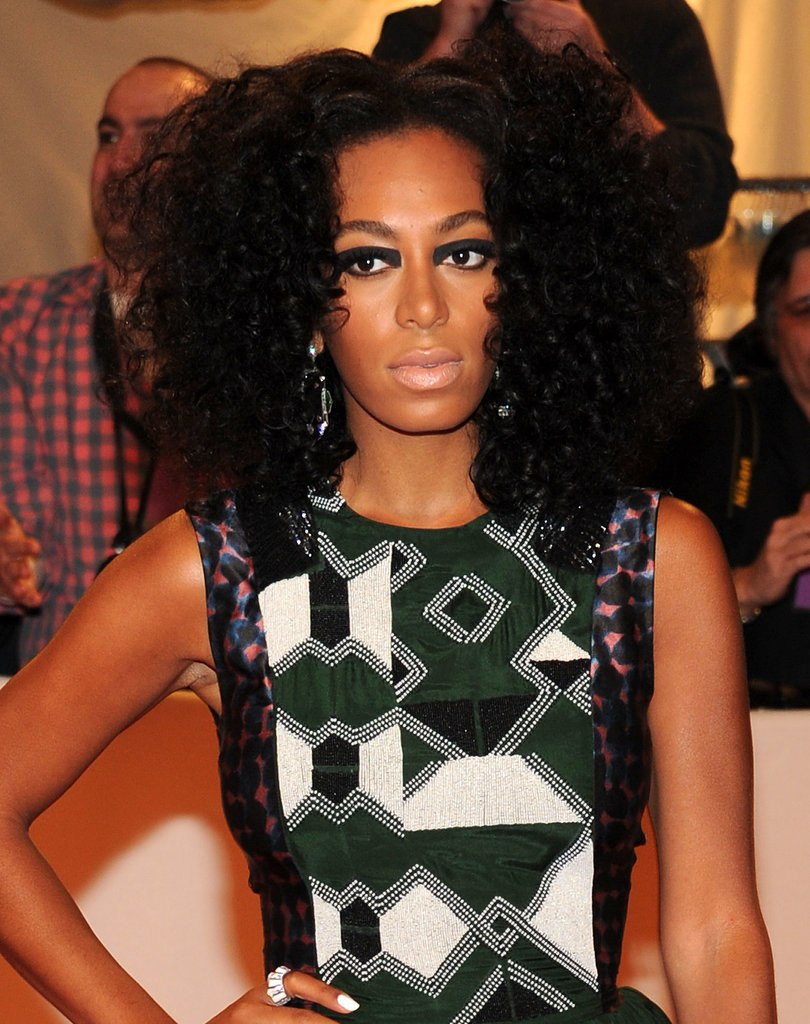 Solange wouldn't be caught dead in a classic winged smoky eye (boring). Instead she wore this geometric boxy shadow look with a nude lip and relaxed curls.
April 2012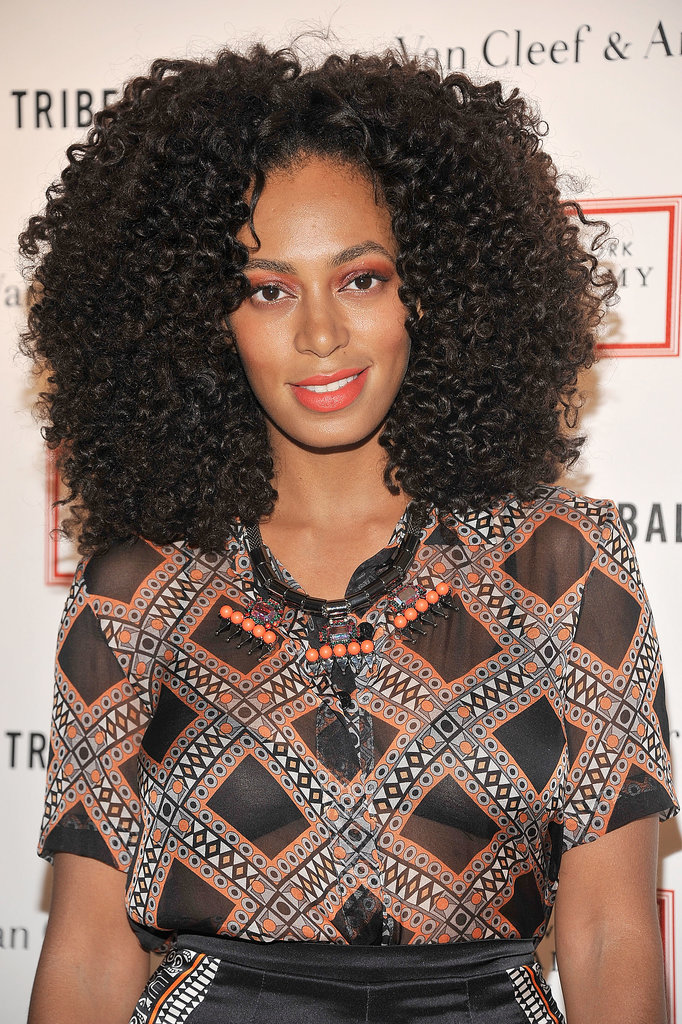 Orange eye shadow with orange lipstick? I wouldn't have been brave enough to try it until Solange showed me how.
May 2012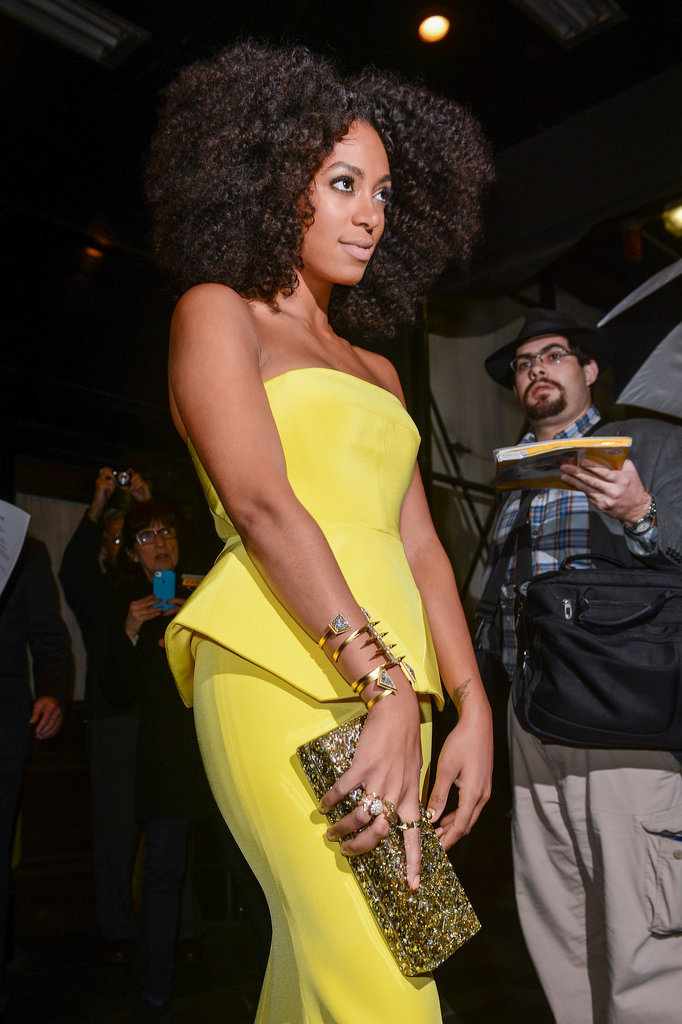 Even though I'm still on the hunt for the perfect nude lipstick and nail polish, Solange found a pale taupe hue that blends right into her tawny complexion. Is my jealousy showing?
October 2012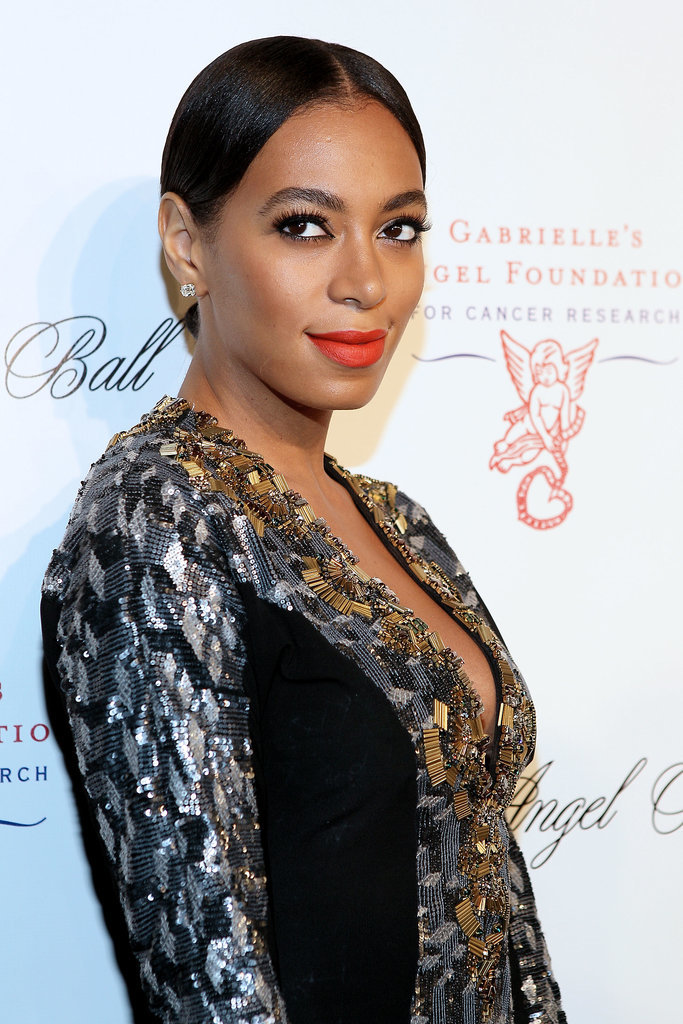 Vary rarely, Solange straightens out her coils for a sleek look. While the Afro is modern, this smooth style exudes old Hollywood glamour.
October 2012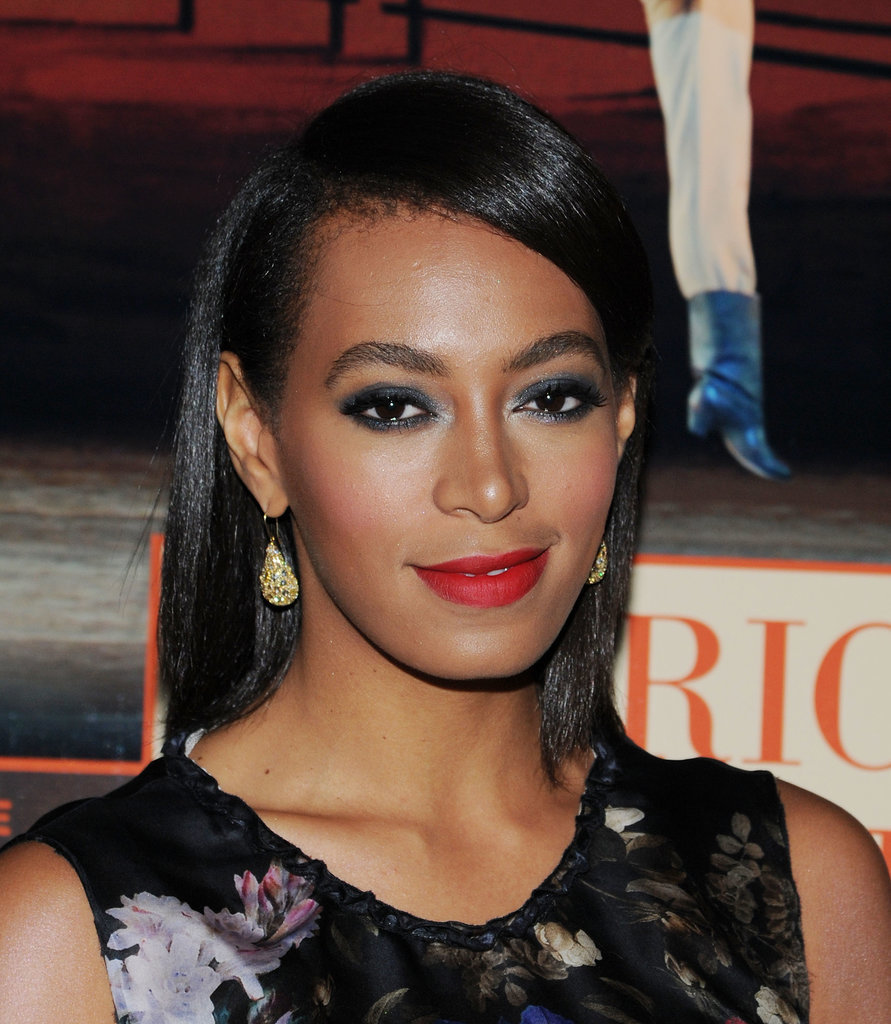 You know that rule in which you have to pick either a bold eye look or a bright lip? Solange broke that one a long time ago.
November 2012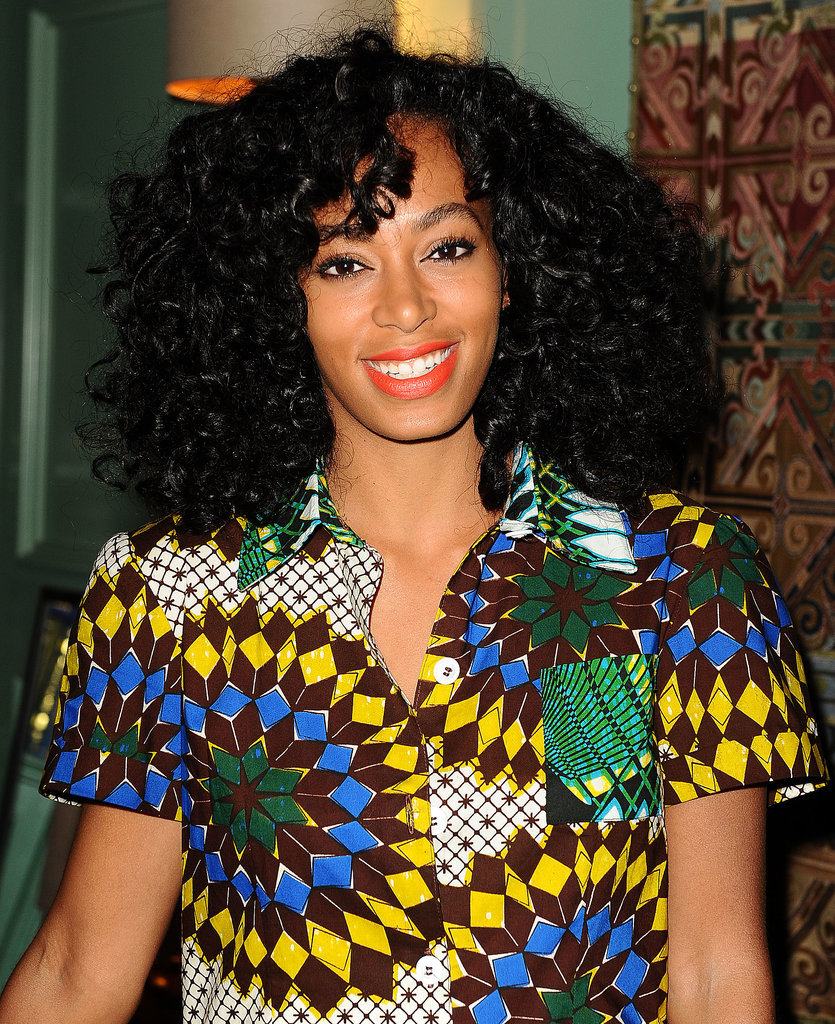 I ran out and bought a hood dryer to roller set my hair [2] after I saw this 'do on Solange.
February 2013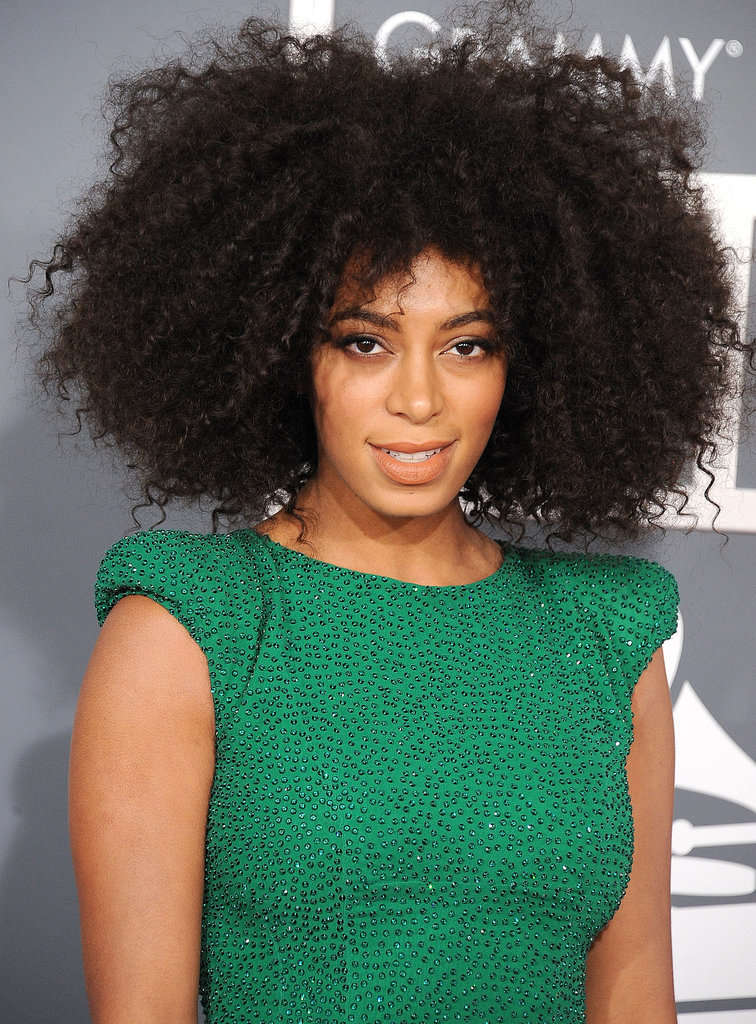 Even Solange's no-makeup makeup look is one I want to copy. I mean just look at those bold brows [3]!
February 2013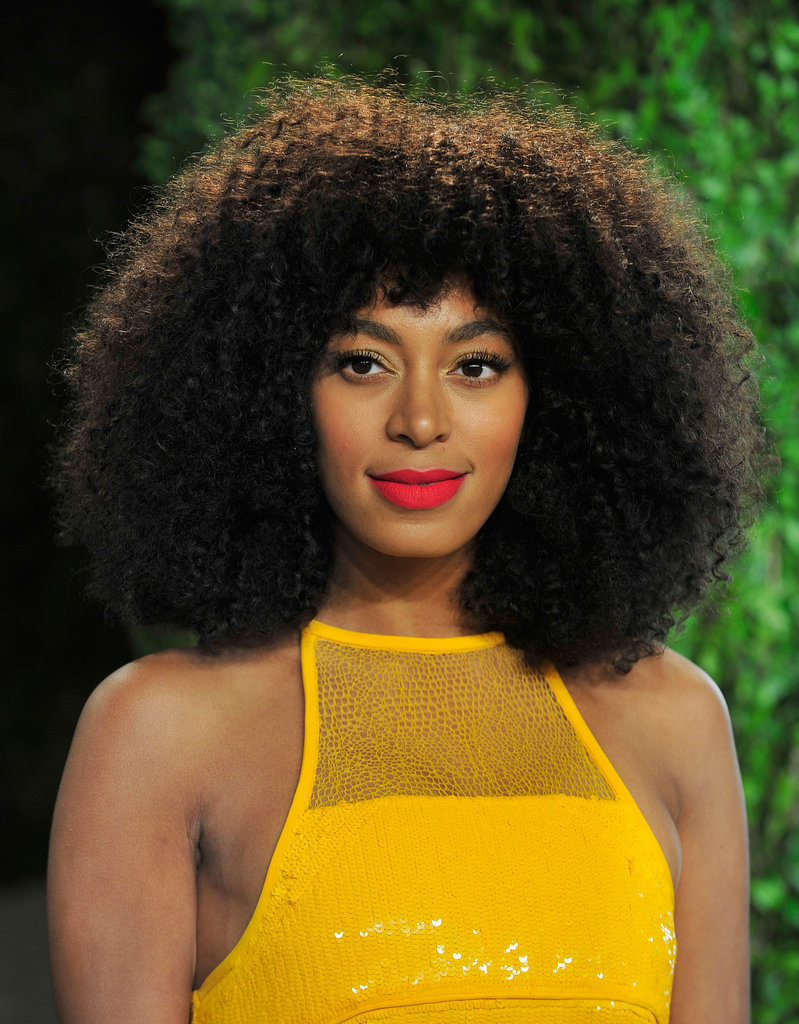 This matte tangerine lipstick borders on caution-cone territory, but it blends in perfectly with Solange's mustard gown and caramel skin tone. And now I'm debating if I should cut bangs . . .
February 2013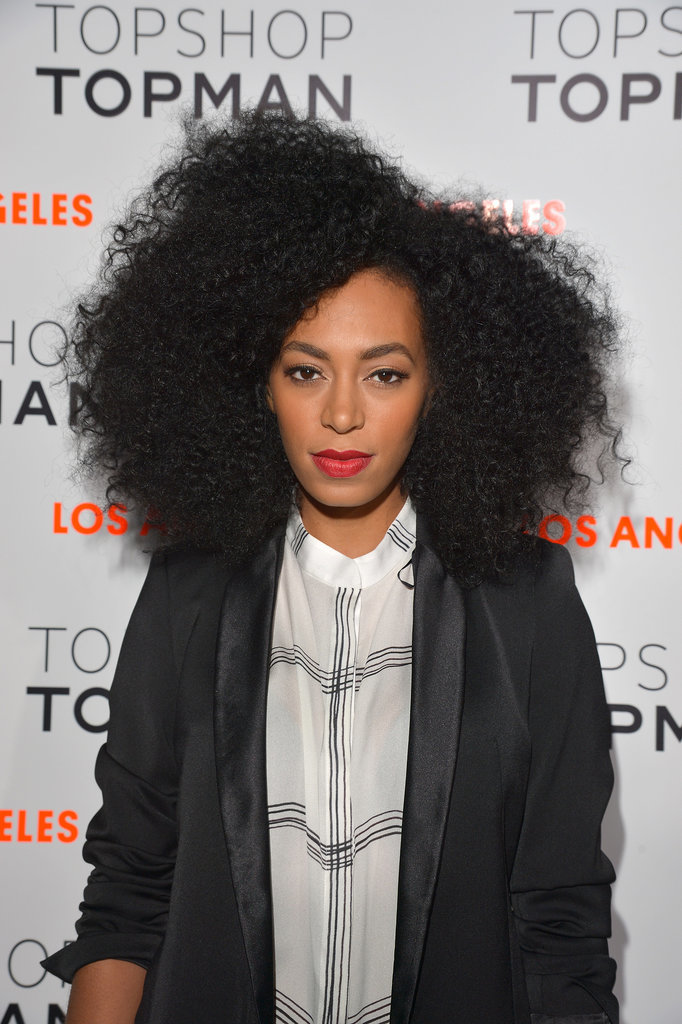 I wonder how long it takes her to pick out her Afro to get this volume? Hey, the higher the hair . . .
May 2013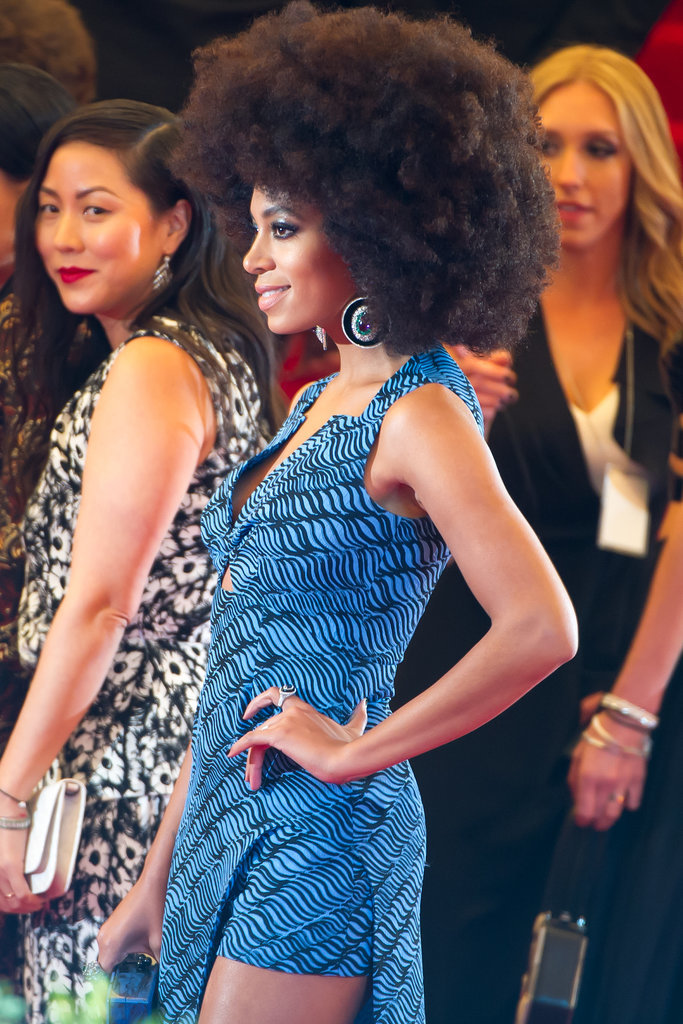 If I could send Solange back to any decade, it would be the '70s. This larger-than-life Afro would give Foxxy Cleopatra a run for her money.
June 2013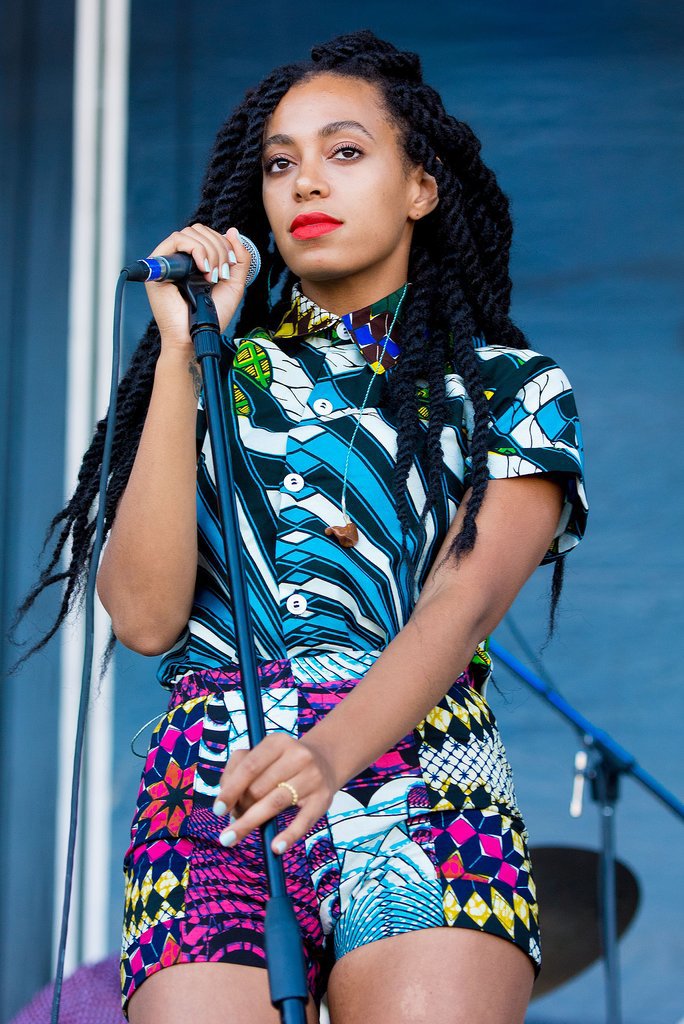 I can almost guarantee Solange will be rocking plaits as she does her festival circuit. But even more than the hair, I love her pink eye shadow and red lip combo here . . . and the robin's egg nail polish . . . and the print explosion on those shorts. Wait, I love it all!
June 2013
Dear Solange,
What shade is this hot orange nail polish because I must have it? Please and thank you.
P.S. this braided updo is pretty dope, too.
June 2013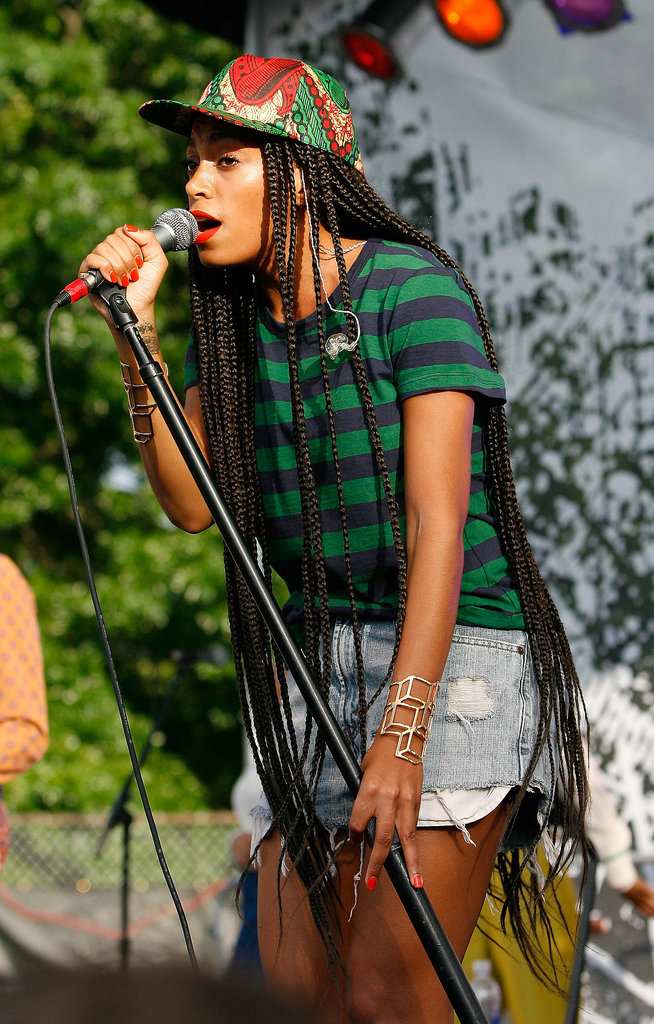 Somehow Solange still manages to dance on stage with box braids down to her knees. Her talent knows no bounds.
July 2013
While most of us stray away from the extreme runway trends, Solange copied this blue eyeliner look from the Michael Kors runway [4], and it worked.
November 2013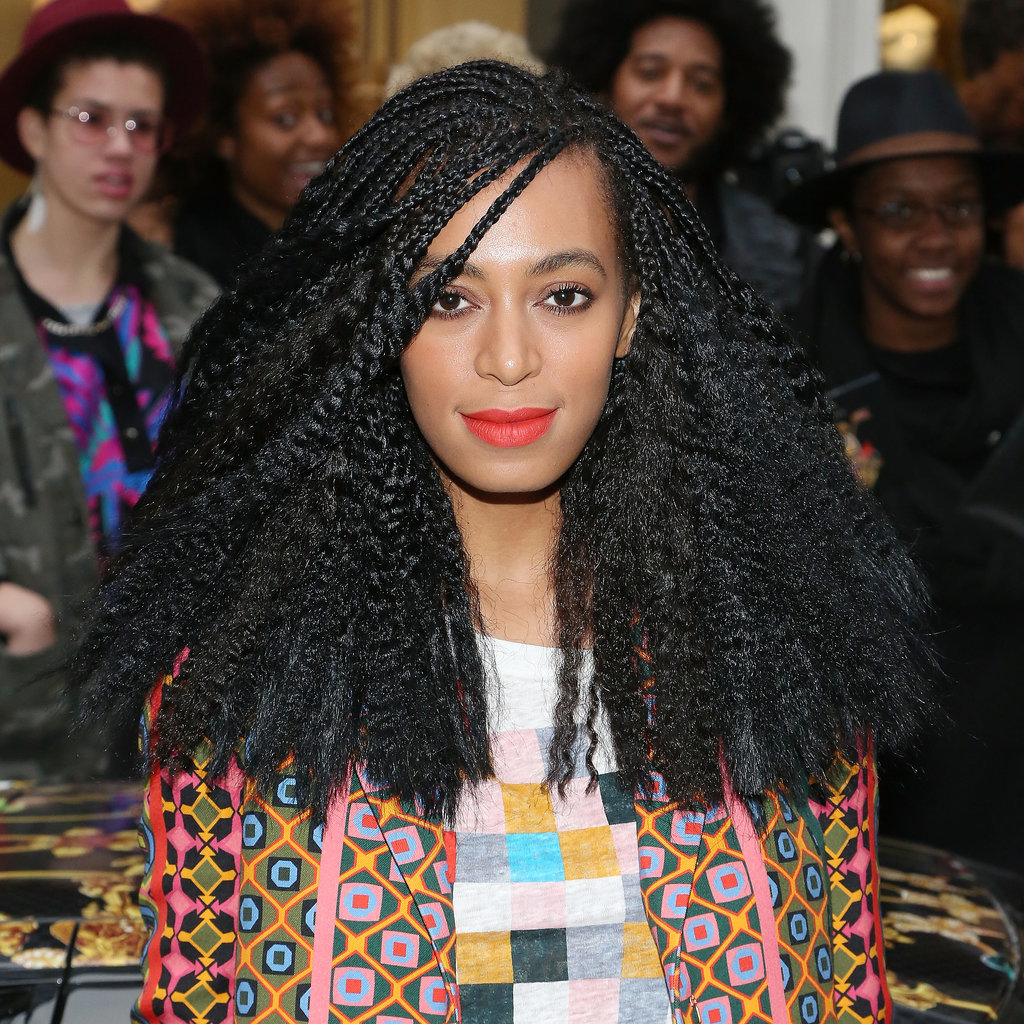 Although Solange looks good in any shade, this burnt orange lipstick seems to be her favorite.
February 2014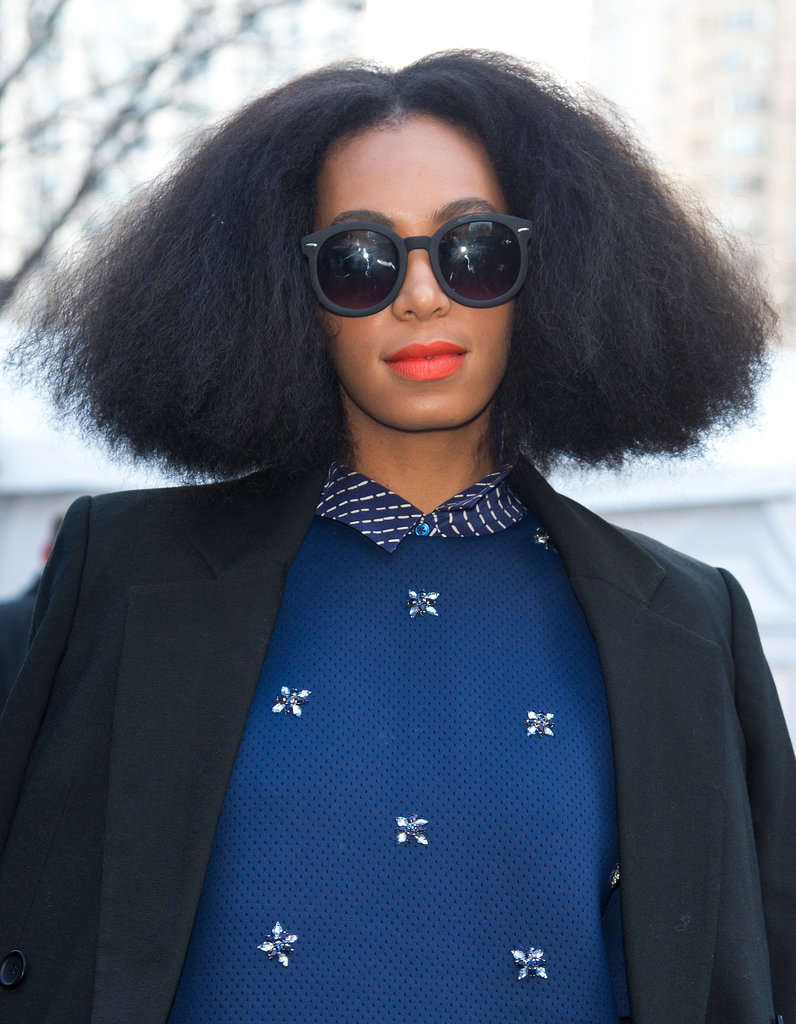 Solange is a front-row fixture at Fashion Week, and this blowout is one way she's changed up her look as her natural hair grows longer. So chic, she had to pull out the shades to ward off the street style photographers!
February 2014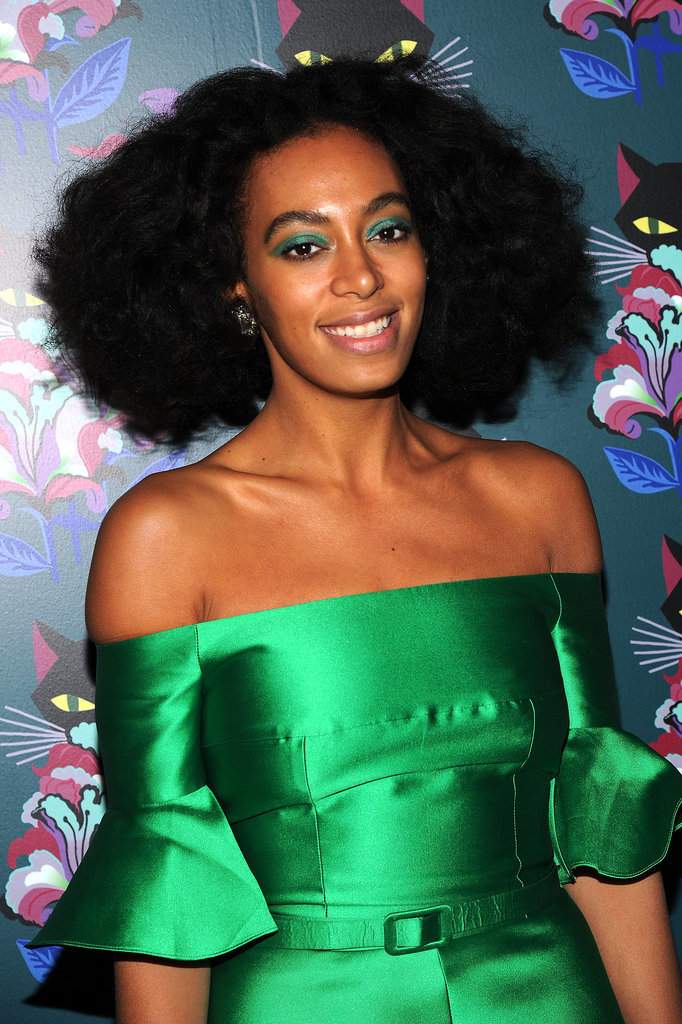 Solange's style goes beyond daring. Only she could pair a kelly green eyeshadow with an emerald dress (trust me, I tried).