If there is one thing we learned from Lupita Nyong'o's amazing beauty moments [1], it is this: there are no two colors that don't mix well on brown skin. Red and green, pink and blue, orange and purple . . . she's tried all these combinations and more! So with her daring makeup credo in hand as inspiration, we threw out all the rules and asked MAC Cosmetics senior artist Regan Rabanal to create the boldest eye-and-lip combination possible. This purple-and-gold eye look can be worn alone for your next night out, or you can take it a step further with an on-trend orange lip [2] to really wow your friends.
Photos by: Caroline Voagen Nelson [3]
Yes, You Can Use CC Cream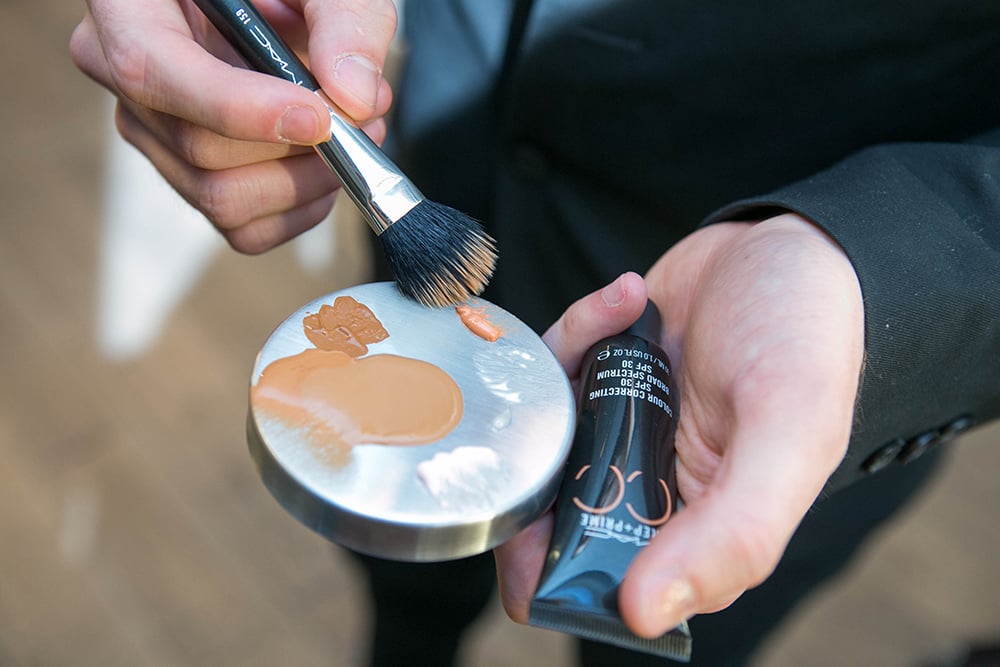 First, Rabanal gave us some complexion notes for brown girls. You might think the CC creams on the market are too light for darker skin tones, but you can use it as a tinted primer. Apply before foundation to correct discoloration under the eyes and on the sides of the face. Rabanal picked MAC CC Cream in Recharge [4] ($30), which has a peachy hue.
Photos by: Caroline Voagen Nelson [5]
The Brow Secret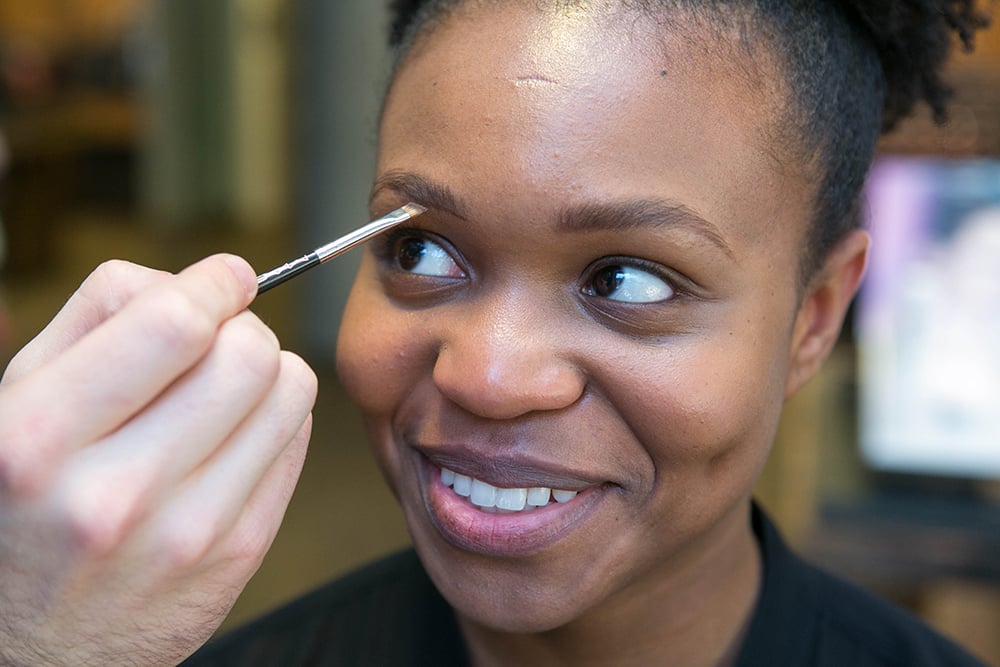 "The style for brows right now is a boyish, Brooke Shields [6], easy, undone kind of look," Rabanal said. "And I have some tricks for making it look real, like it belongs to you."
Here's his secret: using a clear gel, brush brows all the way up to get more width at the inner corners. Then at the arch, begin to angle hairs down for a soft shape. Grab an angled brush (Rabanal used MAC 208 [7], $20), and underline the brow with dark shadow or a brown pencil. Finally, use the brush to push the excess shadow up, so you get an ombré from dark to light.
"If there is a lot of product up there [at the top of brows], and it's really crisp, it's going to look fake," he explained. "Depositing color from underneath first and pushing it up is going to give you a really natural but superfilled look."
Photos by: Caroline Voagen Nelson [8]
Golden Base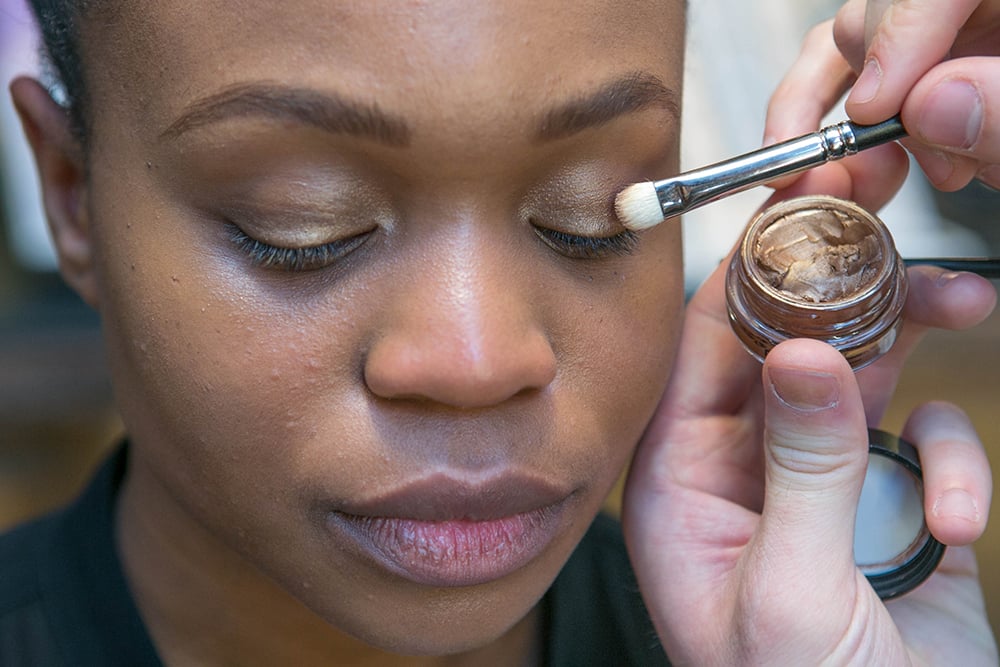 Next, Rabanal used MAC Pro Longwear Paint Pot in Indianwood [9] ($20) to create a base for the bright purple eye shadow. He started from the inside corners and swept the gold cream over the entire lid including the lower lash line, using his favorite brush MAC 239 [10] ($25).
"It's about keeping it really quick and easy, and on darker skin tones, this is an amazing highlighting color, and on lighter skin tones, it's going to give you a good bronze."
Photos by: Caroline Voagen Nelson [11]
Summery Bronze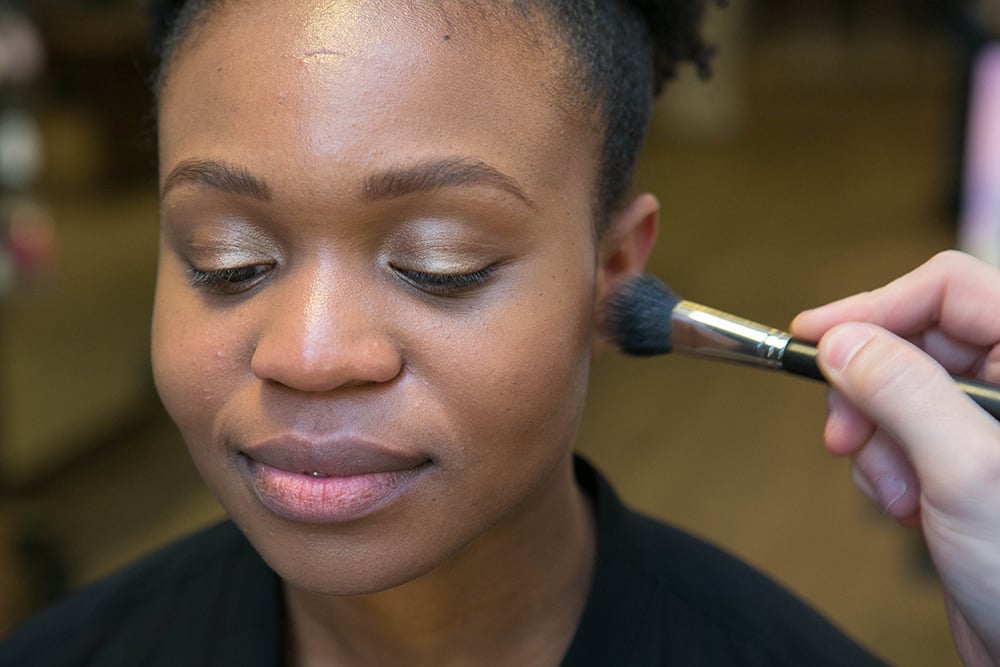 Use the very tip of a fluffy brush dusted with bronzer horizontally from cheeks to ears and in the crease of the eye as a contour.
Photos by: Caroline Voagen Nelson [12]
A Punch of Purple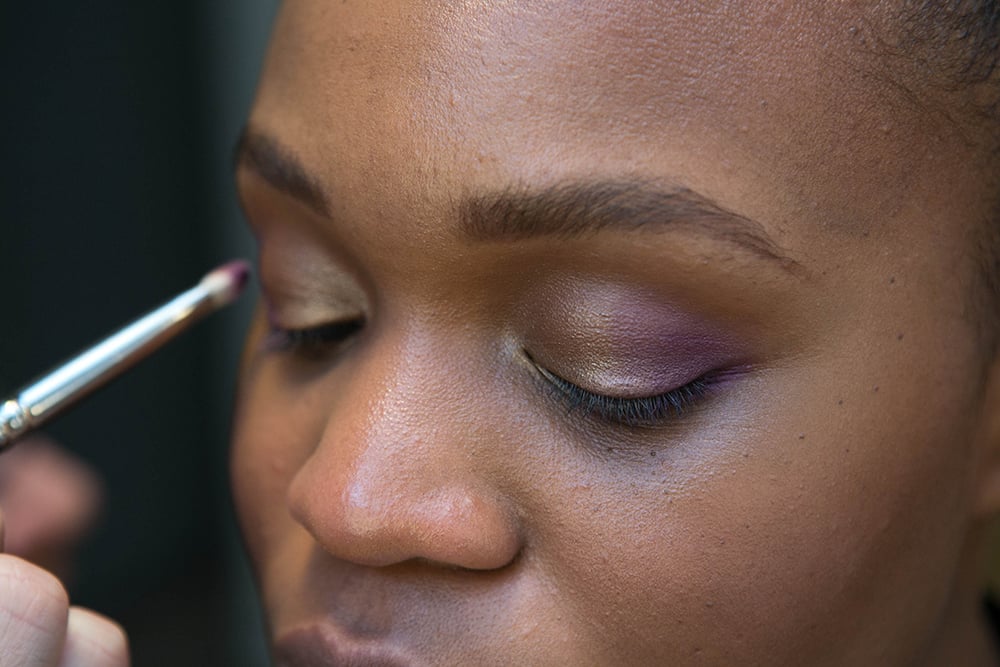 For the pop of purple, you want the most intensity in the outer corners of the eye. So start application there, and blend in slowly, getting rid of product as you reach the center. Rabanal used
MAC Vibrant Grape [13] ($15).
Photos by: Caroline Voagen Nelson [14]
Underlying Color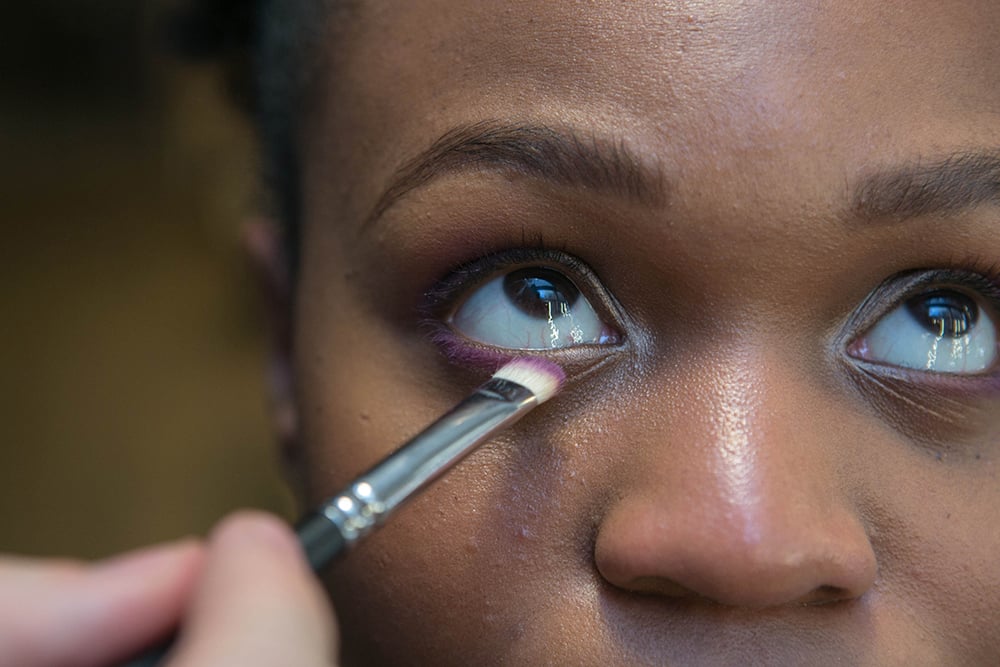 On lower lids, don't extend shadow down farther than your lashes because it can pull your eyes down. Go in as far as your pupil, then taper the color out as you reach the tear ducts.
Photos by: Caroline Voagen Nelson [15]
Lash Fan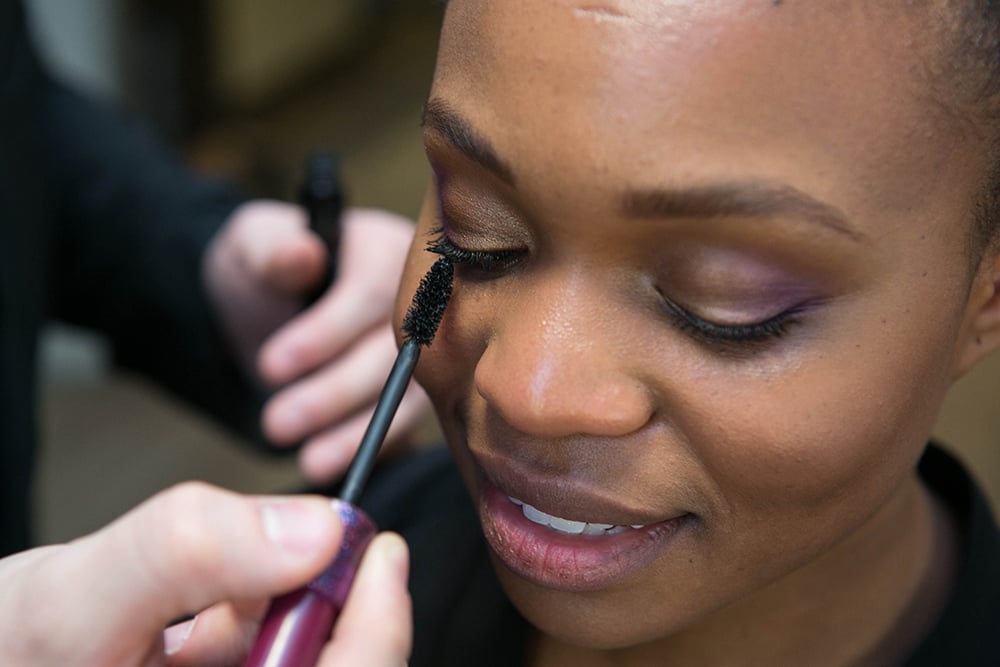 To balance all the bright colors, Rabanal used MAC Haute and Naughty Too Black Mascara [16] ($21) on top and bottom lashes after using an eyelash curler.
His pro trick: use the tip of the wand vertically to spread inner lashes toward the nose, middle lashes straight up, and outer lashes fanned toward the ears. The end result is flirty, sexy, and fluffy.
Photos by: Caroline Voagen Nelson [17]
Plum Base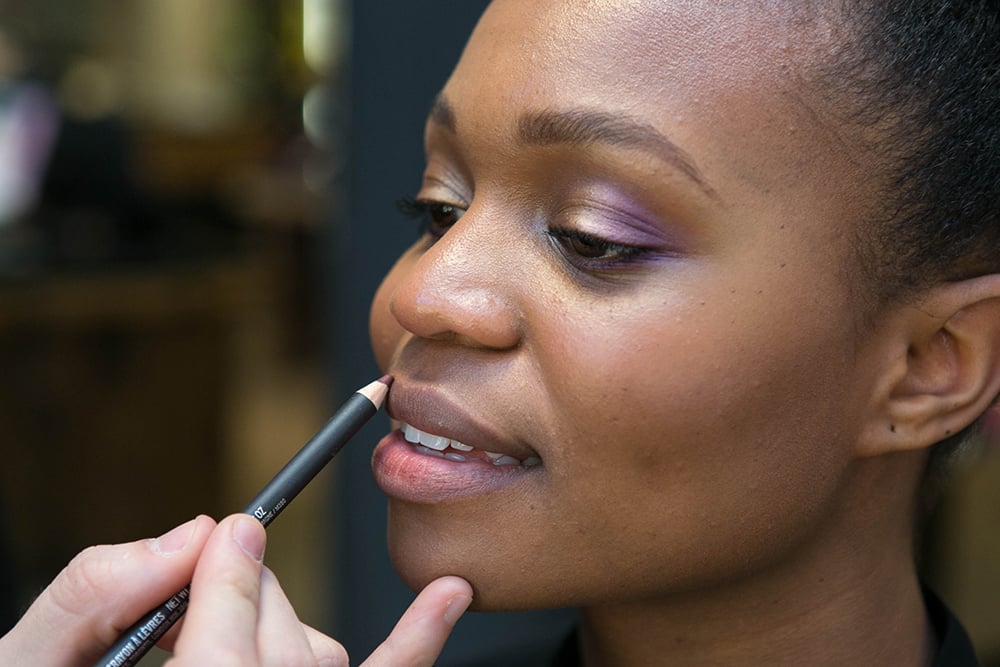 Rabanal laid a foundation for the bright orange lip color by filling in the lip with MAC Lip Pencil in Plum [18] ($15).
Photos by: Caroline Voagen Nelson [19]
Tangerine Topper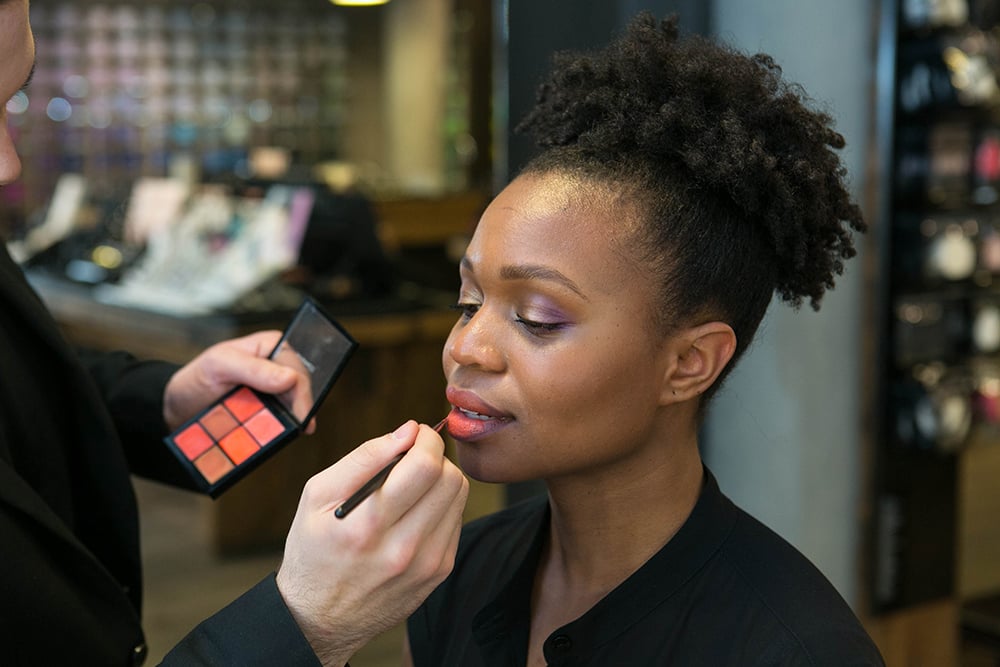 With a bright color like MAC Morange [20] ($40), Rabanal recommends using a lip brush. You also want to prep the lips with a thick lip balm to fill in any cracks and crevices.
Photos by: Caroline Voagen Nelson [21]
The Finished Look
Photos by: Caroline Voagen Nelson [22]
The Finished Look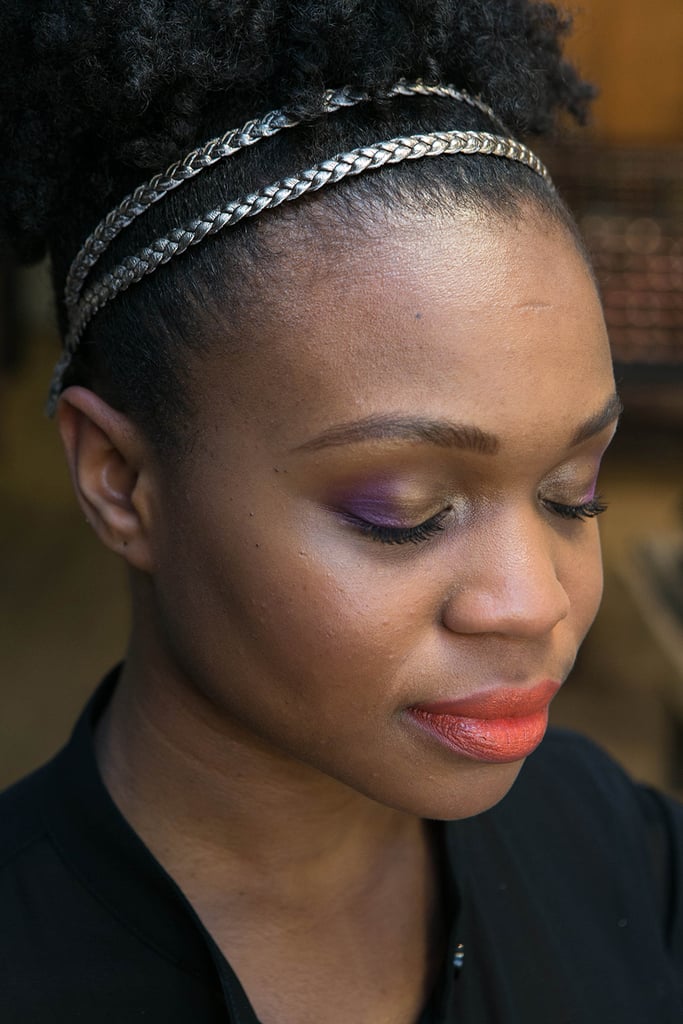 Photos by: Caroline Voagen Nelson [23]
The Finished Look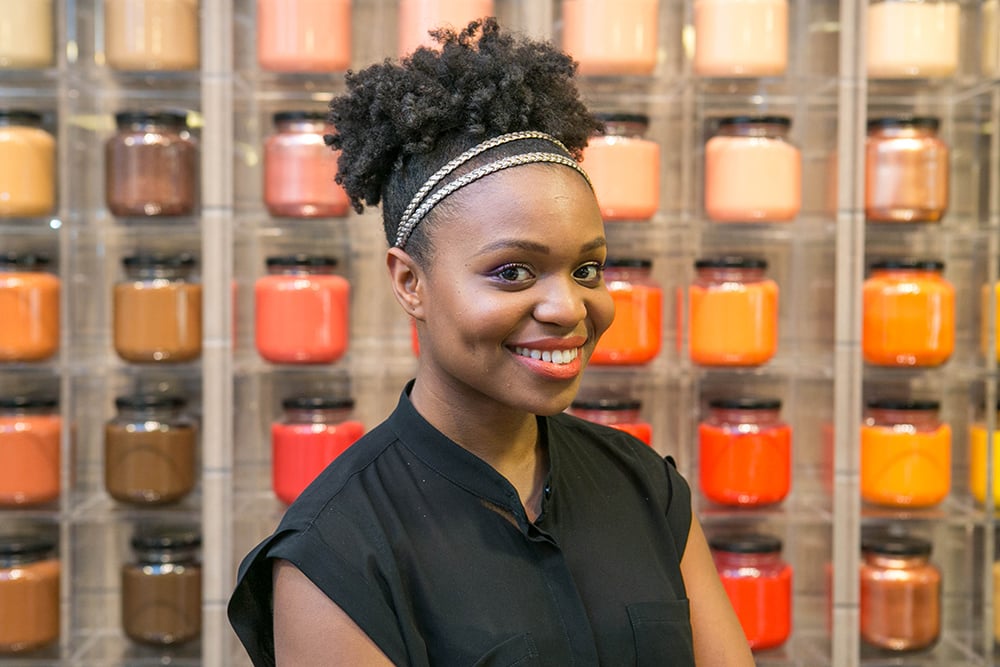 Photos by: Caroline Voagen Nelson [24]