If you're headed to a music festival soon (whether it's Bonnaroo, Summerfest, Lollapalooza, or Burning Man), you're going to want to look cool. Between heat, humidity, and the wildness of festival style, though, it can be hard to figure out how to look good, fit in, and camp out for a few days. That's why these ideas should help you along, whether you want to look pretty and stay out of the sun, or are looking forward to dominating the mosh pit.
Blaze Brightly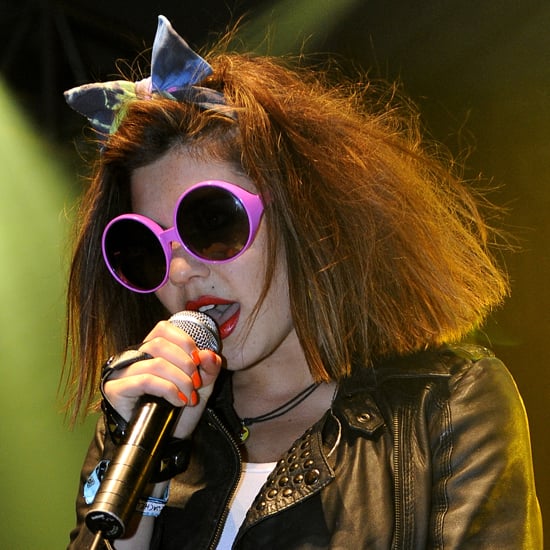 Marina Diamandis, leading lady for Marina and the Diamonds, wears neon across the board, from her nails and lips to her hair bow and sunglasses. It's a simple way to get an attention-grabbing look without a lot of extra work.
Go For the Glitter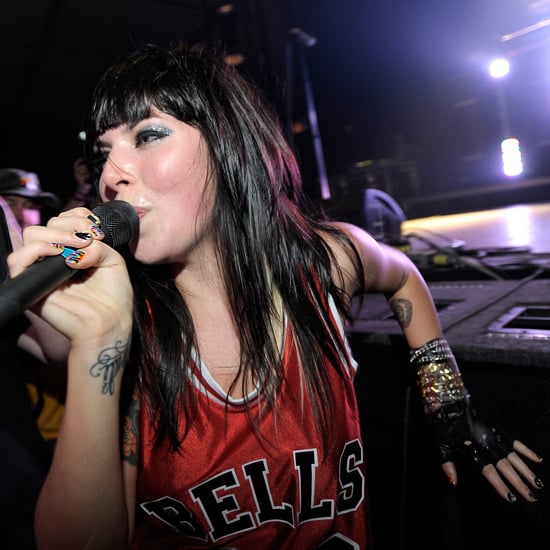 Look around at the beauty items you already own for inspiration. Alexis Krauss of Sleigh Bells is quirky and cool with nothing but lots of glitter and mismatched polish colors.
Get Soft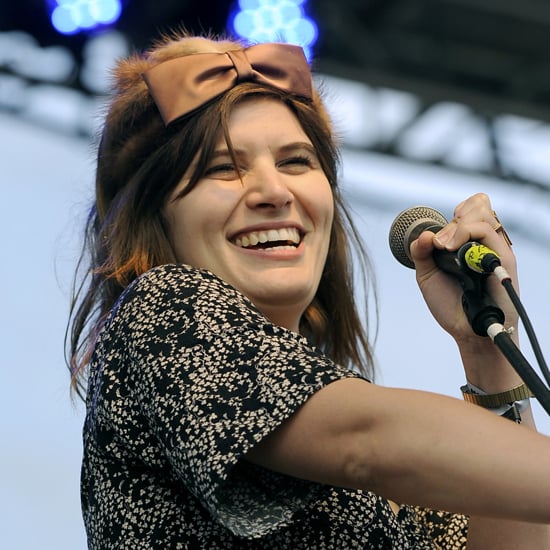 Hip girls can wear satin hair accessories, too, especially if they're put on in an unconventional way. Best Coast singer Bethany Cosentino puts a big bowed headband (complete with feathers) on her forehead and takes it from sweet to edgy.
Knot It Up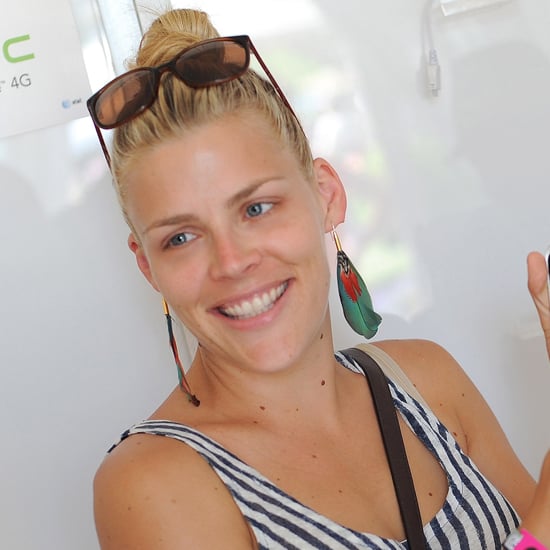 An easy topknot is never a bad idea when you'll be out in the heat. Busy Philipps slicks hers back and goes for minimal makeup for a look that's pretty but not done up.
Be Subtle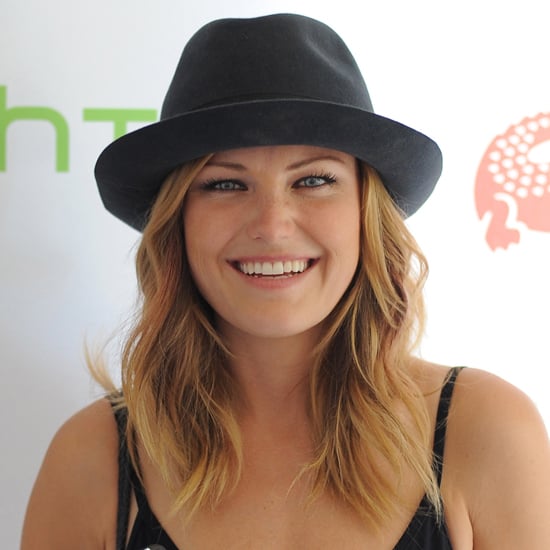 Want to get in the festival spirit, but don't want to get wild and wacky? Follow Malin Akerman's lead and head to your salon for some lowlights. Or, you can always try some soft, wash-out temporary color worked in under your hair.
Decorate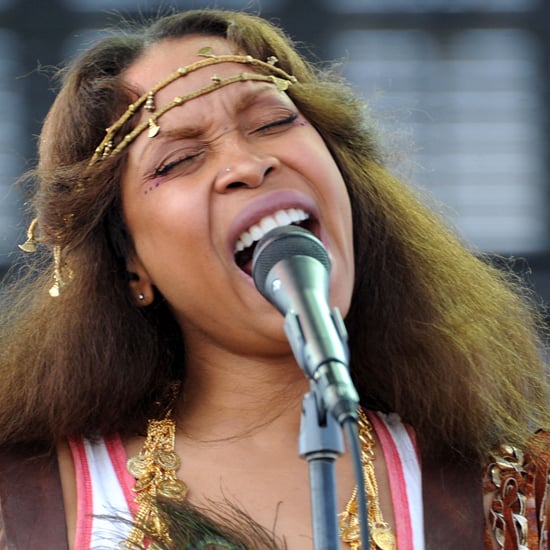 Converting your chains and other jewelry into hair accessories is an old trick but still a good one. Beads can get stuck in your hair, so try a smooth, plaited piece like the one Erykah Badu is wearing.
Get Imperfect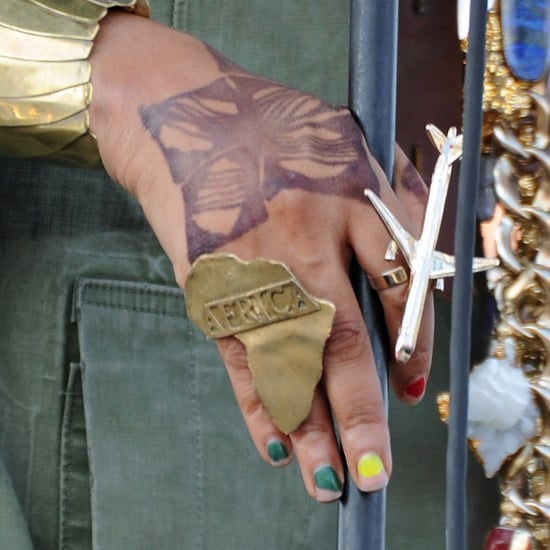 Another festival tip from Ms. Badu: leave things messy. Instead of giving yourself a fresh manicure before you head out to the festival, let the one you already have go chipped. If you get henna, let it fade instead of trying to keep it fresh. Nonchalance is the word of the day.
Get Wrapped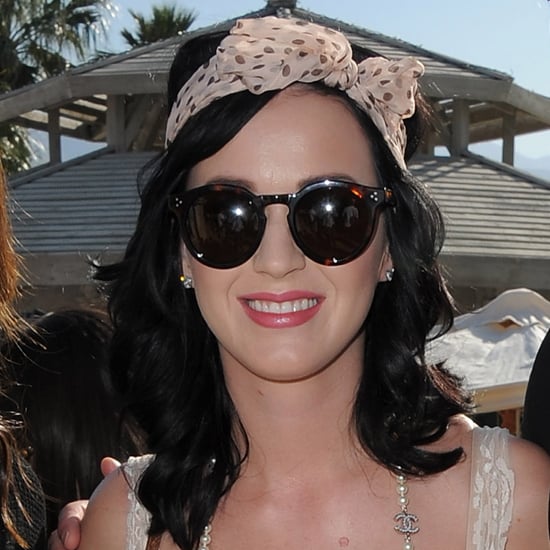 Wrapping a cute scarf or ribbon around your hair is fast and easy, all while keeping your hair in place and the sweat out of your eyes. Katy Perry [1] goes with girly pink and black dots, but something louder could make this style funky in a snap.
Get Messy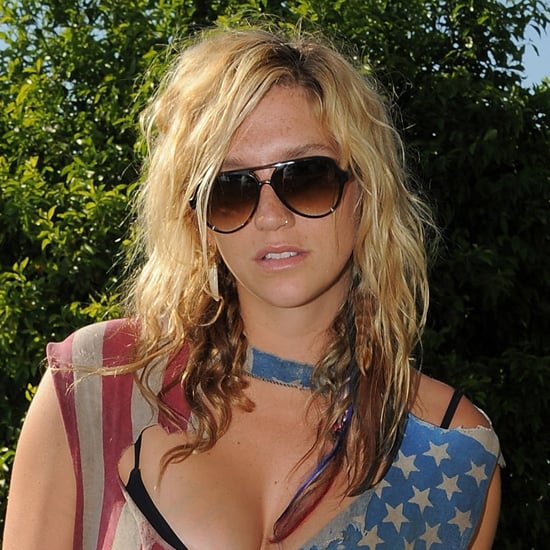 Throwing a couple clip-in hair extensions in your hair and adding some messy braids looks grungy and cool without any actual commitment. Just make sure to let your hair's texture have a little fun, like Ke$ha here.
Cover Up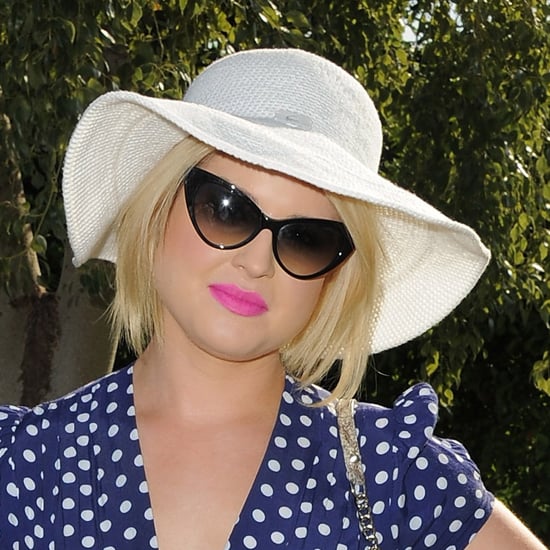 Pale girls and big, floppy hats are a match made in heaven. Just ask Kelly Osbourne, who kept her skin out of the blazing heat at Coachella with this wide-brimmed number.
Curl Up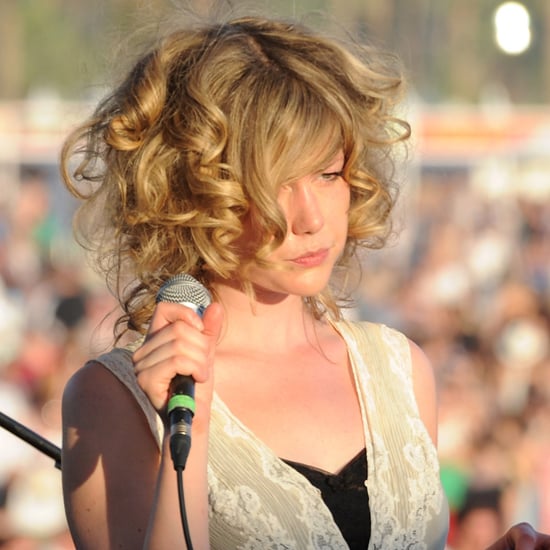 If there was ever a time to let your curls be free, this is it. With a little bit of heat and humidity, even Shirley Temple curls like, Broken Social Scene's Lisa Lobsinger's, get an edge.
Go Glam
Music festivals don't always have to be about looking like you just stumbled out of a scene from Mad Max Beyond Thunderdome. The Secret Sisters duo Lydia and Laura Rogers stay pretty and feminine with liquid liner and bright lipstick that's cool but never sloppy.
Blow It Out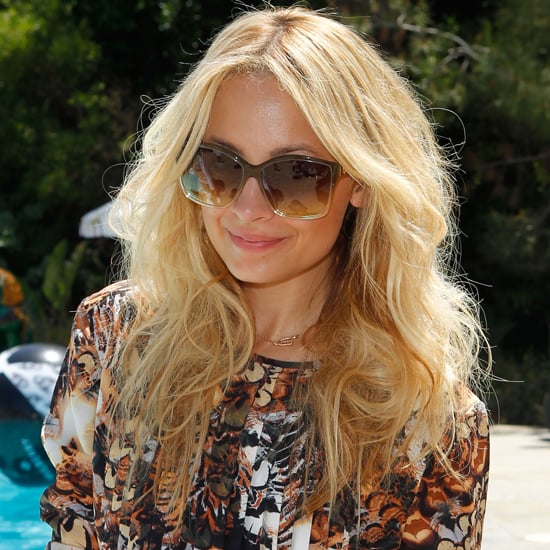 Nicole Richie [2] always gets easy glam just right; try her messy, blown-out style for a look that's festival casual without looking grungy.
Use Your Ends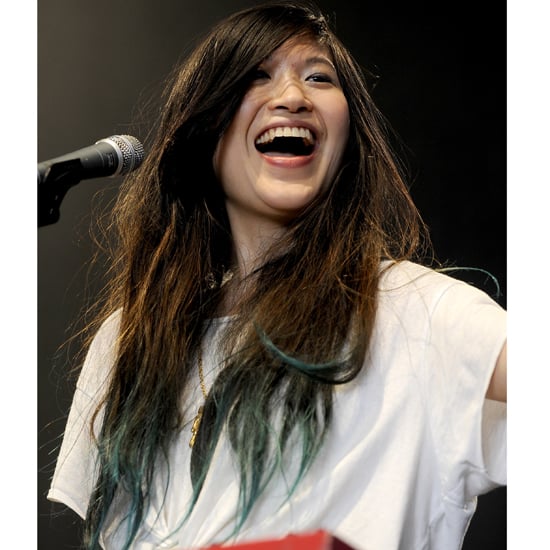 Keyboardist (and BuzzFeed editor) Peggy Wang of The Pains of Being Pure at Heart dip-dyes her ends in green. It's a perfect way to get a bright pop of color in the hair, knowing that it can easily be trimmed off.
Go Streaking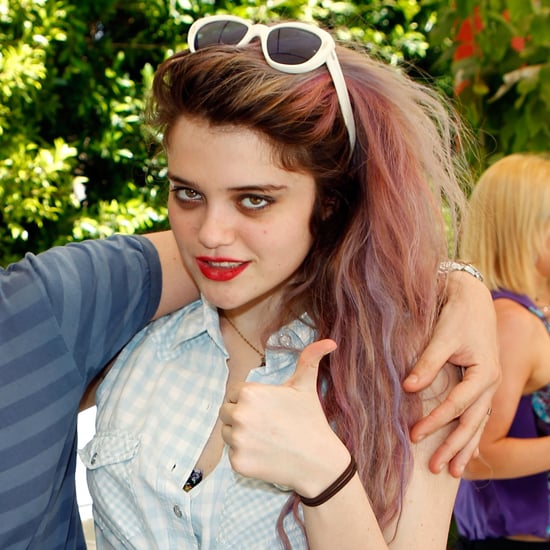 Singer Sky Ferreira's acid-fade, multicolored streaks make a big statement, but are relatively easy to color over later.
Double Your Fun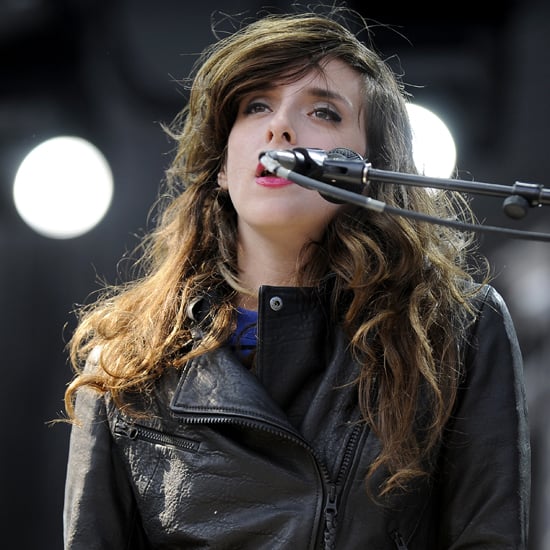 Beach House vocalist/organist Victoria Legrand's duo-tone golden and chocolate hair color grabs attention without being over the top.
Band Together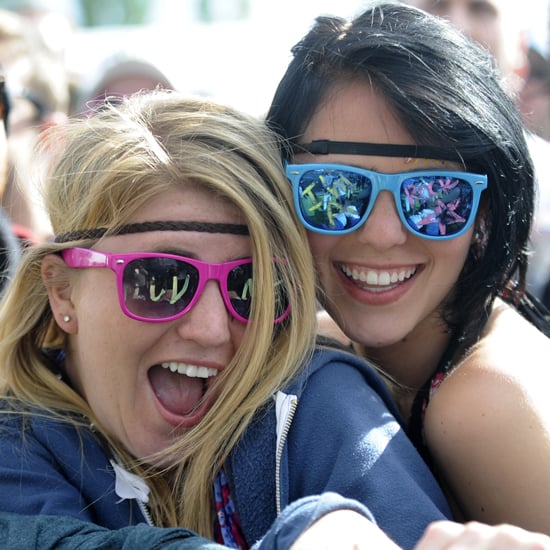 Wearing a simple band to keep your hair back is one of the easiest ways to keep your hair in place and get a shot of boho cool at the same time.
Get a Little Vegas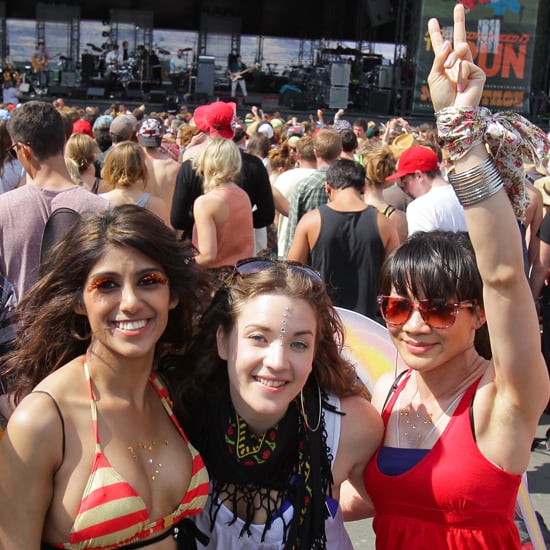 Rhinestones and tinsel aren't just for showgirls on the Strip. They also make cute accents for otherwise low-key festival looks.
Get Creative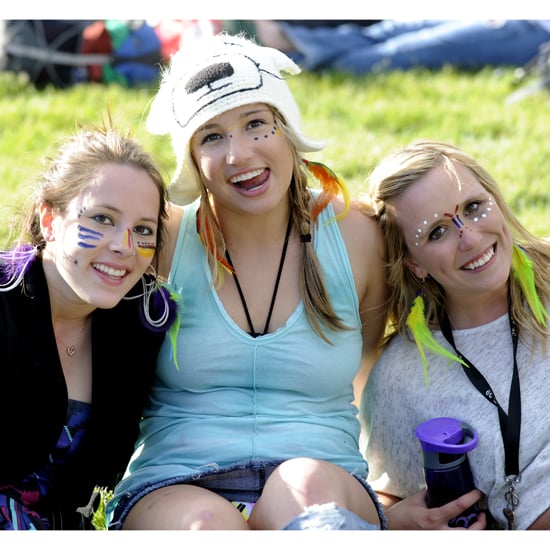 It doesn't take a great deal of drawing ability to create cute face paint. Fans at Sasquatch use basic dots, stripes, and lines to accentuate their features.
Braid It Out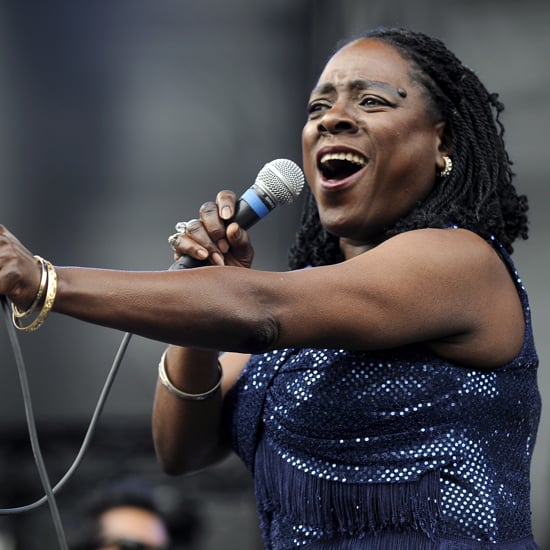 Singer Sharon Jones keeps cool and stylish with cornrows.
Pin It Back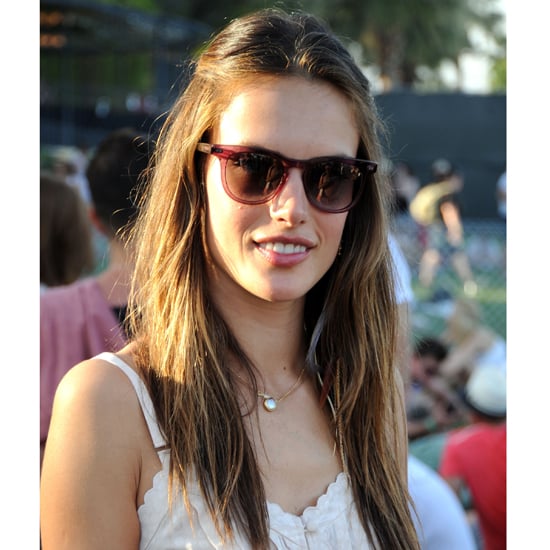 Model Alessandra Ambrosio keeps things pretty and simple by pulling back the front sections of her hair and leaving the rest down.
Flower Power Up
Glasser frontwoman Cameron Mesirow makes flowers in your hair more indie cool than hippie chic while performing at SXSW.
Take a Side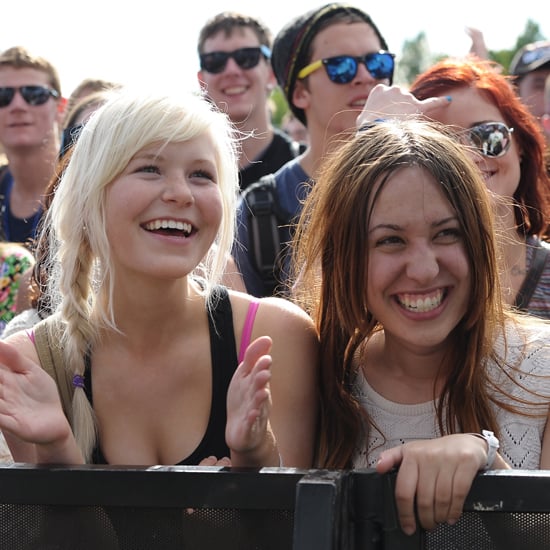 An easy side-braid always looks cute and stays in place nicely; plus, it's one of those hairstyles that still looks cool when it's messy.
Make a Statement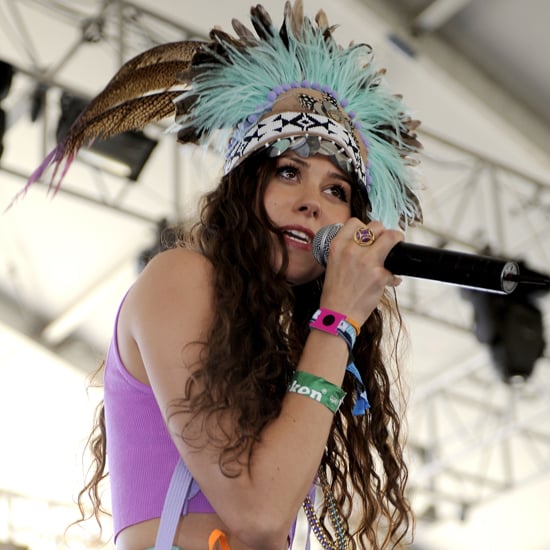 I'm not a huge fan of faux nouveau Native American headpieces like this. However, using a large hair accessory to make a statement, like singer Eliza Doolittle does, is a fast way to look hip.
Get Disguised
Dressing up as your favorite act can get pretty intense (like these DJ Deadmau5 fans), but a little hair and makeup work that references their look works, too.