The only thing better than getting the perfect pedicure is having a killer set of sandals to show it off. And if we had an unlimited budget, we'd give our toes the luxury treatment by pairing our polish with some glamorous heels. Click through for 15 chic sandals your feet will long for (and the pedicure hues we'd match them with). A girl can dream, right?
Girlie Girl
Blush pink and lavender give these Gucci sandals [1] ($612) a ladylike look. Keep your toes just as girlie with Essie Cascade Cool polish [2] ($8).
Totally Teal
Why not have your sandals and toes match those beautiful blue waves washing up on the beach? These Christian Siriano for Payless braided sandals [3] ($20) paired with Julep's Amy [4] ($14) are perfect for a seaside evening.
Wonderfully Woven
A colorful woven wedge, like these platform wedges [5] ($30) from Zara are always a good bet for Summer barbecues. Highlight the pink stripes by donning Nars lacquer in Trouville [6] ($18).
Neon Lights
Bright colors are having a huge moment right now, and these Aperlai Amourette sandals [7] ($586) are bold enough to stop traffic. Don't go tame on your toes. Try an equally vivid color like China Glaze Sun Kissed [8] ($6).
Rock and Roll
Jeffrey Campbell is known for making some out-there shoes, and these Rock Me Sandals [9] ($175) are no exception. Let your toes in on the fun by polishing them with L'Oréal Paris Check Me Out [10] ($6).
Crushed Velvet
These Jimmy Choos [11] ($795) are part class, part club. Pair them with a glamorous purple shade like Dior Ultra Violet [12] ($23).
It's a Jungle Out There
Take a walk on the wild side in these Mendonsa pumps [13] ($39) from Aldo. A sparkly blue polish, like #5 Blue [14] from Beauty For Real ($15), will keep your toes in on the fun.
Take a Dip
A strappy pump is a Summer staple, and Bottega Veneta's sandals [15] ($635) gives the go-to a colorful twist. Paint your nails with Orly Skinny Dip [16] ($8.50) to give that beautiful turquoise strap more of a pop.
In Mint Condition
A mint green polish, like SpaRitual's Delight [17] ($10) is a perfect pastel. It matches Steve Madden's Tampaas [18] ($70) perfectly, too.
Hot Hot Heat
Colorblocking can be scary for some, but sticking to the same color family will keep your toes from looking too fun house. Pair these Nine West sandals [19] ($90) with Nicole by OPI's All Kendall-ed Up [20] ($8) to keep your feet tamely on trend.
Pretty in Pink
Carrie Bradshaw knew what she was talking about when she declared Manolo Blahniks to be her favorite shoe. These spectator sandals [21] ($472) are like works of art for your feet, so give your toes some panache with Deborah Lippmann's Sweet Dreams [22] ($18).
Agent Orange
Wear Pantone's color of the year on your feet with Sergio Rossi's PVC sandals [23] ($795). While you're at it, pair them with another hot trend for Summer — taxi-cab yellow — with Maybelline Color Show in Fierce N Tangy [24] ($4).
Blue Belle
OPI's I Don't Give a Rotterdam! [25] ($8.50), from the Holland-inspired line, looks like a perfect blend of the blue and gray in Diane von Furstenberg's Jodi platform sandal [26] ($298).
Metallic Mania
Looking to make a statement? Pair these daring Giuseppe Zanotti metallic heel-free sandals [27] ($895) with Estée Lauder's Nouveau Riche [28] ($20) and you'll be a showstopper . . . from the ankles down, at least.
Hello, Lover!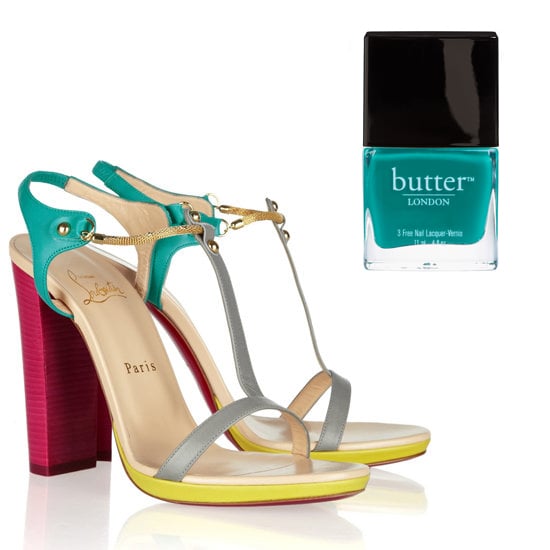 When we think of glamorous shoes, we think of Christian Louboutin. His colorblocked sandal [29] ($1,095) would look incredible with Butter London's Slapper [30] polish ($14).