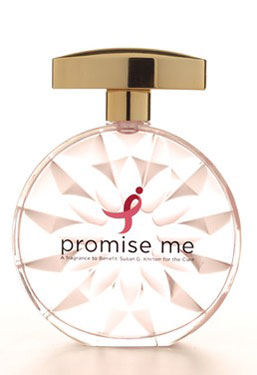 For nearly 30 years, the Susan G. Komen for the Cure Foundation has been raising funds and awareness to help fight breast cancer. And now, the organization
is set to launch a fragrance
in April. Promise Me, which will be sold in an eau de parfum ($59) and an eau de toilette ($20-$30), is a floral oriental that will include notes of blood orange, bergamot, mandarin, aldehyde, pink peony, black current, rosewood, wild orchid, white patchouli, and musk.
"My sister was always passionate about fragrance," said Nancy Brinker, sister of the late Susan Komen, founder of the foundation, and author of Promise Me ($10-$32), a book that depicts how the organization came to be. The organization hopes to raise $1 million from sales, but critics are likely to notice that just 13.5 percent of the net sales will go to the foundation.
Look for Promise Me in department stores, drugstores, and on TV in just a few months. The limited-edition fragrance will be sold until October, with plans to launch a different scent next year. Will you check it out?