The vocal phenoms of Fifth Harmony are not your average teenagers . . . they're much more beauty savvy (had you mastered the cat eye at 17? Probably not.). In general, these young women are excited about everything to do with grooming, and thanks to back-to-back tours, they get plenty of opportunities to experiment. Even though the girls admit makeup can be a pain, "I wish that it could be snap: it's on and then snap, it's off like a mask," Ally Brooke said. "After a long day with makeup on, washing it off — that's the best feeling." It's clear they have wisdom way beyond their teen years.
Between shows, their life sounds like one big sleepover. Camila Cabello, Dinah Jane Hansen, Ally Brooke, Normani Hamilton, and Lauren Jauregui share everything from curling irons and perfume to mascara (Too Faced Better Than Sex [1] [$23] is a group favorite). They are also endorse a nail art salon (there were multiple shout outs to Nail Garden [2] in LA). Keep reading to reminiscence on what it was like to be a teenager (we promise this will be a good trip down memory lane).
Their Showtime Looks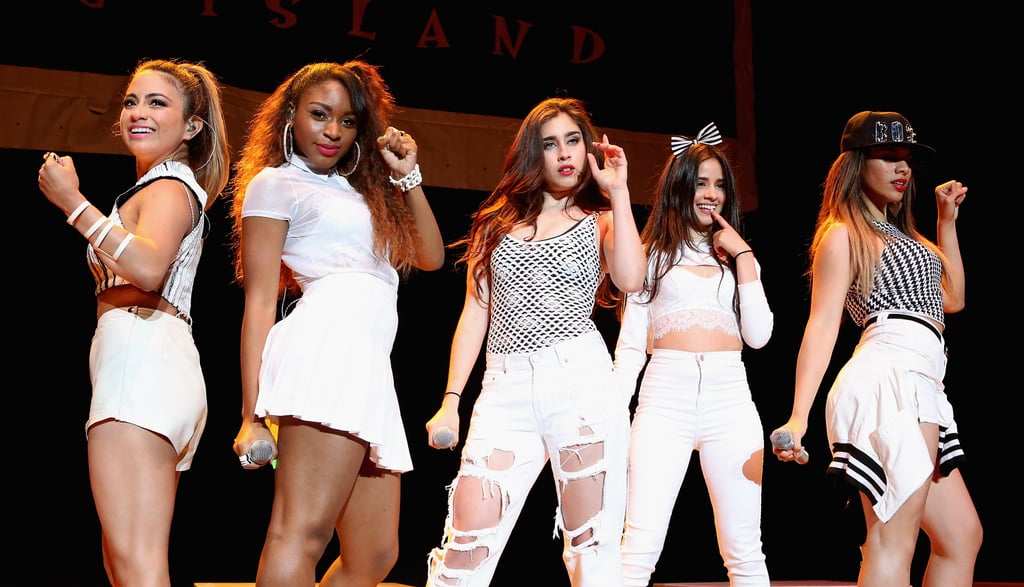 Normani: I like to either do a bold lip, or sometimes I like to do rhinestones on my eyes as my eyeliner — like actual rhinestones. The makeup artist would glue them to my lids to make it stay. The first time I wore them my eyes were partially closed! Everybody asked me, "are you sleeping?" And I replied, "no, my eyes are just buried! I can't open them all the way."
Camila: I'm pretty plain Jane. I do a winged eyeliner every day pretty much, and I don't really like to wear a lot of eye shadow.
Ally: I usually did a hot pink lip all the time, but now I like to switch it up a little. I like nude, pearl, red, pink. Also, I like to switch up my eyes. I could never really wear top eyeliner, but now it's fun.
On Hair Accessories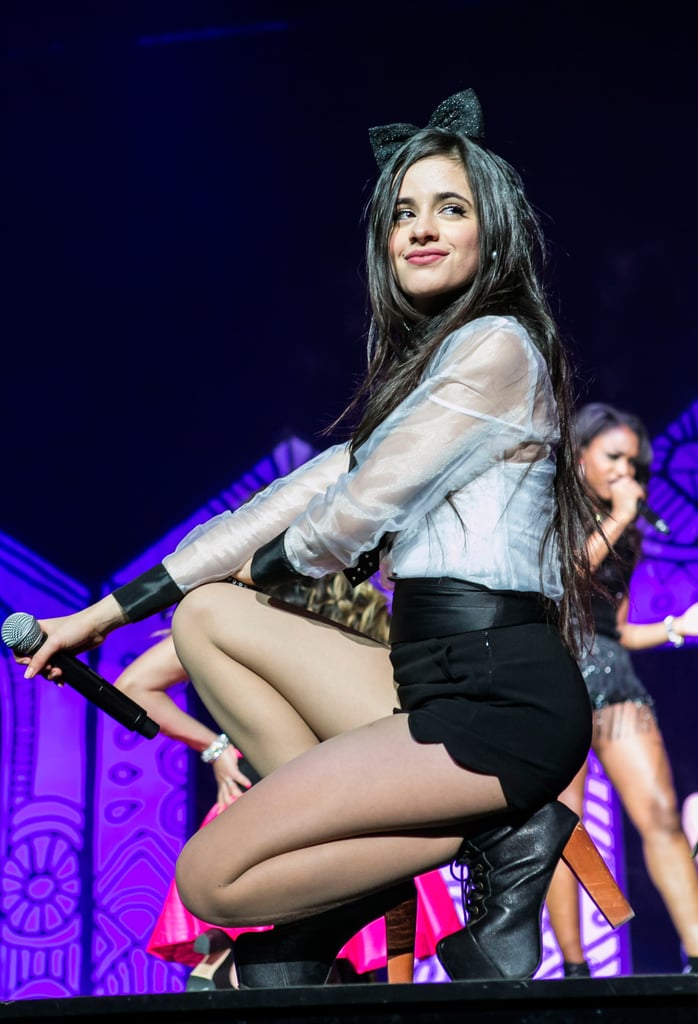 Camila: My favorite hair accessories . . . I either use the bow, which stands up (I have a black one that I use all the time because it goes with everything), or I use hair ribbons, which are really cool because you can just spin them around, and you can tie them up.
Dinah: I love bandannas, and I love snapbacks so that's usually my go-to.
Normani: I like snapbacks, too. I used to wear them all the time and also bandannas. I'm inspired by '90s hip-hop. I like Aaliyah. I love Beyoncé and Rihanna [3]. I also always have to have bling . . . anything that shines! I used to be in pageants so everybody calls me the "Glitz." Sometimes they tone me down, because I can go way out there.
On Acne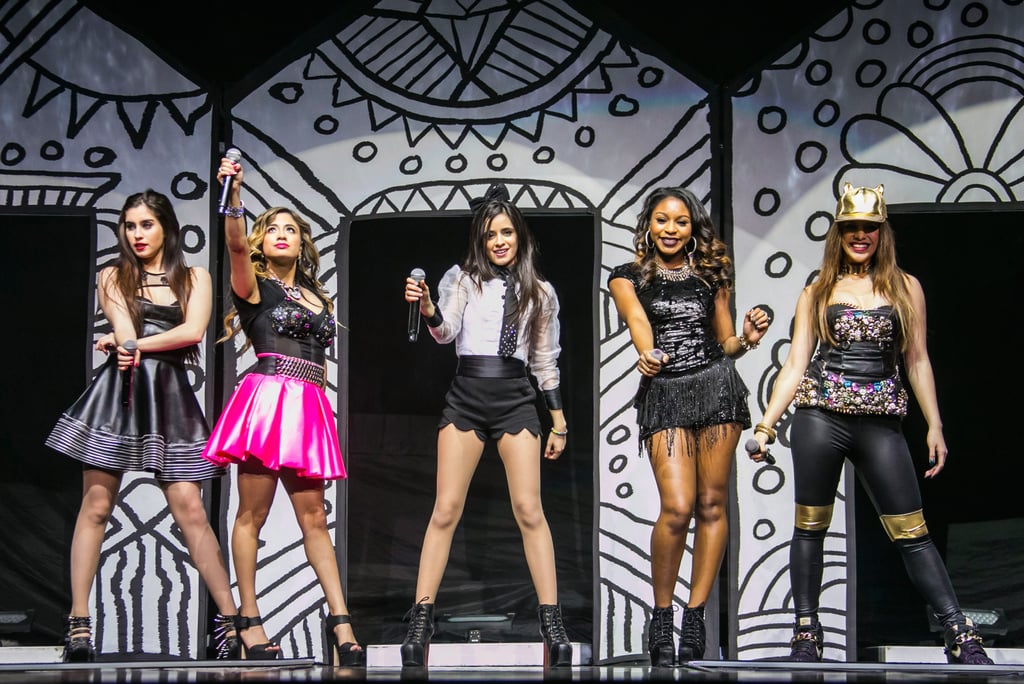 Dinah: Take it off right away with the Clean & Clear makeup wipes [4] ($5) and then start exfoliating . . . and drink a lot of water! You should drink at least eight cups of water.
Normani: And then use the face wash! Especially for us, sometimes on stage we tend to sweat because we dance so hard and then the lights, so mixture of the light, the makeup, and the sweat, aren't a great combination as far as when you're trying to go to sleep. It's a great idea to take it off right away so you won't get pimples.
Camila: The Clean & Clear Advantage Acne Spot Treatment [5] ($8) is so good! It works, it literally does. It's like a little serum. You put it on all the little pimples that are being problematic, and it takes it away.
Their Go-To Makeup Items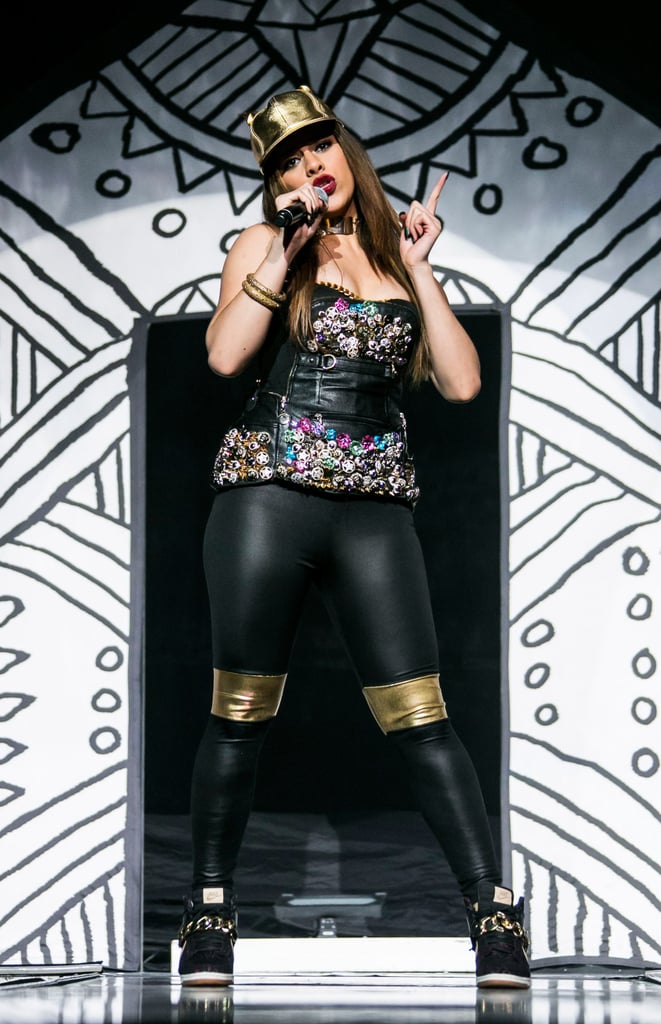 Lauren: I would use foundation. When your skin looks pretty, you feel so much prettier. You don't have to add a lot of mascara or lipstick or anything, if your skin looks you are automatically glowing.
Normani: For me, I'd say my eyebrows. I have kind of wild brows, and I feel like I just need to tame them. Eyebrows are the frame of your face, and they can make a total difference.
Ally: Sometimes I literally go out with just mascara, and I'm totally fine. Like when I'm going to the beach, I love not wearing makeup.
On Being Yourself