Trending Now: Pile On Layers For Fall and Win!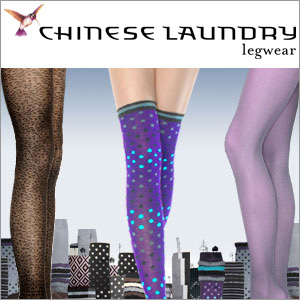 There's a chill is in the air, and that means it's time to embark on the oh-so-Fall task of piling on layers. Not only are layers one of the biggest trends this season, they're also practical! From chunky knits to contrasting textures, layers always create a rich, well-developed look that will keep you cozy all season long. And this Fall, Chinese Laundry Legwear has an amazing line of items that are perfect for getting that effortlessly chic look. The new Chinese Laundry Legwear collection boasts fabulous yet totally wearable fashion legwear, all available in a vast assortment of colors and patterns. The must haves? Knee highs, over-the-knee socks, textured tights, and the new luxuriously plush fleece-lined tights.
Feeling inspired? Tell us how you would style the Chinese Laundry Legwear Fall collection, and enter for the chance to win a $500 gift card and an assortment of handpicked styles from the line.
Official Rules