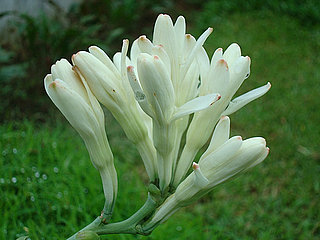 Looking for a sexy scent?
Tuberose
might just be for you. It is often referred to as an aphrodisiac flower, after all. A member of the agave family, this plant is typically used as a
middle note
in perfumery. Its fragrant waxy white flowers resemble lilies, and the heady floral aroma they produce can be described as sweet, spicy, floral, milky, coconuty, complex, and even dreamy.
In fact, legend has it that young Frenchwomen were forewarned against smelling the tuberose scent after dark — as it might put them in a romantic state of mind. It's also said to help develop intuition. I'll take some of that. Classic tuberose blends include Robert Piguet Fracas EDP Spray ($75), Secret Obsession by Calvin Klein ($55), and Jo Malone Tuberose Cologne ($55).
Photo by Rhinusmita