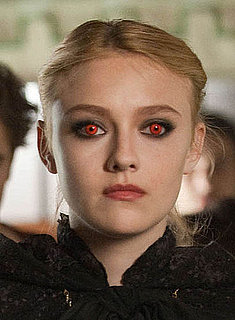 Whether you're a
Twihard
or not, you have to admit,
Dakota Fanning
looks pretty cool as a vampire. As Jane, a sadistic member of the Volturi vamp coven, she has the sexy-scary thing down pat. If you're considering going as a
New Moon
character for
Halloween
, she's probably the best choice. Why? Because even if you've never heard of the Bella and Edward saga, Jane looks badass. For suggestions on re-creating this look, read more.
To get her look, use a medium-coverage foundation to cover any skin imperfections. Use just the slightest hint of light pink blush on the apples of your cheeks, and dot a bit of highlighter on cheekbones and in a half-moon shape around the eyes. (Blend!) Shade eyelids with a dark gray eye shadow, being careful to keep it on the lids and crease only — not up at your brow line. Then, gently brush black shadow around the outer corner of the eyes; for a neater look, start outside and move toward your eyes. Line the upper and lower lashlines with a black soft pencil black eyeliner. Go all out with false lashes, or coat your own lashes with mascara. Lips should have minimal color; consider a tinted lip balm, if anything at all. Finally, if you're going to splurge, pick up a pair of red contact lenses to show everyone you mean business. Neck-biting, pain-giving business.