While we love ogling all of the looks from the four Fashion Weeks in New York [1], London, Milan, and Paris, the catwalks don't always produce the most wearable beauty styles. We've come to expect extreme minimalism (who really wants to skip mascara?), out-there ideas (bleached eyebrows should be saved for the Alexander Wang show [2] and Miley Cyrus [3]), and hard-to-pull-off hair (the ultrawet look = us after a SoulCycle spinning class). But when it comes to our real lives, we want to look pretty, not überedgy. So we rounded up some of the coolest hair and makeup trends we saw for Fall 2014 — and we promise these are looks you can and will want to DIY [4] at home.
Badgley Mischka Fall 2014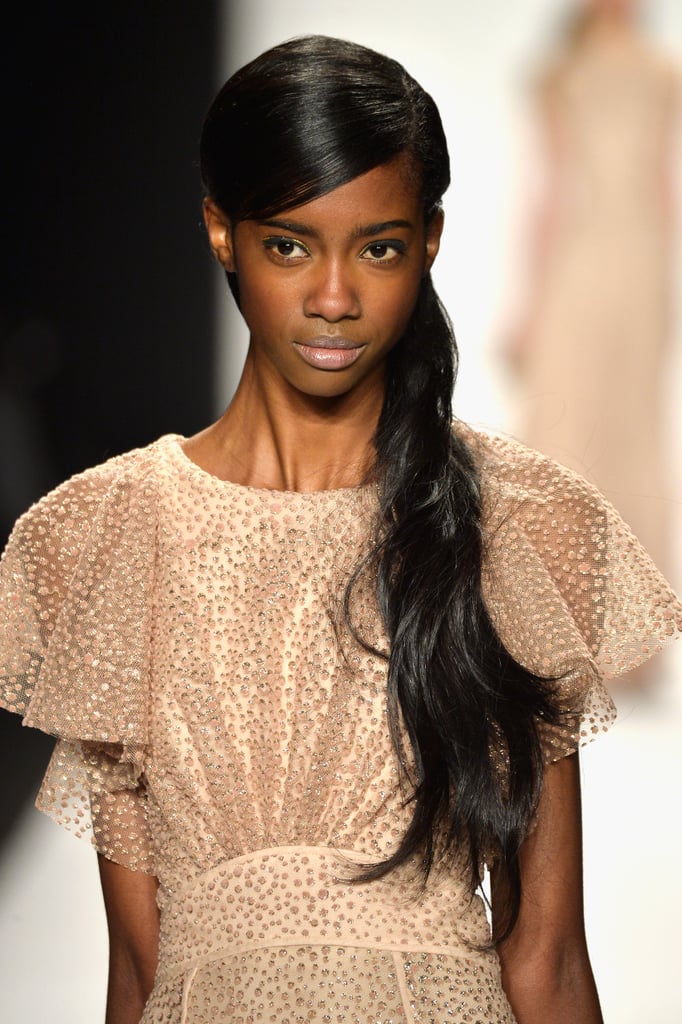 Whether you're wedding-bound or just headed to a date, this romantic look is a new twist on a half-up hairstyle. It featured a deep side part, glossy, loose waves, and thin pieces pulled back around the middle of the head. Tip: choose a clear hairband or one that matches the color of your mane.
Badgley Mischka Fall 2014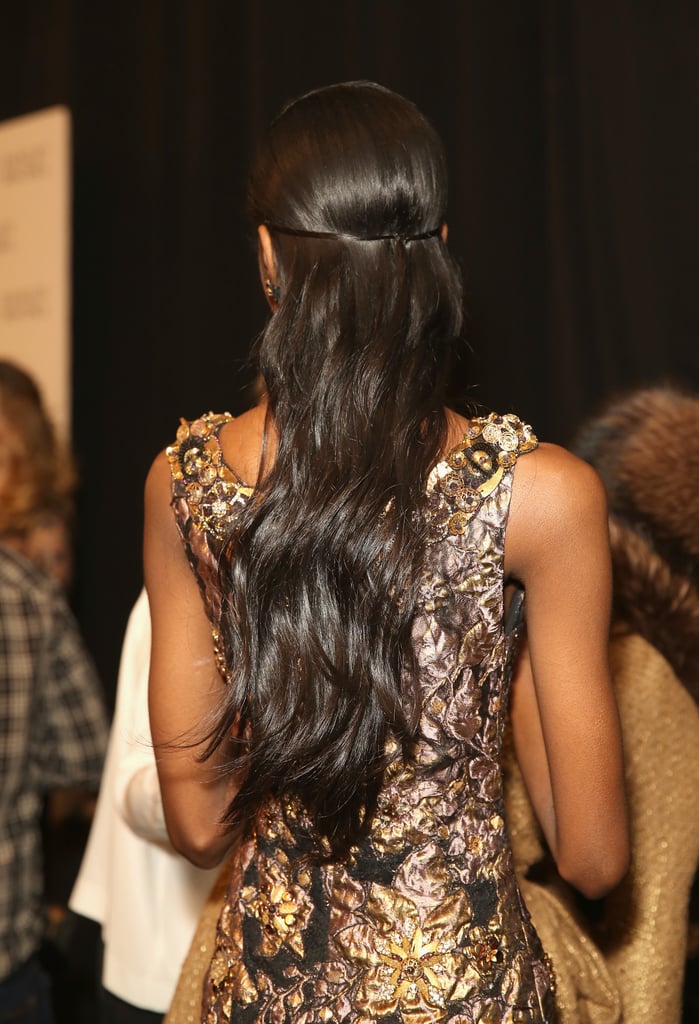 Here's what the femme hairstyle looked like from the back.
Zimmermann Fall 2014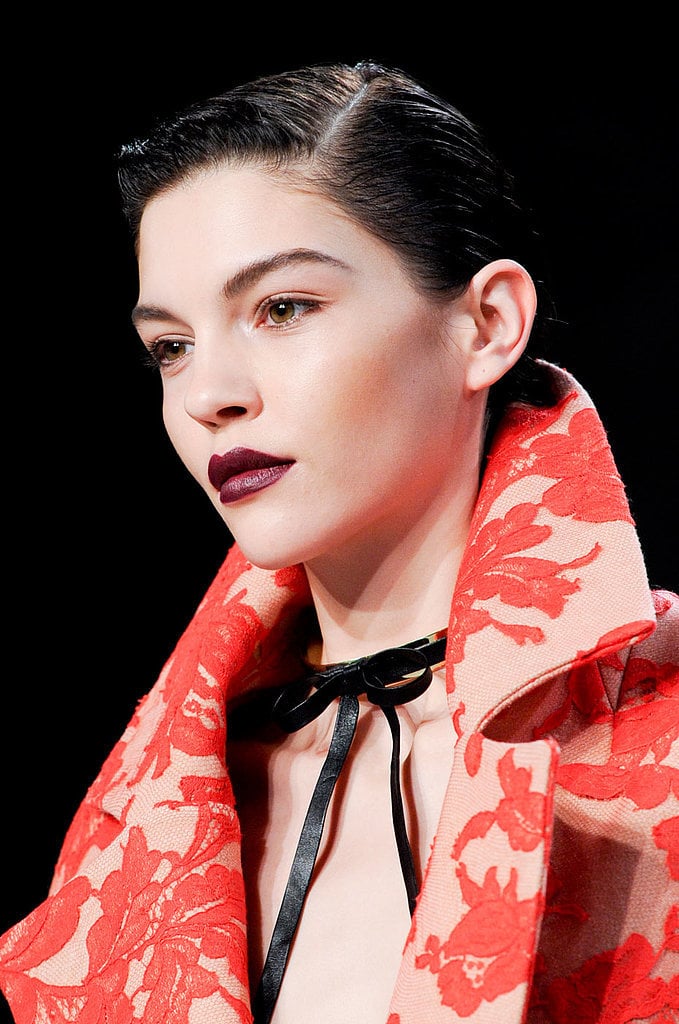 Colder months beg for darker lip colors, and this one works perfectly thanks to lip liner (it really defines your pout with deeper hues), a slight flush on the cheeks, and minimal eyes.
Dolce & Gabbana Fall 2014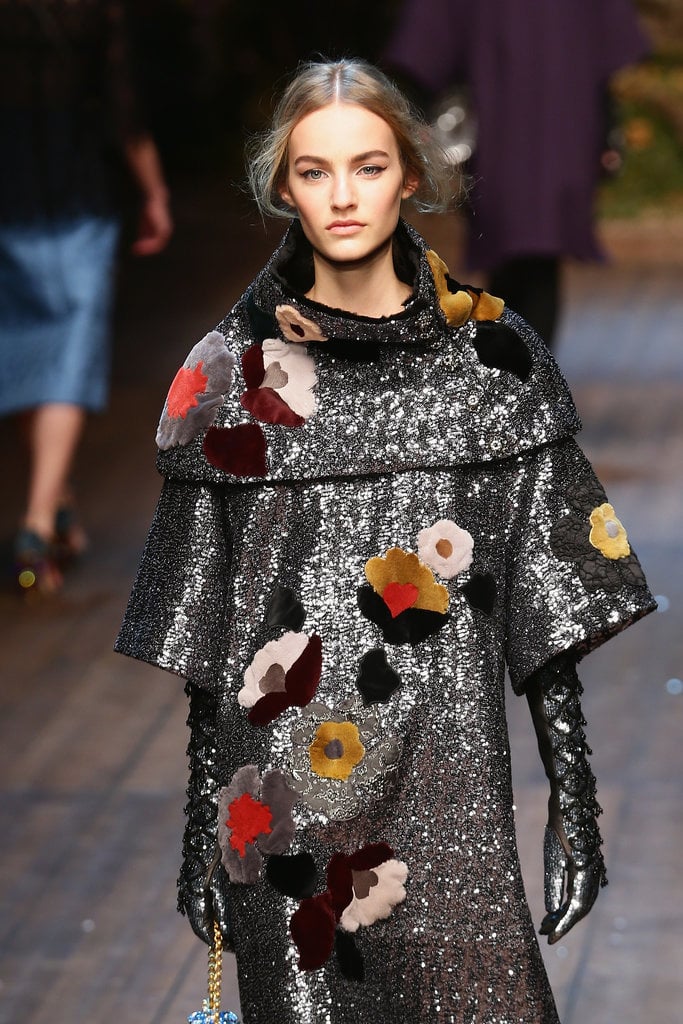 Cat eyes were one of the biggest trends of the season [5], but not all feline looks are the same. We love this one since the flick goes up in a check-mark shape, which makes eyes appear more open and awake.
Balmain Fall 2014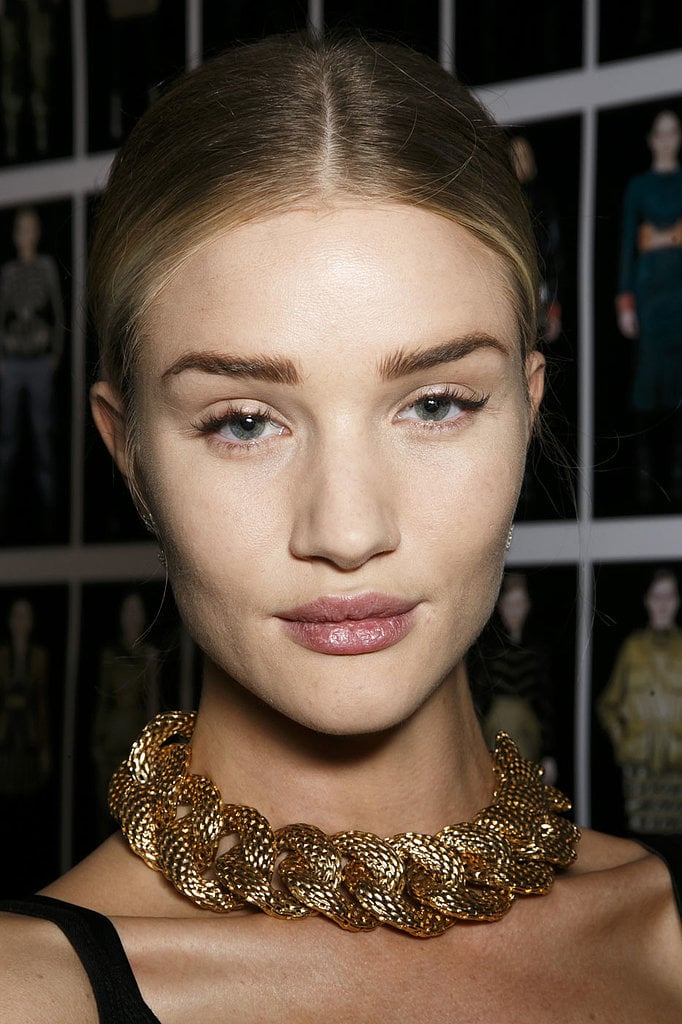 From the front, the Balmain models tackled one major trend: brushed-up eyebrows [6]. Try it at home by brushing your arches up (instead of outward) using clear gel.
Balmain Fall 2014
Then, from the back, the Balmain beauty pros hit another fad: ponytails [7]. This one works because it's at the nape of the neck, which makes your hair seem lengthier whether you have long or short locks [8].
Elie Saab Fall 2014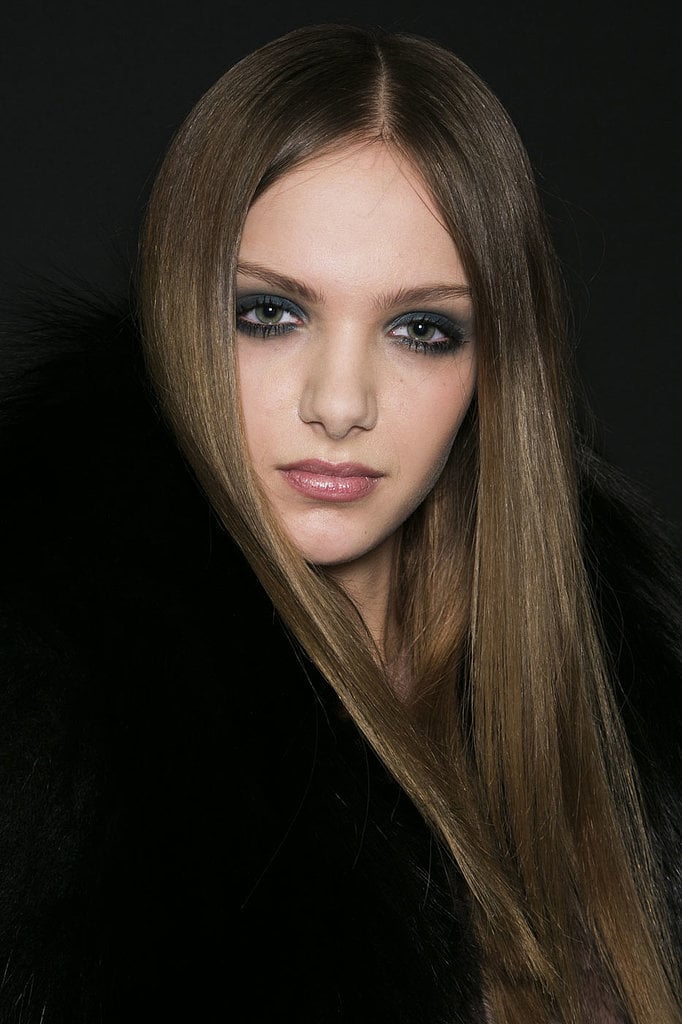 Music festival season is upon us [9], and we love this after-dark look for grungier nights. Sleek, center-parted strands and shiny, rosy lips balanced out charcoal-smudged eyes. What kept this model looking like she didn't get punched? Inky black mascara on the top and bottom lashes.
Michael Kors Fall 2014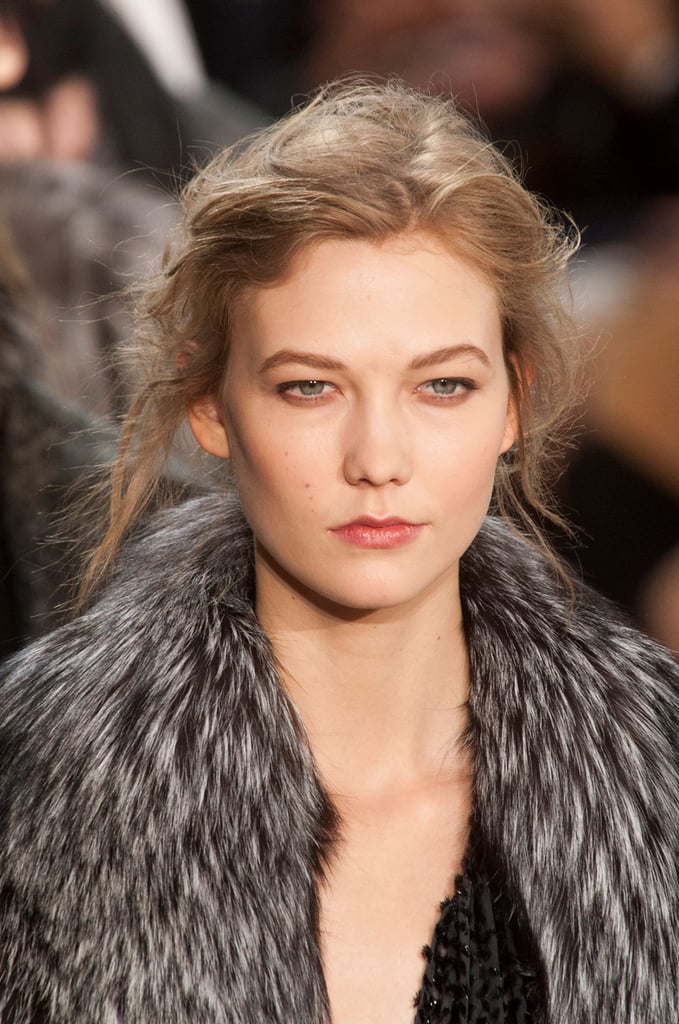 Once your skin gets paler in Winter, it's time to bring on the blush. The models at Michael Kors had the perfect wind-burned faces. Try a peach color just on the hollows of your cheeks, sweeping out to your hairline.
Burberry Prorsum Fall 2014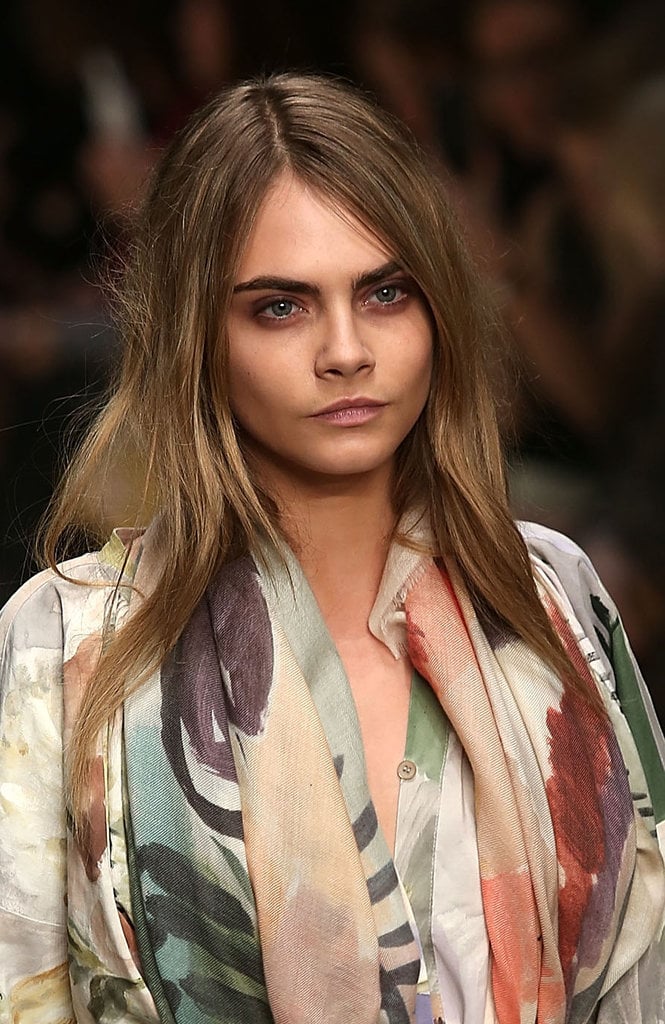 Natural hair texture ruled the runways [10] — especially in Paris. To achieve slightly wavy strands (like Cara Delevingne), blow-dry your hair before bed, and sleep with it in a high bun. Take it out in the morning, mist it with sea salt spray — and voilà!
Richard Chai Love Fall 2014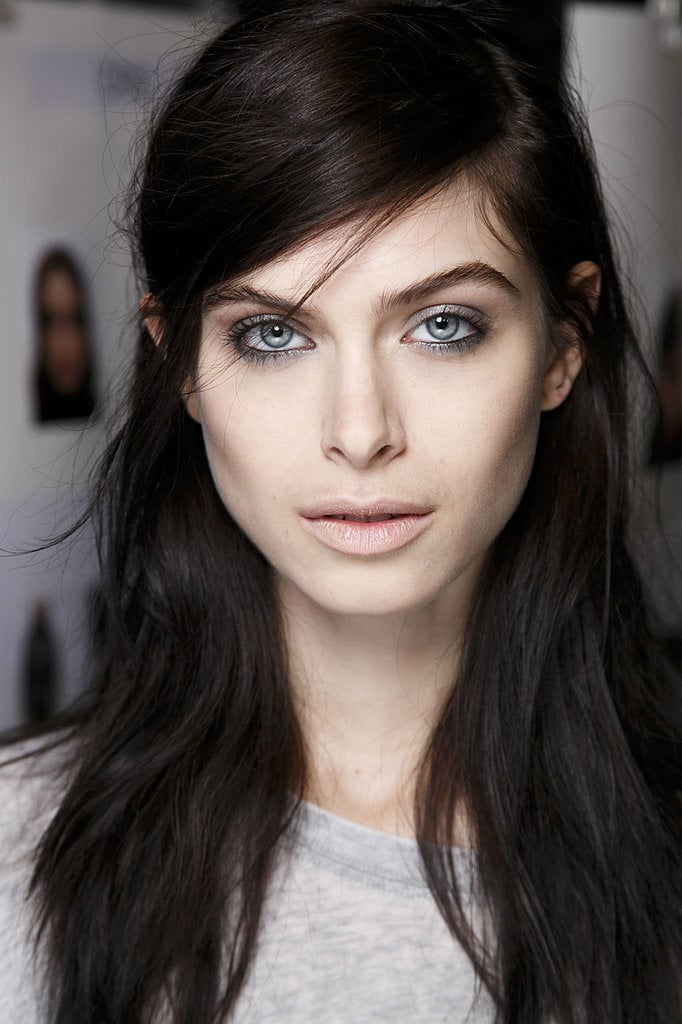 Silver eye shadow is a gorgeous holiday party style, especially if you pair it with jet-black liquid eyeliner in your water lines. Finish with a lash-lengthening mascara, and you've just done your eye makeup in about three minutes flat.
Giorgio Armani Fall 2014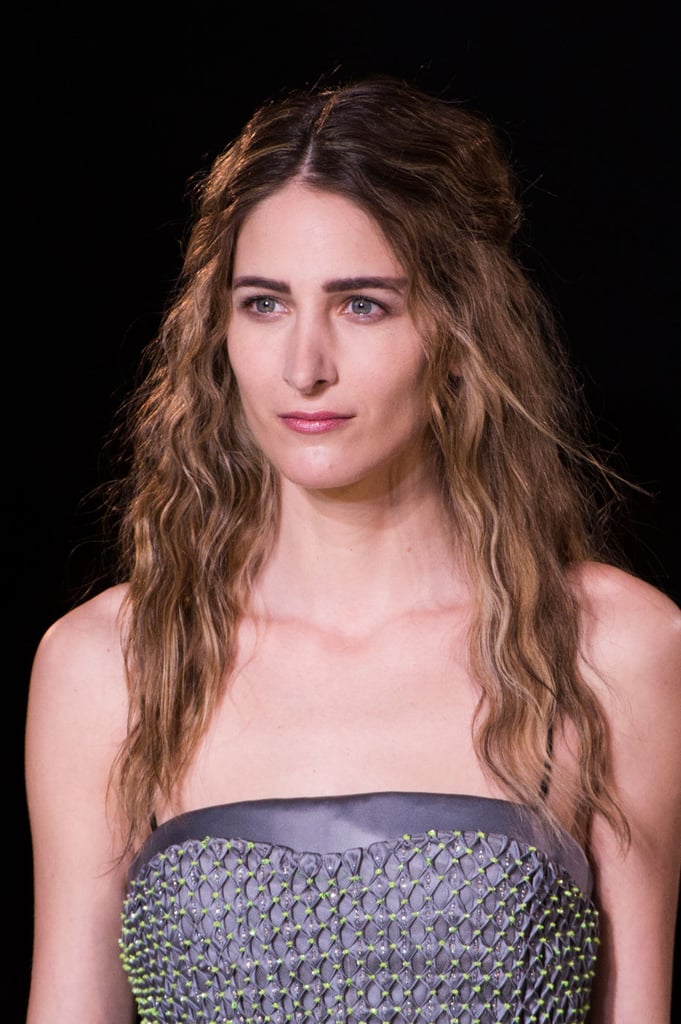 Hair crimping from the '80s is back [11]! But it's modernized in the form of bigger waves with straight ends. The style can be yours if you sleep with your hair in two to four braids, depending on how thick it is. Run over your ends with a flat iron. Easy!
Naeem Khan Fall 2014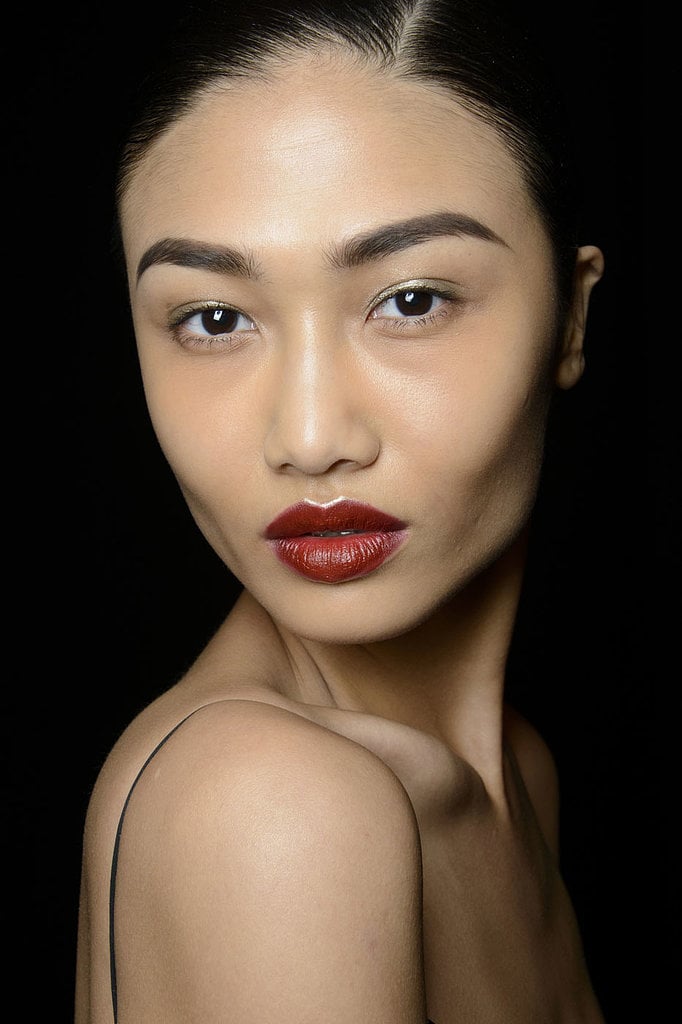 If highlighter still intimidates you, take a lesson in Naeem Khan's beauty book. Skin glows when it's used on eyelids and the tops of cheeks. Plus, you can accentuate the curves of your lips if you strategically place it above your cupid's bow.