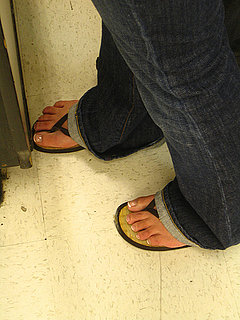 I'm clearly in the minority here, but I cannot understand the appeal of French pedicures.
More than 60 percent
of you deem them chic, but they baffle me. Though I'm not a fan of their manicure counterpart, it's easy to understand why people want to make their nail growth look neat and brighter. But I'll never understand
trompe-l'œil
toenail growth. To each her own; it's just not a look for me. What about you? Is there a beauty look whose popularity you can't grasp?
Source: Flickr User rick