Win Something Old, New, Borrowed, and Blue!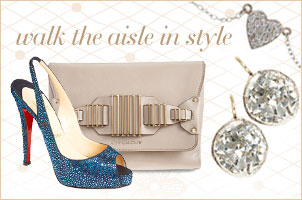 If you're a bride-to-be, get excited because ShopStyle and Barneys New York want you to take the walk down the aisle in style! To celebrate Barneys' exclusive partnership with ShopStyle Bridal, we're launching a four-week giveaway featuring something old, something new, something borrowed, and something blue. To enter each week for your chance to win a pair of Olivia Collings antique earrings, a Givenchy clutch, a show-stopping Jennifer Meyer Diamond Heart Bracelet, or a sparkling pair of blue Christian Louboutins, click here!
For even more wedding inspiration, be sure to shop the Barneys Wedding Boutique here!