Is This the Worst Facebook Ad Ever?
Like us on Facebook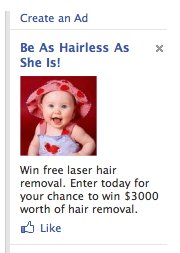 When it comes to body hair, we take a whatever-floats-your-boat approach. We're decidedly less mellow when it comes to this Facebook ad for laser hair removal, though. The implied message is making us alternately fume and groan, and while we get the whole hair-free concept, what grown woman needs to see a (very cute!) 6-month-old as the body-grooming standard? Call us big babies if you must, but we're wishing for an

unlike

button right about now.