30 Rock on Ice! 30 Ricecapades!
Like us on Facebook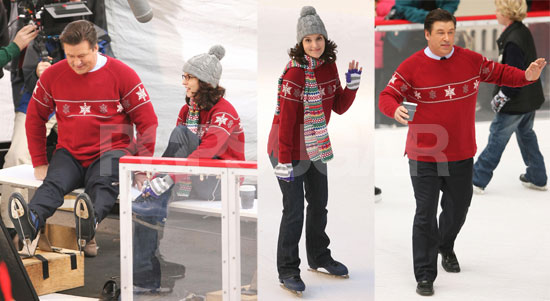 1
30 Rock on Ice! 30 Ricecapades!
Tina Fey and Alec Baldwin were spotted on the ice skating rink in NYC's Rockefeller Center yesterday, filming an upcoming episode of the hilarious 30 Rock. Sadly, the show isn't on tonight because of an hour long My Name is Earl, but next week is going to be an extra special episode starring none other than Nobel Prize winner Al Gore (also, David Schwimmer)! Can't wait to see their banter with one Tracy "Shark Week" Jordan. Gore's cameo is a part of NBC's week of green programming, which I have a feeling might not sit well with Jack Donaghy. It's hard to go a week without my 30 Rock, but seeing Tina and Alec skating in their matching sweaters makes me think a lot of funny is yet to come.
To see more of Tina and Alec (is he wearing sneakers?) attempting to skate just