All the Ladies Come Out For Costume Institute Gala
ADVERTISEMENT ( more slides)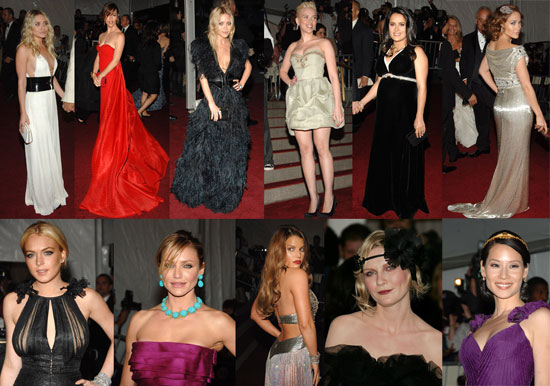 1
All the Ladies Come Out For Costume Institute Gala
Just when we were least expecting it, here is the
"Poiret: King of Fashion" Costume Institute Gala
at The Metropolitan Museum of Art, which just happens to be the most celeb-packed red carpet we've seen since The Oscars. Seriously, how did all these folks get to NYC so quickly? Here are some of the ladies, but check out the gallery below to get the full splendor. In general, the women looked smashing on the arms of their dates (if they had one) -- be they boyfriends, husbands, or esteemed older gentlemen/designers (like Ashley Olsen on the arm of Christian Louboutin himself). Anna Wintour must have been a happy hostess.
I must say that I am especially proud of my Olsens. Ashley looks hot hot hot, but MK is holding her own, too. On the other side of the spectrum, Kirsten and Kate Bosworth apparently got the wrong memo and thought it was an
actual
costume party. Also, is Jennifer Garner 39 feet tall? Who knew! Finally, Jessica Simpson is a little
overtly sexy
for my taste, but oh well. Oh, to be a fly on the wall of this party!
What do you think of all the ladies fabulous looks? Vote Here
To see all the ladies, including but certainly not limited to America, Kate Moss, Christina Ricci, Jennifer Hudson, Rosario Dawson, Ellen Pompeo, Claire Danes, John Mayer and tons more just Amanda Peet America Ferrera Anna Wintour Ashley Olsen Brooke Shields Cameron Diaz Cate Blanchett Chloe Sevigny Chris Klein & Ginnifer Goodwin Christina Ricci Christy Turlington & Ed Burns Claire Danes Debra Messing Ellen Pompeo Eva Mendes & Michael Kors Gisele Bundchen Iman & David Bowie Jennifer Connolly & Paul Bettany Jennifer Garner Jennifer Hudson Jennifer Lopez & Marc Anthony Jessica Simpson John Mayer Juliette Lewis Karolina Kurkova Kate Bosworth Kate Moss Kelly Ripa & Mark Consuelos Kirsten Dunst Lindsay Lohan Liv Tyler Lucy Liu & Zac Posen Mary-Kate Olsen Mischa Barton Molly Sims Naomi Watts & Liev Schreiber Renee Zellweger Rihanna Rosario Dawson Salma Hayek & Francois-Henri Pinault Sandra Bullock Scarlett Johansson Taye Diggs & Idina Menzel Winona Ryder & Marc Jacobs
Source
,
Source
&
Source