The Big Winners at the Oscars!
Like us on Facebook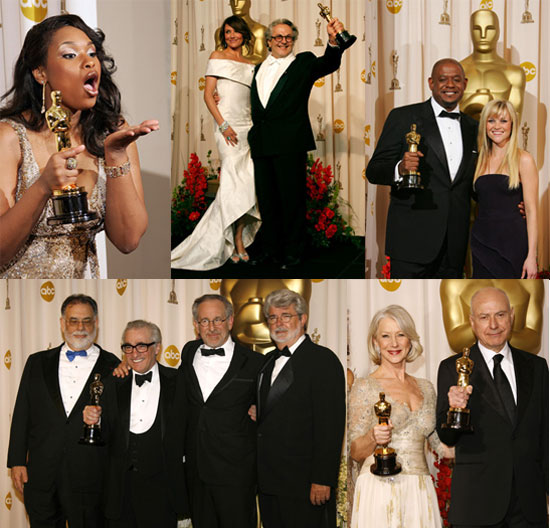 1
The Big Winners at the Oscars!
The winners are in and they look like they are ready to celebrate! Congrats to Marty who finally took home his long overdue Oscar. It was great that his highly respected peers came to give him his big award. So fitting! I think this year it is amazing that an out of nowhere American Idol contestant has become an Oscar winner. On a side note, Jennifer Hudson looked more stunning on stage performing than on the red carpet. Congrats to all the winners!
You should be pretty excited too, especially if you got a chance to vote on our Oscar ballot. Stay tuned for us to announce the winners later today and thanks to all who played. There are lots more pics from the press room just
Images include Al Gore, Anne Hathaway, Emily Blunt, Cameron Diaz, Daniel Craig, Nicole Kidman, Eva Green, Jack Black, Will Ferrell, Jaden Smith, Jennifer Hudson, John C. Reilly, John Travolta, Queen Latifah, Melissa Etheridge, Kirsten Dunst, Robert Downey Jr., Naomi Watts, Tobey Maguire, Tom Hanks, Reese Witherspoon, Forest Whitaker