Britney Spears GIFs
Decades of Die-Hard Britney Fandom — in GIFs
Like us on Facebook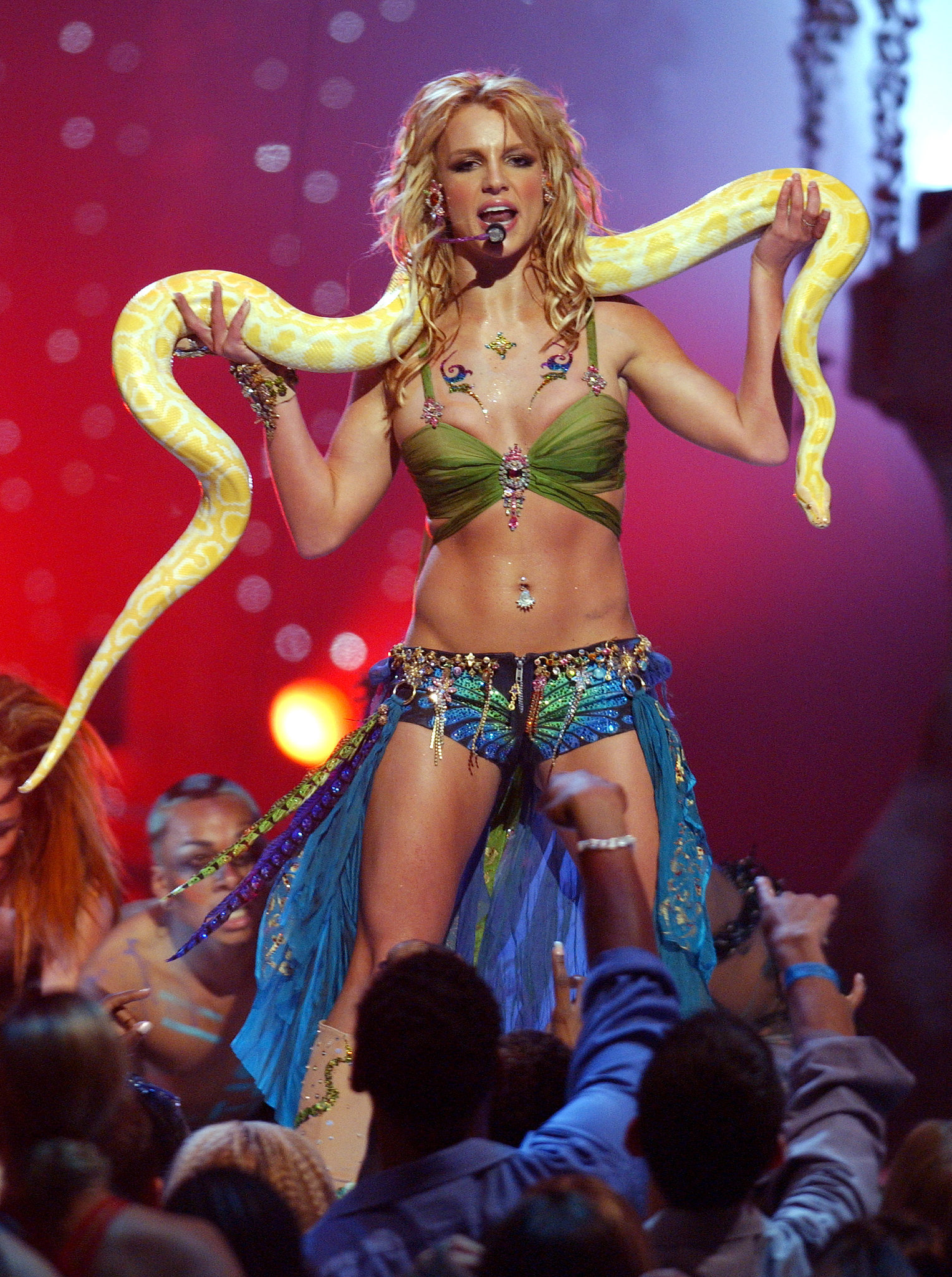 Source: Getty / Kevin Kane
There are some things that only true, dedicated Britney Spears fans will understand. Her career spans decades, moving from plaid and pigtails to sequined bodysuits to the fierce look she has today — and if you're anything like us, you've covered all those style bases with your Halloween costumes over the years. From the schoolgirl era to the VMAs stage, Britney's proven time and time again why she's a pop icon. And with her current stint in Sin City, she's joined the ranks of other music legends like Celine Dion and Elton John. To celebrate her 33rd birthday, let's take a trip down memory lane with the journey of being a Britney fan — in GIFs.
Britney's dance moves first caught our attention on The Mickey Mouse Club in the early '90s.

Source: Disney
Then, in 1998, she released "(Hit Me) Baby One More Time," and we started wearing plaid skirts and pigtails, because obviously.
We weren't the only ones — everyone wanted to be Britney.

Source: NBC
Her first tour blew us away, because if there's one thing Britney does best, it's perform.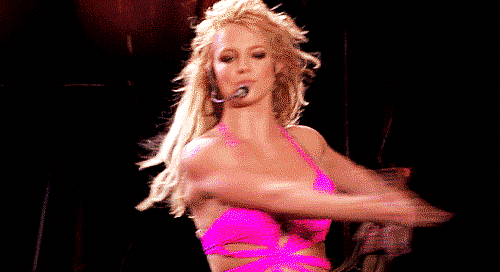 She started getting a little racier, and we wanted to trade our plaid skirts for red latex . . .
And baby-doll tees . . .

Source: Paramount Pictures
And/or clear cowboy hats.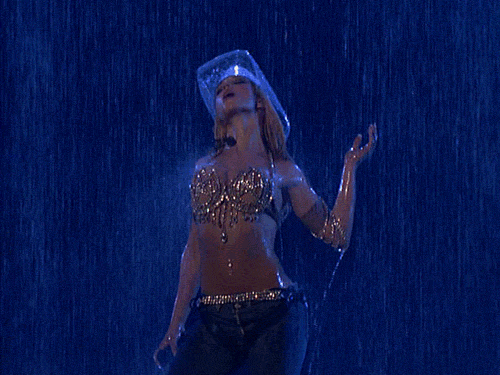 Britney was a bona fide pop princess, and we couldn't get enough.
In 2000, she announced she was "officially" dating *NSYNC's
Justin Timberlake

, the other love of our lives, and the love/hate relationship began. But it was mostly love . . .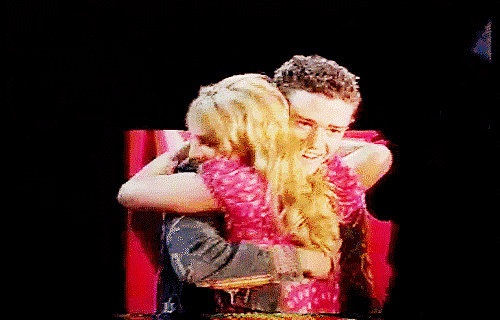 Especially when they wore matching denim.
By 2002, we had the CDs and the t-shirts and spent hours fighting with our friends over who would dress up in which Britney outfit for Halloween. Who got the snake?!
We saw Crossroads in theaters (twice) and had a giant sleepover.

Source: Paramount Pictures
We watched her kiss
Madonna

, and it felt like a passing of the torch.

Source: MTV
Just when we thought we couldn't love her any more, she released the "Toxic" video, which was (and is) Grammy-winning, body-sequin perfection.
Then, a brief rough patch. In January 2004, Britney said "I do" to her childhood friend in Vegas, had the marriage annulled, injured her knee, and canceled the rest of her Onyx Hotel tour. We rooted for her recovery and listened to "Outrageous" on repeat in the meantime.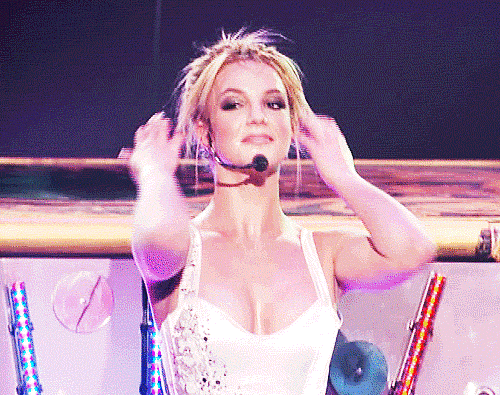 That Summer, she and
Kevin Federline

got engaged, and we were a little confused, so we tuned in to their reality TV show, Britney & Kevin: Chaotic, for answers.

Source: MTV
She took a bit of time off after their
wedding

, so we doused ourselves in Curious perfume and bought her greatest-hits album.
When she became pregnant, we were happy for her — Britney, a mom!

Source: CBS
And shortly after, another pregnancy! A little brother for Sean Preston!
But then things got a little rocky in her personal life, and we felt like we were in a glass case of emotion.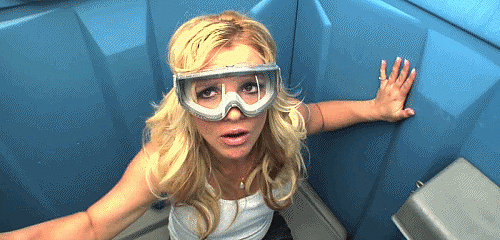 Source: MTV
She shaved her head, and we just wanted everyone to Leave. Britney. Alone.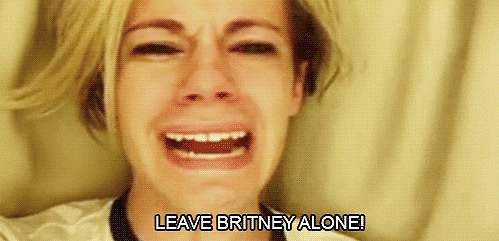 As she struggled, we took on the critics.

Source: ABC
When people picked on our beloved Britney, we put on the "I'm a Slave 4 U" video and said, "Boom. Trump card."
Then, the Blackout album. It's Britney, bitch.
We felt a little shaky about her "Gimme More" performance at the 2007 VMAs, but we were excited to see her on stage again.

Source: MTV And a few months later, we tuned in to see Brit's guest spot on How I Met Your Mother, and hooray! The show's highest ratings ever!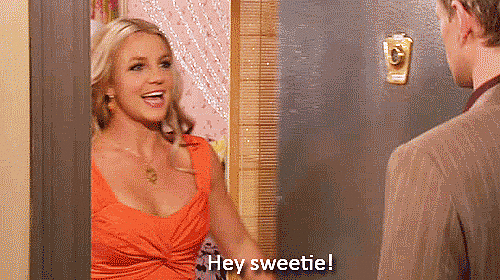 Source: CBS
By the time the 2008 VMAs rolled around, we were waving our Britney flags high. She dominated, winning three of the night's biggest awards. Throw the confetti!
Soon after, she opened up in an MTV documentary, putting it all out there . . .

Source: MTV Cue the comeback! (See: "Womanizer.")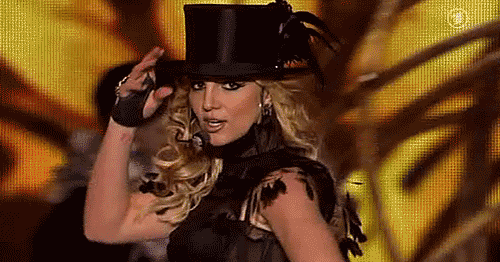 Since then, we've been Screaming & Shouting for Britney at every turn.
We squeal over her adorable sons and feel a teensy bit jealous that they've probably inherited her moves.
And don't even get us started on when she became a judge on The X Factor.

Source: Fox
Because no one does a "WTF" face like Britney.

Source: Fox
And no one does drama like Britney.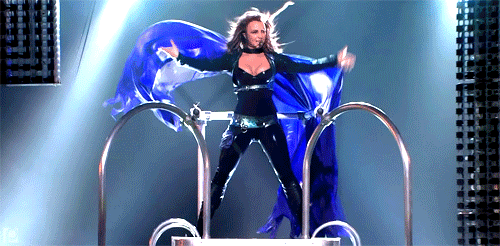 And let's be honest, no one can do Sin City like Britney.

Source: NBC Have you seen her show yet? Viva Las Vegas!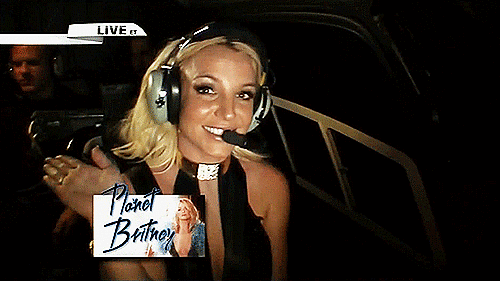 Source: ABC
Image Source: