Celebrity Theme Weddings
Themed Celebrity Weddings That Will Make You Swoon — and Scratch Your Head
Wedding season is upon us, which means we'll soon start seeing celebrities walking down the aisles for lavish events. One of the most popular types of nuptials among the famous set is the themed wedding, and everyone from David and Victoria Beckham to Channing Tatum and Jenna Dewan-Tatum has given the big day a special spin. We've rounded up some star weddings that will have you swooning — and scratching your head. To see them all, just keep reading.
Sean Parker's Lord of the Rings Lovefest
When Sean Parker, one of the Internet masterminds behind Napster and Facebook, married singer-songwriter Alexandra Lenas in a lavish ceremony in Big Sur, CA, in June 2013, our curiosity was instantly piqued — and once we saw photos of the over-the-top affair, it was clear that we were looking at one of the biggest, craziest, most far-fetched themed weddings we'd ever seen. The event, which Sean revealed was "a performance-art project" set in a modern-day enchanted forest, cost over $4.5 million and featured a nine-foot tiered wedding cake, a pen of bunnies, and famous guests like Emma Watson, Olivia Munn, Metallica drummer Lars Ulrich, and the founders of Twitter, Facebook, and MTV, all dressed in Tolkien-esque garb by Lord of the Rings costume designer Ngila Dickson.
Aaron Paul's Gatsby-Themed Gala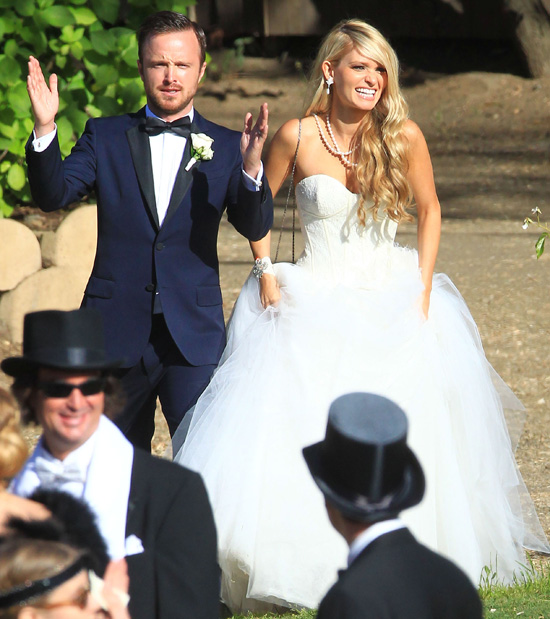 Source: FameFlynet
Aaron Paul and his wife, Lauren Parsekian, got married with a glamorous Great Gatsby-themed affair in May 2013. Guests dressed up in '20s-inspired looks including coat and tails, opera gloves, and fringed frocks.
Kim Kardashian

's Black-and-White Ball

For her 2012 wedding to NBA player Kris Humphries, Kim Kardashian threw a lavish black-and-white party, with all the decor and guests dolled up in the classic color scheme. Even though their marriage was short-lived, their over-the-top wedding still made for an amazing TV special on E!.
Ashlee and Pete Go Down the Rabbit Hole
Ashlee Simpson and Pete Wentz tied the knot with an Alice in Wonderland-themed bash featuring a detailed cake with a top hat, teapot, stopwatch, and pot of flowers on top, as well as elaborate centerpieces of black magic roses. The former couple's Disney connection runs deep — Ashlee and Pete paid homage to The Jungle Book when they named their son Bronx Mowgli later that year.
Nick and Mariah Nail the Disney Vow Renewal
After tying the knot in the Bahamas in 2008, Mariah Carey and Nick Cannon celebrated their fifth wedding anniversary by shutting down Disneyland for a fairy-tale-themed event — Mariah and her daughter, Monroe, wore white princess dresses and arrived by horse-drawn, pumpkin-shaped carriage to the Magic Kingdom, where Nick and the couple's son, Moroccan, waited in matching Prince Charming suits.
David and Victoria's Woodland-Themed Wedding
David and Victoria Beckham wed in a woodland-themed ceremony at Ireland's Luttrellstown Castle in 1999. The bride wore an ivory Vera Wang gown and a diamond crown while David was dressed in a bright white tuxedo. Guests included family, friends, soccer players, and the Spice Girls, as well as the couple's then-4-month-old son, Brooklyn, who acted as ring bearer. David and Victoria sat on red velvet thrones as they said their vows, and the bride carried a bouquet of ivy and apples — yes, apples. The entire event was commemorated in a photo book titled David and Victoria: An Invitation to the Wedding.

Seal and Heidi's "White-Trash" Bash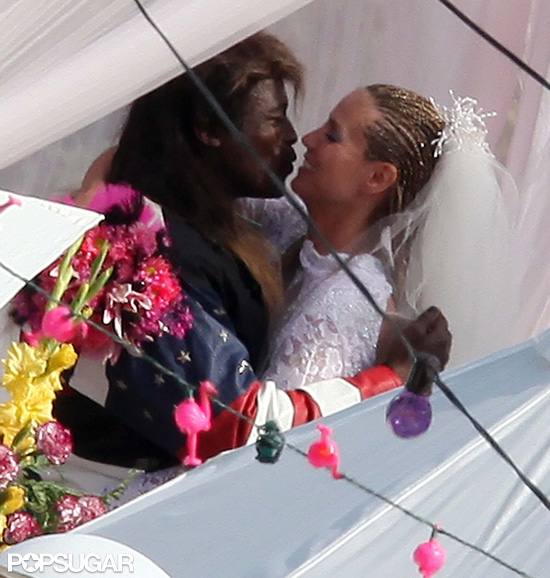 Source: Splash News Online
Though they divorced in 2012, Heidi Klum and Seal had an impressive record of renewing their wedding vows every year of their seven-year marriage — and many of the ceremonies had an elaborate yet hilarious theme. Let's see: there was the masquerade event; a "brides and grooms" theme that had each guest dressed up as if they were tying the knot; and, perhaps most memorably, a "trailer trash"-themed wedding in 2009 that featured an Elvis impersonator as officiant, Seal wearing a mullet wig, and Heidi in cornrows, smoking a cigarette as she walked down the aisle. While the party was right on par with the couple's over-the-top events, it had some calling foul for being offensive toward a less-privileged segment of the American population.
Katy and Russell's Exotic Indian Affair
Katy Perry and Russell Brand married in a top-secret traditional Hindu ceremony at a tiger reserve in Ranthambore, India, in 2010. They sat on thrones while a Hindu priest blessed them, and Russell and Katy also took part in other rituals such as reciting Sanskrit mantras while tying a special wedding scarf together as they walked around a sacred fire seven times. While the couple stayed pretty hush-hush about their big day, Katy later showed footage from the event during a 2011 performance at the Grammys.
Channing and Jenna's Fairy-Tale Wedding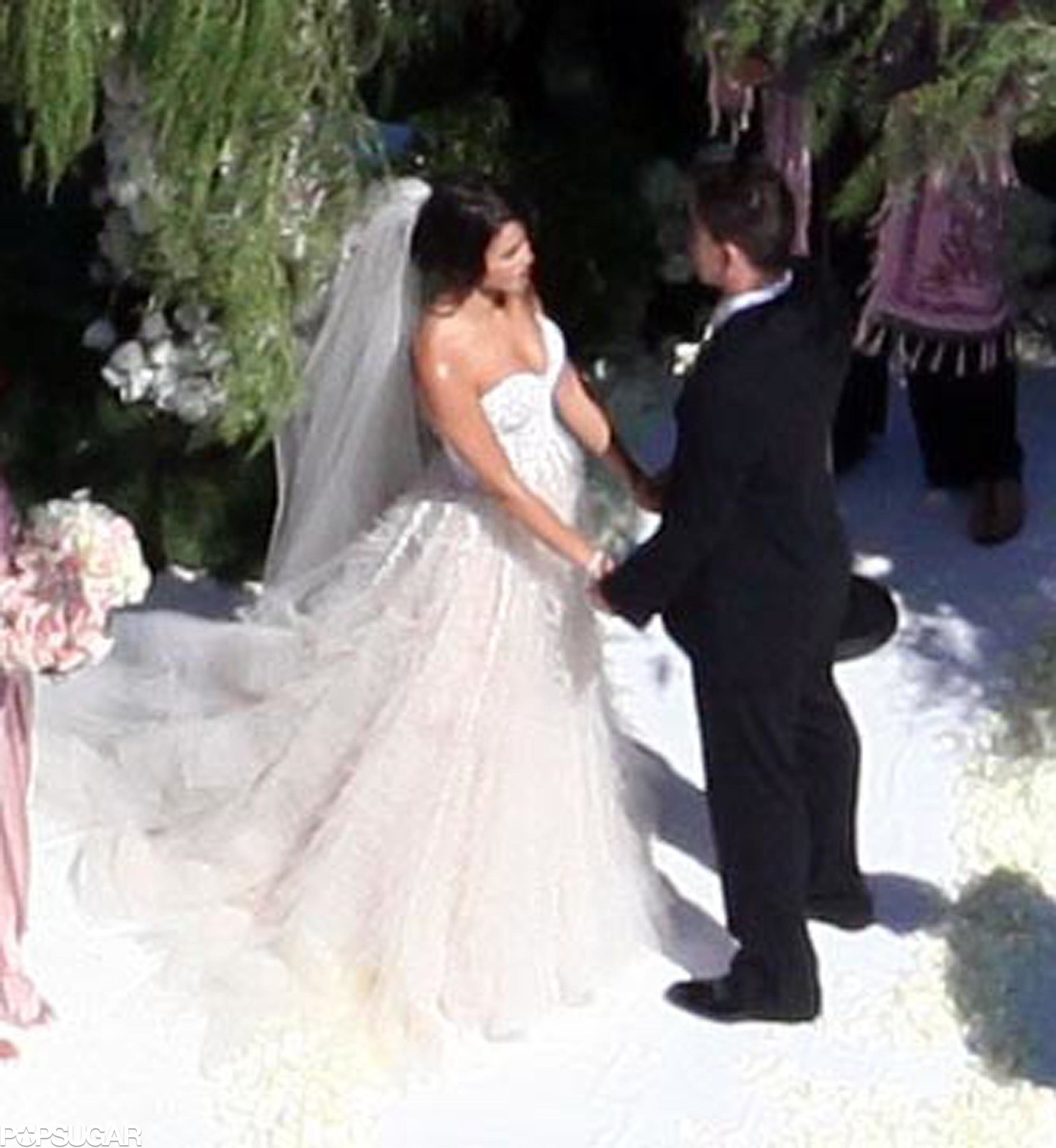 Source: FameFlynet
We assume marrying Channing Tatum would be a fairy tale come true for any girl, but Jenna Dewan went even further when she tied the knot with the sexy actor in 2009. The couple said their vows outdoors at a private estate in Malibu, CA. Wedding coordinator Mindy Weiss paid tribute to the pair's love of fairies with the ceremony, even including two flower girls who walked down the aisle wearing wings. Guests were given crystals as wedding favors, and the cake was shaped like a magic castle filled with fairies in several flavors with "funfetti" frosting.
Nicole and Joel's French Fete
Nicole Richie lived out her childhood dreams when she tied the knot with Joel Madden in 2010 — since she was a little girl, Nicole told People magazine, she'd wanted two things for her wedding day: a dress inspired by Grace Kelly's iconic wedding gown and a real live elephant for good luck. Well, Nicole donned not one, but three custom-made Marchesa gowns for her big day, and an elephant was on hand for the fun under a Versailles-themed tent at her father Lionel's LA home. About her wedding, Nicole said, "It was magical."

Kevin and Danielle's Festive Forest Theme
Forests and fairy tales seem to be a recurring wedding theme, right? For their December 2009 ceremony, Kevin and Danielle Jonas went full enchanted forest, even employing their event planners to add real trees and icicle-shaped crystal decorations under the reception tent at Oheka Castle, a turn-of-the-century French-style chateau in Long Island, NY. The pair even doubled up on the themed fun by hosting a Vegas-casino-inspired cocktail hour for their guests featuring a Swarovski-encrusted cake and Rat Pack impersonators.
Toni Braxton's True-Blue Wedding
Toni Braxton took color coordination to a whole new level for her 1998 wedding to Atlanta musician Keri Jamal Lewis — the singer's decor was set by her favorite store, Tiffany & Co., so everything at the reception was done up in its eye-catching signature blue shade. Toni and Keri's cake was a four-tiered creation made to look like a perfect stack of robin's-egg blue Tiffany boxes, while the carpeting, chair covers, and tablecloths were all custom-dyed to resemble the brand's trademark blue hue.