Charlie Wilson's War Goes All Black in NYC
Charlie Wilson's War Goes All Black in NYC
ADVERTISEMENT ( more slides)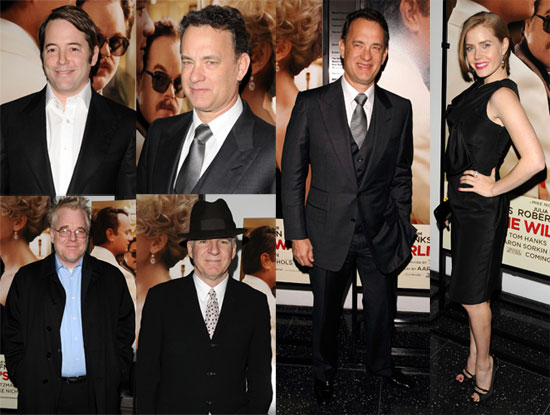 1
Charlie Wilson's War Goes All Black in NYC
Last night's NYC screening of Charlie Wilson's War was a formal affair with not a whole lot of color at all on the red carpet. Tom Hanks was there with one of his costars and fellow Golden Globe nominees, Philip Seymour Hoffman, but not Julia Roberts. While their leading lady wasn't around, a breakthrough redheaded actress with a gorgeous smile (and GG acting nominee) Amy Adams looked great in her LBD. Meanwhile, always love Steve Martin — even though my disdain for fedoras is no big secret he looks kinda awesome in his. Considering the recognition that Tom, Philip and Amy are getting for their roles this year, methinks we'll be seeing a lot of them in fancy wear as award season ramps up.
To see more from the premiere including Colin Hanks, Dan Rather, Diane Sawyer, Donna Karan, Diane von Furstenberg and others just
Images include Amy Adams, Barry Diller, Christine Baranski, Colin Hanks, Dan Rather, Donna Karan, Diane Sawyer, Diane von Furstenberg, Marlo Thomas, Matthew Broderick, Mike Nichols, Phil Donahue, Philip Seymour Hoffman, Steve Martin, Tom Hanks, and Wynn Everett.