ADVERTISEMENT ( more slides)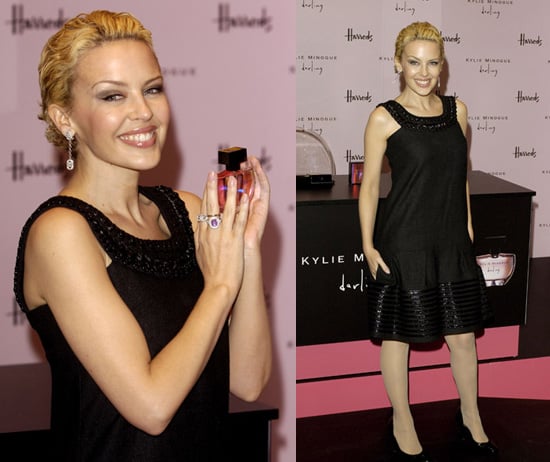 Despite recently breaking up with her long-term boyfriend Olivier Martinez, Kylie had quite a fabulous week. Earlier in the week she shined in purple at the opening of an exhibit celebrating her tour costumes. And here she is at Harrods to launch her perfume, Darling. Kylie seems to be in great spirits and even recently defended her ex saying we were being to hard on him. She said:
"None of the rumours about Olivier cheating are true. I don't believe any of it. Olivier and I still care about each other and there's still a lot of love between us. I still speak to Olivier and you never know what will happen in the future." Minogue is also urging her fans not to badmouth her ex-boyfriend. She writes on her website: "For someone for whom I have an enormous love and respect, and communicate with, it is so grossly unfair to demonise a honest man. "I would ask of you, my fans, to show your support for both Oli and myself as a separation is never easy."
For more pics of Kylie looking Darling just