ADVERTISEMENT ( more slides)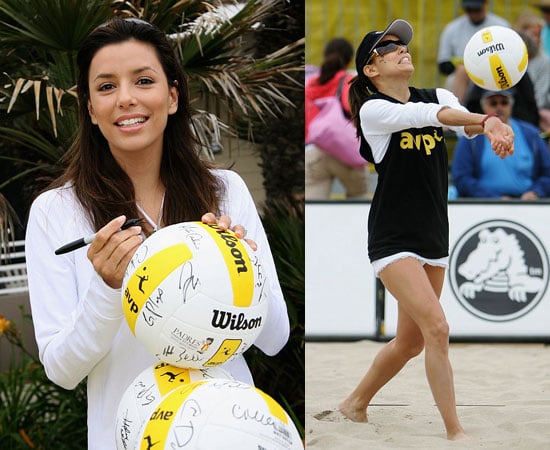 Eva may play a diva on Desperate Housewives (Did you see last night's season finale?), but she showed her off-screen athleticism this weekend at the "Spike For Hope" Celebrity Charity Volleyball Tournament. The tournament raised funds for PADRES Contra El Cancer, a charity for which Eva is the national spokesperson. She has admitted to being a tomboy back in the day, but apparently volleyball isn't her sport of choice. When asked if she's a volleyball player, she said, "No, I'm not. Tony is, but that's because he's 6'3". He was like, 'Babe, you better not stink.' "I like any sport. I'm not a volleyball player, per se, but I'm definitely a competitive person."
Speaking of Tony, apparently the couple will not be spending a long romantic getaway in Paris after their wedding in July. The actress has to get back to the US to start shooting Desperate Housewives on July 9th. Looks like Tony and Eva will have to wait a bit for their honeymoon.
To see more pics of Eva playing vball just