Jasmine, Gardenia, and Juicy Couture — OH MY!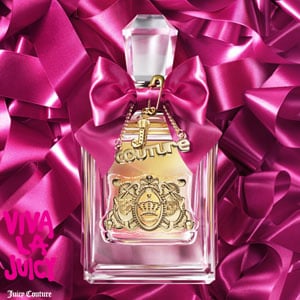 Finish the sentence: I never leave the house without a spritz of my favorite ___________.
If you said perfume then you're in good company. If you said couture perfume then you're in fabulous company. Viva La Juicy by Juicy Couture (because, one can never have enough couture in their lives). Viva La Juicy is an alluring fragrance of wild berries and mandarins, honeysuckle, gardenia, and jasmine. With underlying hints of amber, caramel and vanilla, sandelwood and praline. Inspired by a glamorous girl who is always the life of the party, the Viva la Juicy girl never turns down a glass of champagne or the chance to get into the tiniest bit of trouble. She stays out late, wakes up early and lives life with Viva!