Jay-Z and Coldplay's New Year's Eve Show
Jay-Z and Coldplay Ring In 2013 With Gwyneth and Celebrity Friends
ADVERTISEMENT ( more slides)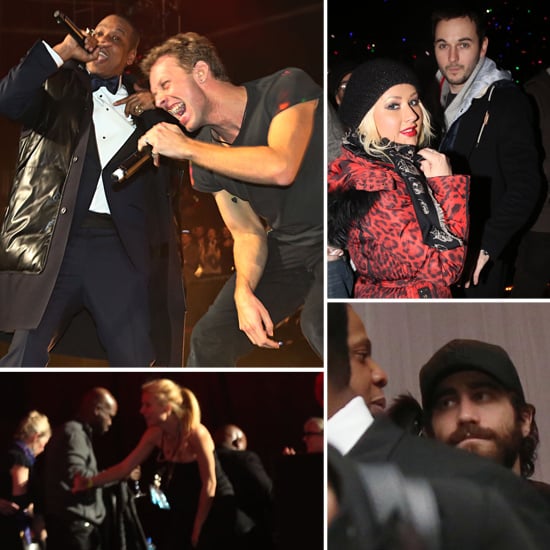 1
Jay-Z and Coldplay Ring In 2013 With Gwyneth and Celebrity Friends
Jay-Z and Coldplay rang in 2013 together with a joint New Year's Eve concert at Brooklyn's Barclays Center on Monday night. Coldplay played the first set while Jay-Z took the stage shortly before midnight.
Jay-Z and Chris Martin
joined up for the countdown and to sing "Auld Lang Syne." Once Chris was finished belting out the New Year's staple, he flowed into Jay-Z's "Run This Town," filling in for Rihanna's chorus. While Jay-Z and Chris were rocking, Chris's wife, Gwyneth Paltrow, and their children, Apple and Moses, danced on stage. They weren't the only celebrities in the audience since Jake Gyllenhaal was spotted chatting with Jay-Z backstage and Christina Aguilera and her boyfriend, Matt Rutler, were also on hand. Once the concert was over,
Chris and Jay-Z headed to the 40/40 Club
for an afterparty without Gwyneth, who headed home with Apple and Moses.