Leading Men Suit Up For the Oscars
ADVERTISEMENT ( more slides)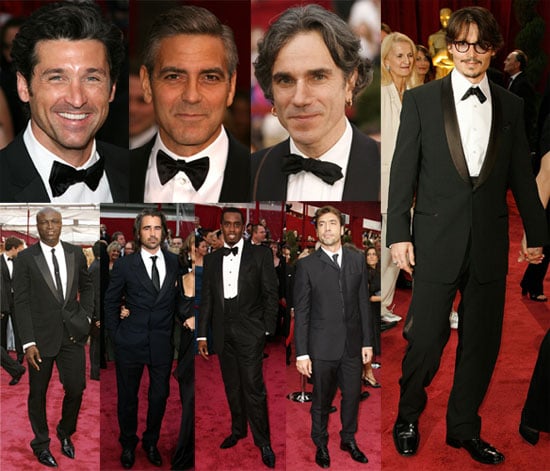 1
Leading Men Suit Up For the Oscars
Do you like looking at handsome actors in pretty suits? Then last night's
Oscars
must be right up your alley! Yes, it's true, the men for the most part played it safe but there's no way to complain about seeing the likes of Clooney and Dempsey at their most dapper. Yum. Javier Bardem didn't walk with his girlfriend Penelope Cruz, but he looked confident on his way in to win his little gold man.
Check out all the winners here!
Johnny Depp is always a favorite so he could have shown up in jeans — no complaints. Sure, they may not be as colorful or exciting (or red!) as all the
ladies red carpet looks
, but with all these men there's gotta be a little
manjoyment
for everyone here. It's just a question of which one suits (get it?!) your fancy?
To see all the men on the red carpet including Casey Affleck, Harrison Ford, Josh Brolin, Steve Carell, Seal, Dwayne 'The Rock' Johnson and many others just Johnny Depp Daniel Day-Lewis Patrick Dempsey Diddy Josh Brolin Harrison Ford Steve Carell James McAvoy Colin Farrell Keith Urban Julian Schnabel John Travolta Louis Gossett Jr. Antonio Sabato Jr. Tom Wilkinson Viggo Mortensen Dennis Hopper Seal George Clooney Javier Bardem Tommy Lee Jones Steven Cojocaru Dwayne 'The Rock' Johnson Cash Warren Josh Lucas Jason Bateman Casey Affleck Forest Whitaker Wesley Snipes Paul Dano Philip Seymour Hoffman
Source
and
Source