Leonardo DiCaprio Naomi Watts Armie Hammer J Edgar Pictures
Leonardo DiCaprio Premieres J. Edgar With Naomi, Ed, and Jokester Armie
ADVERTISEMENT ( more slides)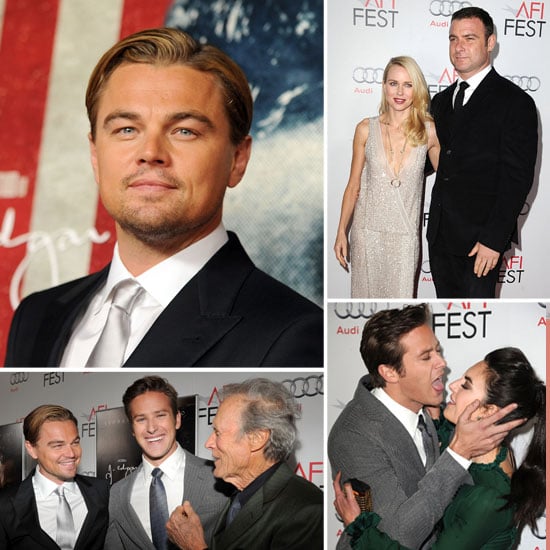 1
Leonardo DiCaprio Premieres J. Edgar With Naomi, Ed, and Jokester Armie
Leonardo DiCaprio joined forces with his
J. Edgar
director Clint Eastwood last night for the LA premiere of their movie. It was an extra-special evening, since
J. Edgar opened the AFI Film Festival
. Along with Leo on the red carpet were other stars of the film like Ed Westwick, Naomi Watts, and Armie Hammer. Naomi wore Stella McCartney to pose for photos along with her partner Liev Scheriber, while Armie, who shares a kiss with Leo in the film, couldn't contain his real-life affection for wife Elizabeth Chambers. The role of legendary FBI director J. Edgar Hoover has earned Leo a lot of Oscar buzz ahead of the film's release on Friday. To promote the biopic,
Leonardo spoke with Time
about what he and Hoover have in common. Leo said, "I identified with his ambition. I've been incredibly ambitious ever since I was young and, in some respects, have had no reservations about going for things I've wanted without questioning what the result will be. . . .There are a lot of pitfalls to success, and one is not listening to criticism. One of the most important things you can do is hear criticism of yourself and embrace it, whether it be — in my case — artistic or personal."