Oprah Hits The Campaign Trail To Support Obama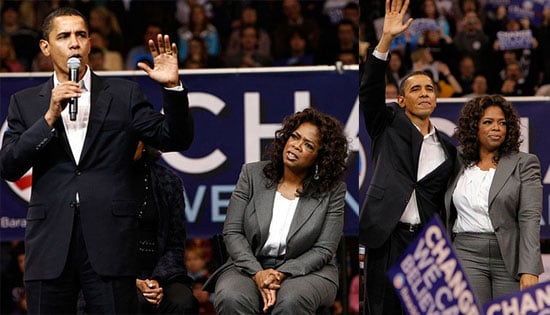 1
Oprah Hits The Campaign Trail To Support Obama
Oprah Winfrey hit the Barack Obama campaign trail this weekend, starting in Des Moines on Saturday before hitting South Carolina and New Hampshire on Sunday. In Iowa she spoke to 10,000 and by the time she got to SC there were 30,000 out to watch the media mogul support the presidential candidate. Even Oprah herself admitted to being nervous up there, but quickly gained momentum during her 17 minute speech where she was anything but shy about her support of and admiration for Barack.
She said,
"There are those who say it's not his time, that he should wait his turn. Think about where you'd be in your life if you'd waited when people told you to...I'm sick of politics as usual...We need Barack Obama."
Going on,
"I understand the difference between the Book Club and a free refrigerator...I understand the difference between that and this critical moment in our nation's history...Over the years, I have voted for as many Republicans as I have Democrats...This isn't about partisanship for me. This is very, very personal. I'm here because of my personal conviction about Barack Obama and what I know he can do for America." While Oprah is just about as big as it gets in terms of star power, who knows what kinds of celebrities she'll inspire. Will Smith, for one, is ready to pack his bags
at a moment's notice
to join Obama. What do you think — were you paying attention to the Oprah-bama tour this weekend?
Source