Photos of Brad Pitt and Angelina Jolie With Shiloh and Pax in Venice on Oscar Sunday
Brad Pitt and Angelina Jolie Skip Oscars For Kids' B-Day Party With Shiloh, Zahara, and Pax in Italy!
Like us on Facebook
Brad Pitt and Angelina Jolie aren't joining the rest of Hollywood getting red carpet ready for today's Oscars. Instead the duo were spotted in Venice, Italy, bringing Shiloh, Zahara, and Pax to a kids' birthday party. Brad's Inglourious Basterds costars will be out for the big show and also partied together at the Weinstein bash last night. Instead, it was a family afternoon for the Jolie-Pitts, where Shiloh showed off her talked-about short haircut out with her big brother and sister. Even without Brad and Angelina being the showstoppers they were last year, the Academy Awards is the biggest evening of the season, and we're on it all day long!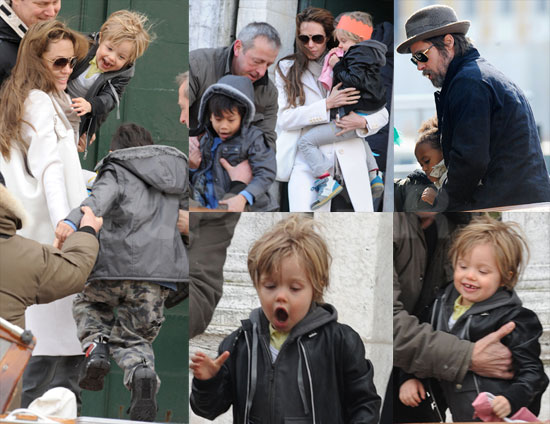 To see LOTS more pictures of the Jolie-Pitts just
.