PopSugar Poll: John Mayer Attacks Twitter — Good Point or Get Over It?
John Mayer Attacks Twitter — Good Point or Get Over It?
Like us on Facebook
John Mayer is among the handful of celebrities who have sworn off Twitter. He left the social networking site last month for good, after a brief self-imposed hiatus. Nonetheless, John's not totally off online communication. He took to his blog last night to share his thoughts on quitting Twitter permanently, writing: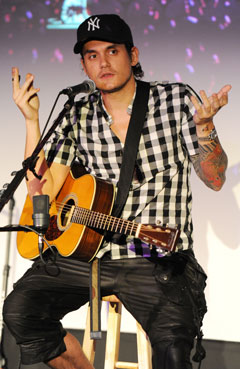 "It occurred to me that since the invocation of Twitter, nobody who has participated in it has created any lasting art. And yes! Yours truly is included in that roundup as well. Let me make sure that statement is as absolute and irrevocable as possible by buzzing your tower one more time: no artwork created by someone with a healthy grasp of social media thus far has proven to be anything other than disposable."
John seems to be in the midst of reevaluating his whole position on Internet use, which would explain his digital cleanse idea. So, tell us what you think about John's comments on Twitter — good point or get over it?