ADVERTISEMENT ( more slides)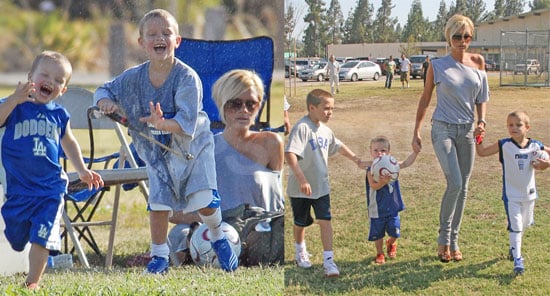 David may be sidelined at his big premiere game this weekend, but his adorable sons hit the field running at soccer practice yesterday. Ever the diligent soccer mom, Victoria plopped herself down in the grass next to all the other parent cheerleaders. I wonder if anyone tried to make some idle chit chat with Miss Posh? From there, it was off to TGI Fridays for some all American eats. Something tells me Victoria steered clear of any of that greasy, fried fare, but I bet the boys loved it.
VB is always happy for mommy time, but she's getting in some QT with her hothot man, too. The couple spent Monday night at a party thrown by Hollywood Agency CAA, where an onlooker said they weren't shy with their PDAs, "I saw her come up to him from the back and throw her arms around him. When they were talking in a group, he had his arm around her waist and he was rubbing her back and her butt." Hot damn.
To see a bunch more pictures of Posh and her adorable boys, including a trip to TGI Fridays just