Pre-Grammy Party Hosted by Fuse
The Grammys Are Coming, Time to Party!
Like us on Facebook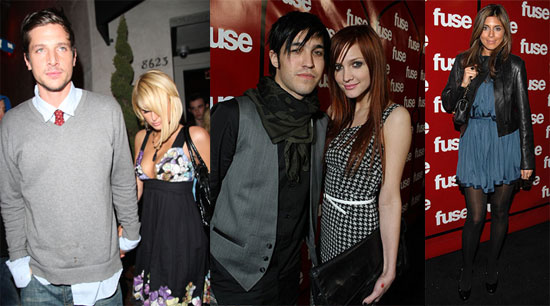 1
The Grammys Are Coming, Time to Party!
Last night, the pre-Grammy Award festivities kicked off with a party at new hotspot Goa hosted by Fuse TV and Pete Wentz. Ashlee was on his arm, of course, fresh off her mini club tour and still sticking with her red hair. Paris Hilton came to the party by herself, but she left on the arm of former (and it looks like current again) flame Simon Rex. Now there's a blast from the past. Other party guests included folks who probably won't make it to this weekend's big award show — a very, very tan Jamie-Lynn Sigler, Taye Diggs — as well as a few who we should expect to see getting red-carpet ready: Adam Levine . . . and Mark Ronson? I guess we'll just have to wait and see what the Grammys bring our way this Sunday.
To see more from the party, including Adam Levine, Maroon 5, Taye Diggs, Lukas Haas, Marc Ronson, Brittany Snow, Jamie-Lynn Sigler, and Lance Bass just
Images include: Paris Hilton, Simon Rex, Vern Troyer, Ashlee Simpson, Pete Wentz, Adam Levine, Maroon 5, Taye Diggs, Lukas Haas, Marc Ronson, Brittany Snow, Jamie-Lynn Sigler, Lance Bass, Rumer Willis, Alex Orbison, Kat Von D, Shane West