Seinfeld's Friends Swarm MOMA for Bee Season
Seinfeld's Friends Swarm MOMA for Bee Season
ADVERTISEMENT ( more slides)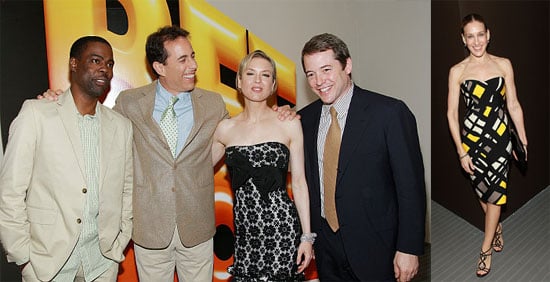 1
Seinfeld's Friends Swarm MOMA for Bee Season
It feels like forever since we said goodbye to
Seinfeld
and now Jerry is finally back with a new project - but this time the father of three has created a kid-friendly flick. The stars of his new animated film,
Bee Movie
buzzed into the MOMA in NYC for a 30 minute preview of their film last night. Chris Rock
signed on as soon
as Jerry called him to be involved. Renee Zellweger, looking thinner than ever these days, was also impressed with Jerry's request. As expected, SJP dressed the part in a yellow and black Giambattista Valli Dress. She was there to lend support to her friend Jerry and her husband Matthew plays Jerry's BFF bee in the movie and he said James Wilke will be "thrilled."
More pics at the preview, so just Images include Renee Zellweger, Sarah Jessica Parker, Jerry Seinfeld, Chris Rock, Matthew Broderick, Jessica Seinfeld
Source