Will Smith Pictures at His Son Trey's Graduation
Will Smith Celebrates His Son Trey's Graduation With Jada, Jaden, and Willow!
ADVERTISEMENT ( more slides)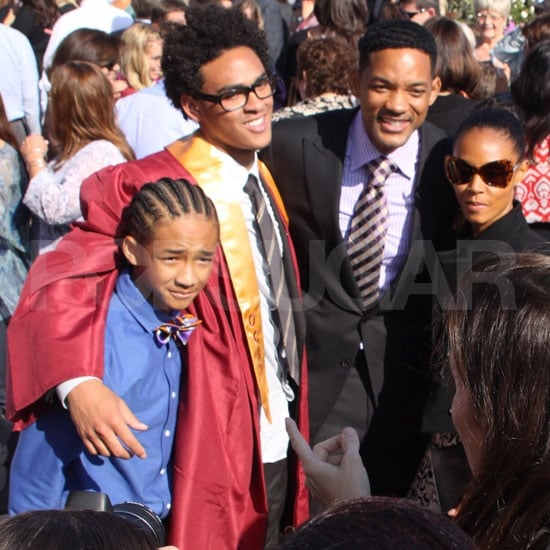 1
Will Smith Celebrates His Son Trey's Graduation With Jada, Jaden, and Willow!
The whole Smith family stepped out in LA yesterday to watch as Will's oldest son, Trey, graduated from high school! Will flew West during a break in shooting Men in Black III in NYC to join his wife, Jada, and younger children Willow and Jaden at the event. Trey had both his stepmom, Jada, and mom, Sheree Zampino, on hand. Easygoing Will was even spotted mingling with the other proud parents and introducing himself to some of Trey's classmates, though four bodyguards were apparently on hand in case a situation arose. Will was a frequent face around the school and was often in the stands cheering on Trey as he played football. Jada is presently gearing up for the return of her TV series Hawthorne and, in an interview with Uptown magazine, discussed how she and Will have allowed Jaden and Willow to be child stars. She said, "Believe it or not, they're both like me and Will . . . Willow's a lot like me — just in the chances she'll take. And then, Jaden has the drive of his father. Jaden and I are what I call introverted extroverts. Willow and Will are more pow! Jaden and I, well, we don't give that to just anybody . . . There are so many other kids you can worry about. My kids? They're going to be all right. I get why people would criticize. But people need to know that Will and I would never put our children in a situation that would bring them detriment."