It Was A Very Well-Rounded Emmy Show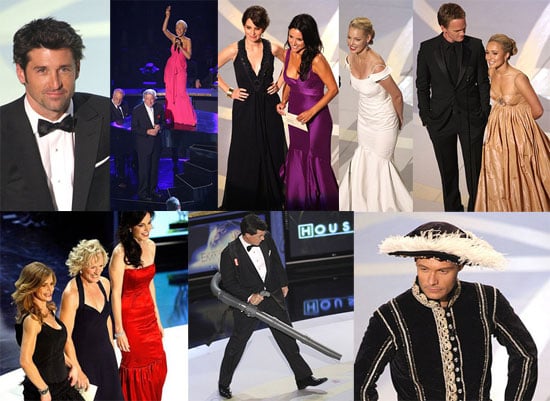 1
It Was A Very Well-Rounded Emmy Show
Ryan Seacrest put his best hosting face forward at last night's
Emmy Awards
, but it was the round stage that really stole the show. The concept was cool, but it definitely made for some awkward moments, right? The
Rainn Wilson/Kanye West version of Don't Forget The Lyrics
was a highlight, along with Steve Carell "stealing" Ricky Gervais' Emmy. Dempsey = McDreamier than ever, yes? Christina/Tony also did a great job at a show that was obviously paying homage to Bennett in a lot of ways
(icymi, check out the performance here)
. Hopefully the Jersey Boys tribute to
The Sopranos
made Tony Soprano Proud.
Check out Buzz's take on the big show
, but what did you think about it? Highlights? Lowlights? Did Seacrest make you laugh? To see a ton more pictures of the show from Alec Baldwin to Ryan's silly outfit to Jon Stewart with Steve Carell and Stephen Colbert just Images include Sally Field, Jeremy Piven, Ali Larter, America Ferrera, Jon Stewart, Stephen Colbert, Tina Fey, Julia Louis-Dreyfus, Christina Aguilera, Tony Bennett, Rainn Wilson, Kanye West, Kyle Chandler, Katherine Heigl, T.R. Knight, Steve Carell, Ryan Seacrest, Patrick Dempsey, Helen Mirren, Kevin Connolly, Adrian Grenier, Eva Longoria, Jerry Ferrara, Jeremy Piven, Al Gore, Hugh Laurie, Marcia Cross, Mark Harmon, Neil Patrick Harris, Hayden Panettiere, Jaime Pressley, Kevin Dillon, Katherine Heigl, Kiefer Sutherland, William H. Macy, Felicity Huffman, Glenn Close, Mary-Louise Parker, Kyra Sedgwick, Wayne Brady, Lorne Michaels, Teri Hatcher, Anthony Anderson, Debra Messing, William Shatner, Stanley Tucci, Elaine Stritch, James Gandolfini, Edie Falco, Kate Walsh, Jimmy Smits, Vanessa Williams, Louis Black, Joely Fisher, Brad Garrett, Jon Cryer and Jennifer Love Hewitt, Patricia Heaton, Ray Romano, Kelsey Grammer and Ellen DeGeneres.
Source
&
Source