Young Hollywood Comes Out For Cloverfield's LA Invasion
Young Hollywood Comes Out For Cloverfield's LA Invasion
ADVERTISEMENT ( more slides)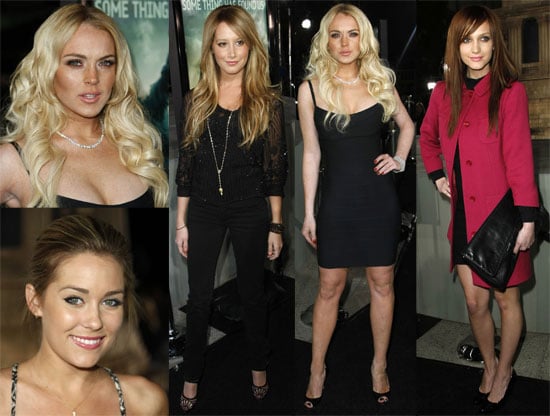 1
Young Hollywood Comes Out For Cloverfield's LA Invasion
J. J. Abram's anticipated new release,
Cloverfield
, premiered in LA last night and the town's hottest stars and starlets couldn't stay away. Lindsay Lohan strutted her stuff and scowl in a skin tight
LBD
on the red carpet for the first time since rehab. Pete and Ashlee were enthusiastic about the big event — and don't forget to
tell us your questions for Ashlee
. The girls of
The Hills
were out in full effect with LC who has a
newly announced upcoming runway show
, Audrina, Heidi and Spencer who obviously
couldn't keep their hands off each other
. Plus, hey, present for you — here's a little John Krasinski the man you
most want to see more of in 2008
. Since it's been so long since a new episode of
The Office
, it's better than nothing. This may
not be your No. 1 choice
of movies this weekend, but I'm excited to see how it fares after all the hype.
To see a whole lot more from the premiere including Heidi Montag, Spencer Pratt, Ashley Tisdale, Natasha Henstridge, Zoe Saldana, Will.i.am, JJ Abrams, Zachary Quinto, Stacy Keibler, Michelle Trachtenberg, Harold Perrineau and others just . Images include: Ashlee Simpson, Pete Wentz, Ashley Tisdale, Lindsay Lohan, Chris Pine, Jessica Lucas, Mike Vogel, Natasha Henstridge, Zoe Saldana, Will.i.am, JJ Abrams, Lauren Conrad, Frankie Muniz, Kristin Cavallari, Heidi Montag, Spencer Pratt, John Krasinski, DeRay Davis, Masi Oka, Zachary Quinto, Stacy Keibler, Michelle Trachtenberg, Harold Perrineau
Source