In collaboration with LOTR's Animal Trainer, Mark Vette - Porter, Monty and Ginny..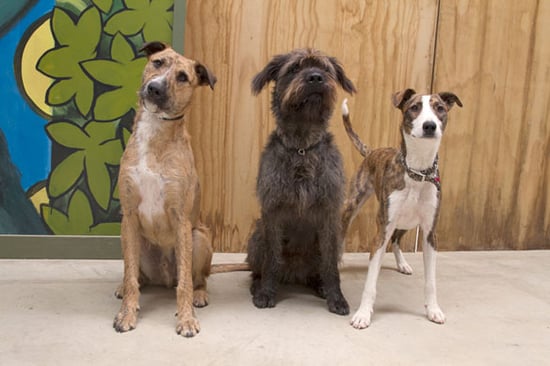 From Street Mutts to Street Smarts - Meet Porter, Monty and Ginny (from left to right), the three four-legged canines from SPCA Auckland, New Zealand. The banded remarkable heroes have just landed their paws on the mission to promote adoptions of SPCA dogs. On Monday night, NZ time, Porter a 10 month old beardie cross and Monty, a giant schnauzer cross, both drove a MINI Countryman down a race track and turned the corner to the delight of the trainer, Mark Vette (the animal trainer associated to the movie Lord of the Ring) who had spent eight weeks teaching the three dogs to drive in a campaign via DraftFCB Auckland. It is revolutionary demonstration from SPCA to prove that we can always teach SPCA dogs new tricks.
For the records on the other hand, I think the trio also has made impressive entrance yet for another possible movie making!
More stories and watch as these three k-9 train to drive a MINI for LIVE television: http://hausofpaws.blogspot.com/2012/12/rescue-dogs-learn-to-drive-mini-c...
Other related websites: -
http://www.france24.com/en/20121210-motor-mutts-pass-doggie-driving-test...
http://news.yahoo.com/photos/driving-dogs-slideshow/#crsl=%252Fphotos%25...