Summer is officially over, marking the end of vacations and — yes! — bikini season. Even if you're over the idea of being bikini-ready, stars in beach-set movies certainly aren't. The movies have provided tons of opportunities to strap on sexy swimsuits, and we've got all the most memorable bikini moments caught on film, including hot shots of Angelina Jolie [1], Cameron Diaz [2], Jennifer Aniston [3], and more.
— Additional reporting by Laura Marie Meyers, Becky Kirsch, and Maggie Pehanick
Julianne Hough, Safe Haven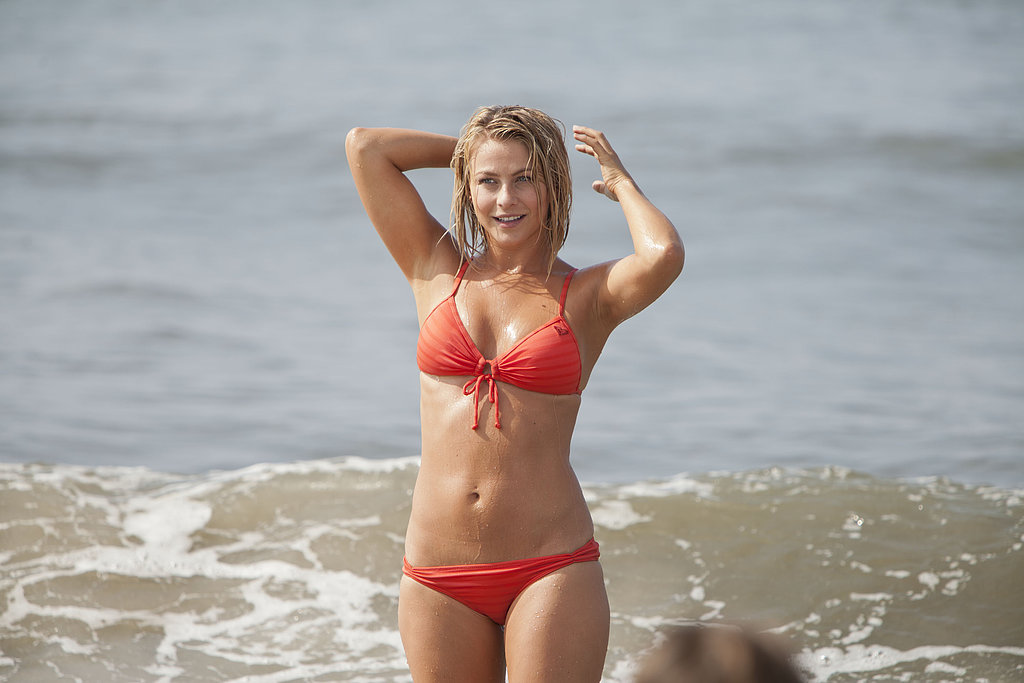 Julianne Hough shows off her dancer's body on the beach in Safe Haven.
Ashley Benson, Vanessa Hudgens, Rachel Korine, and Selena Gomez in Spring Breakers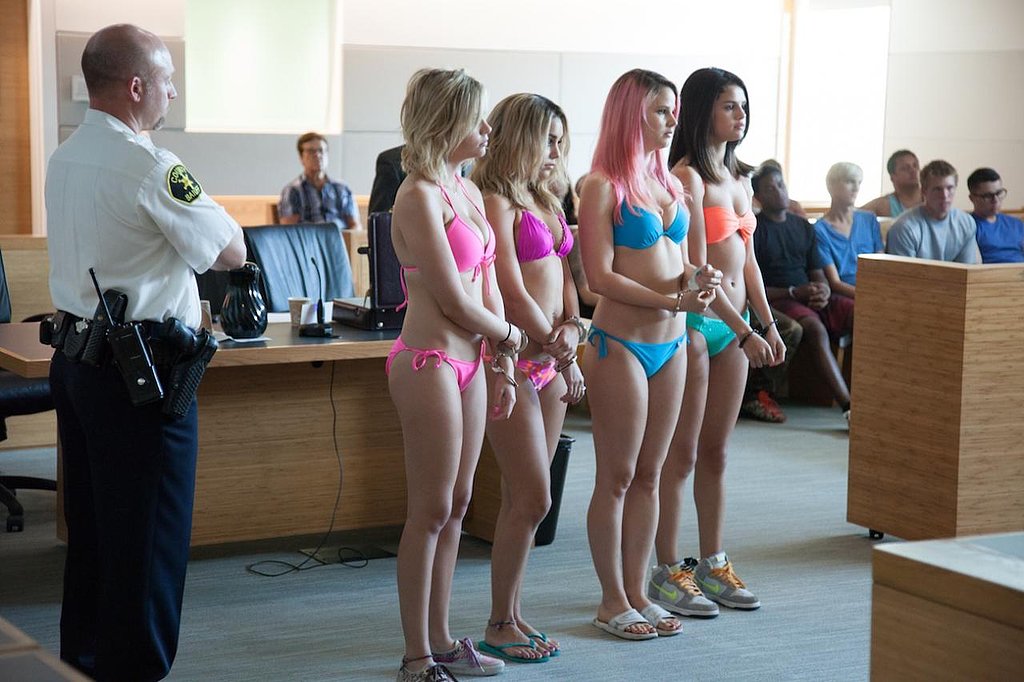 Bikinis and flip-flops — standard courtroom attire.
Kara Hayward, Moonrise Kingdom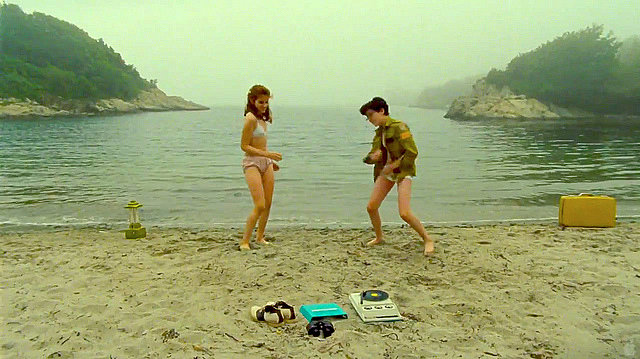 The only thing better than a dance party is a beach dance party.
Kate Hudson, Fool's Gold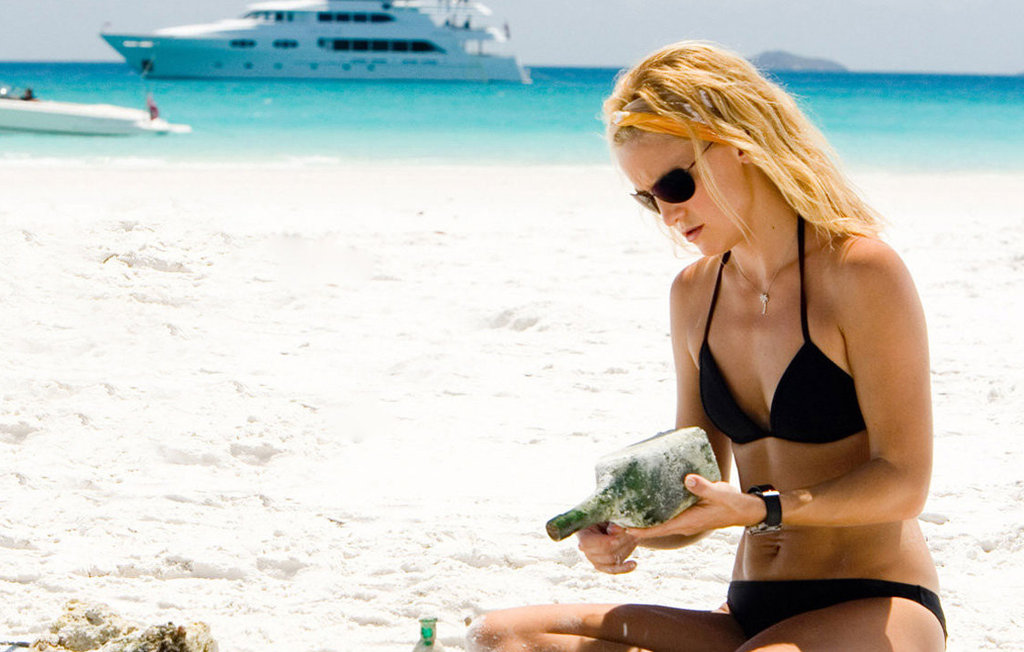 What's in the bottle? Probably not SPF.
Kathryn McCormick, Step Up Revolution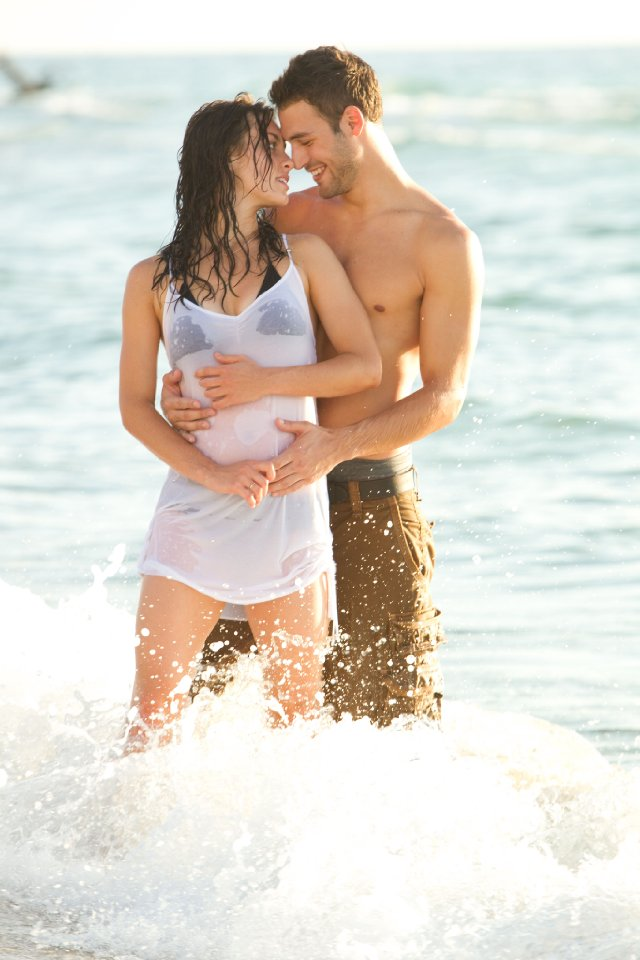 Wait, are they dancing in the water?
Cody Horn, Magic Mike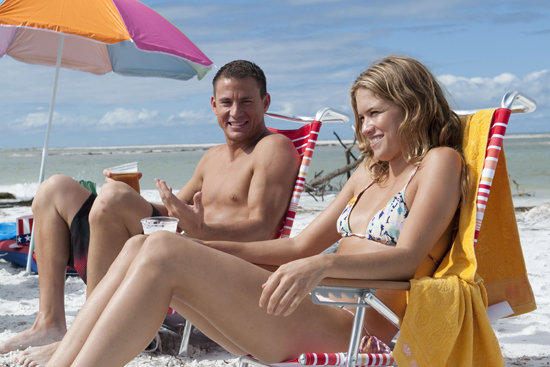 Channing approves of your cute suit, Cody.
Cameron Diaz, Charlie's Angels: Full Throttle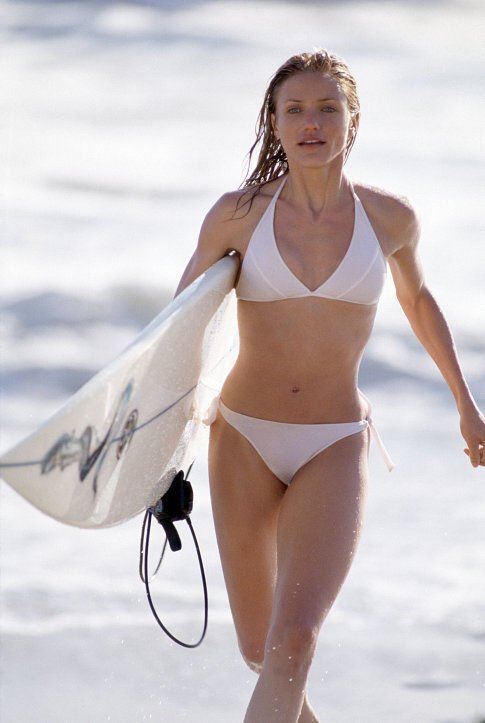 I can practically feel the slow-motion run through my computer screen.
Olivia Munn, Magic Mike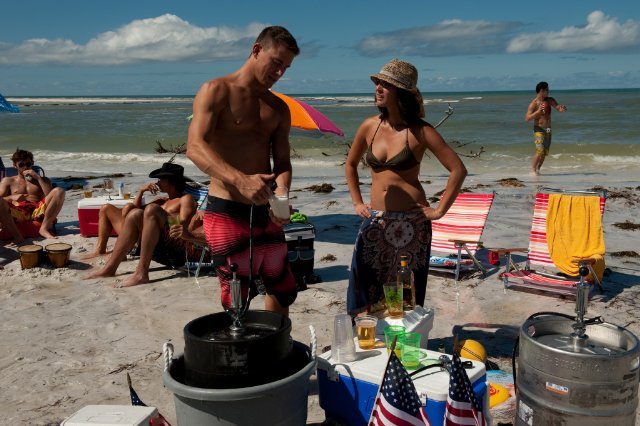 I kind of dig Olivia's modest cover-up/hat combo, not that she needs humility with a figure like that.
Jessica Alba, Into the Blue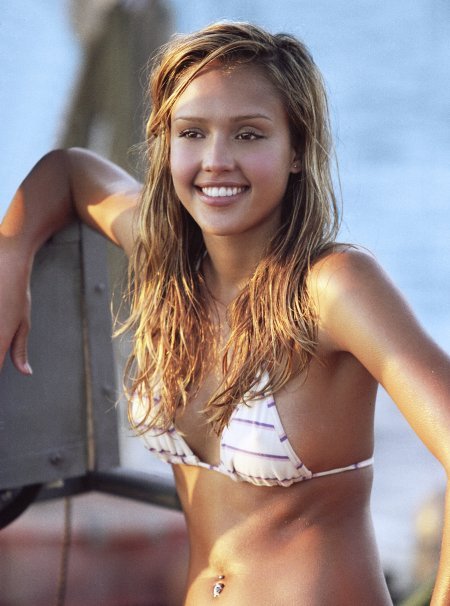 Partnered with Paul Walker [4] in Into the Blue, Alba is just one half of a crazy sexy couple.
Michelle Rodriguez, Blue Crush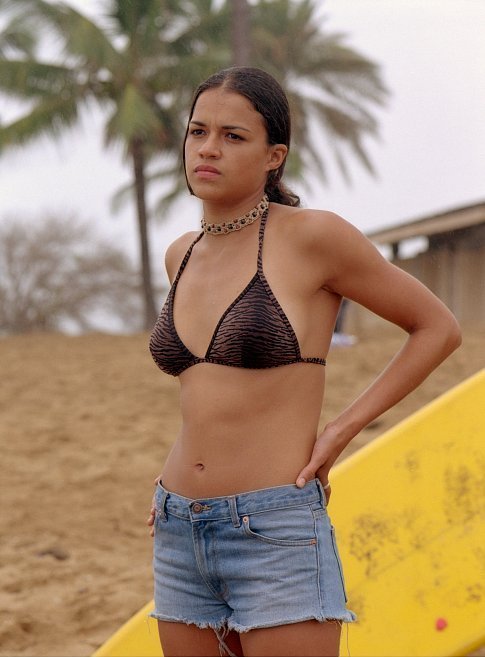 If there's one surfer chick I would not mess with, it's Eden, the badass with a chip on her shoulder.
Sanoe Lake, Blue Crush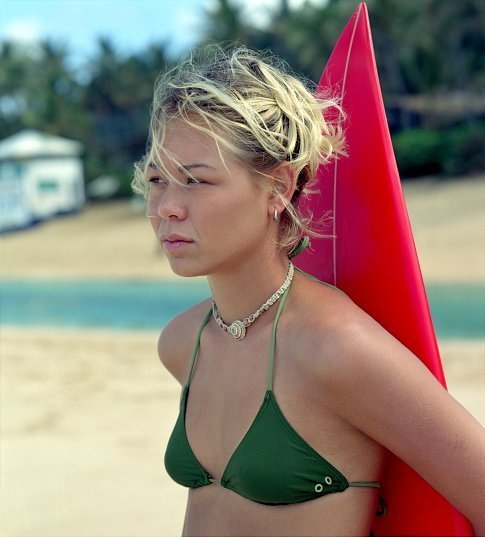 Pro surfer Lake, as Lena, was always my favorite of the group in this Hawaii-set movie.
Kate Bosworth, Blue Crush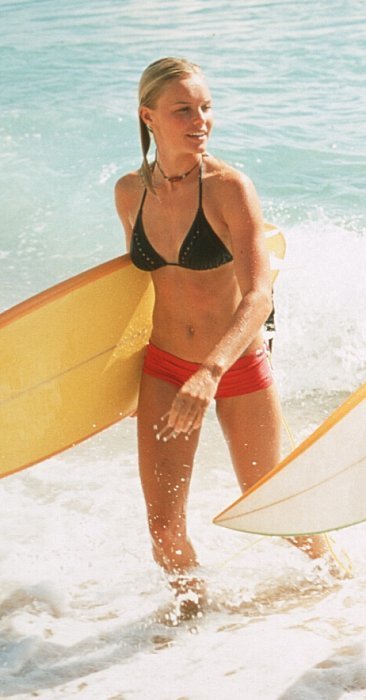 Bosworth has that sporty-chic look down pat. The surf training didn't hurt her physique either.
Halle Berry, Die Another Day
Ah, the orange bikini. Berry put past Bond girls to shame when she rocked this little number in Die Another Day.
Kate Hudson, You, Me and Dupree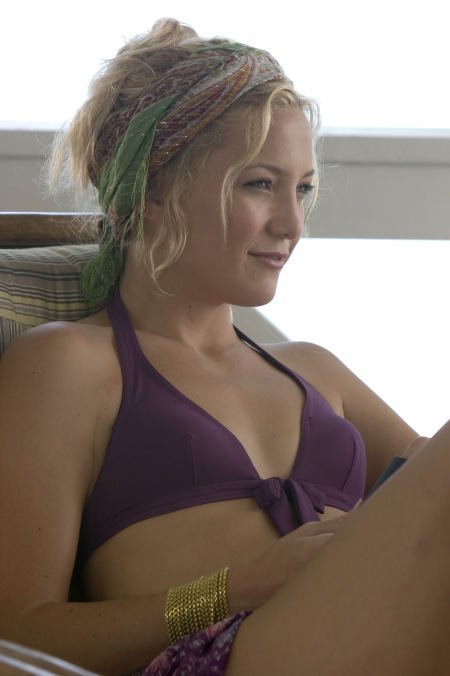 I don't think wearing your bikini around is going to make your unwanted house guest want to leave any sooner.
Cameron Diaz, Knight and Day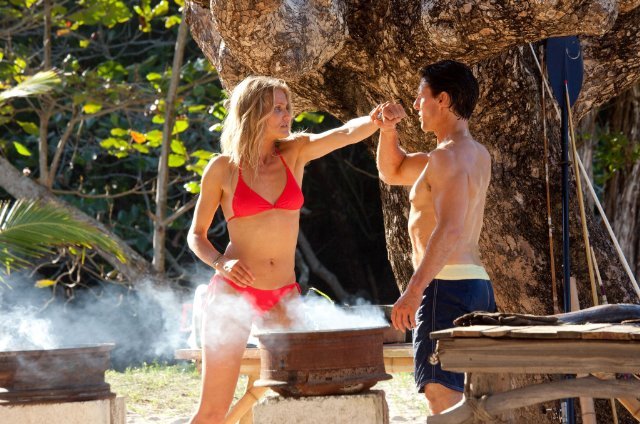 Usually I do my backyard martial arts training in sweats, but Cameron seems to be doing alright in her skimpy red number.
Halle Berry, Dark Tide
Halle Berry [5] still looks stupendous in a bikini. Can we get the number of her trainer?
Cameron Diaz and Demi Moore, Charlie's Angels: Full Throttle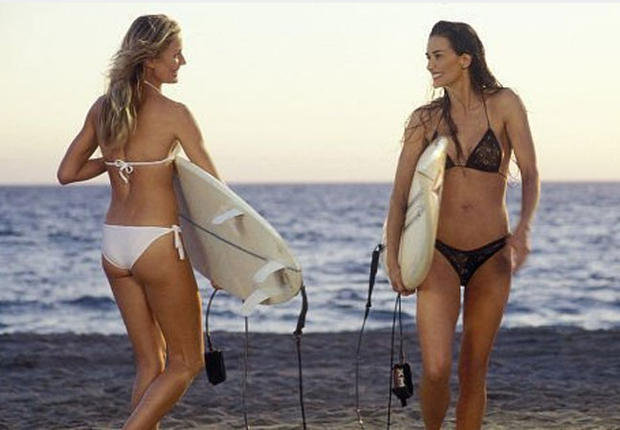 Trading protein-shake tips or just complimenting each other on their supertight abs?
Kristen Stewart, Breaking Dawn Part 1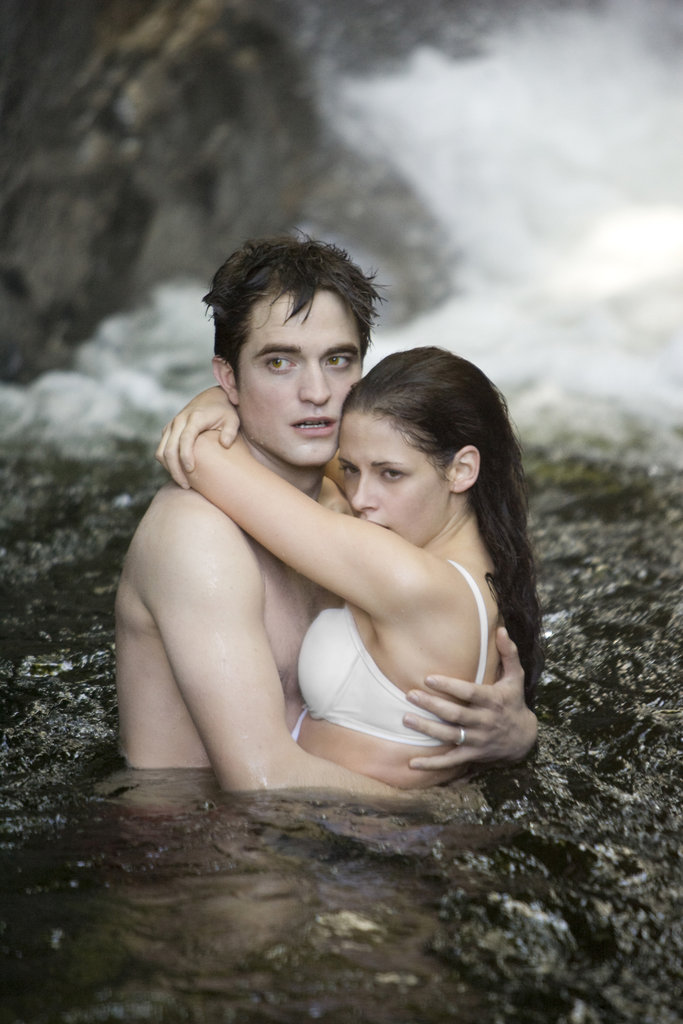 Bella picked a white suit for her honeymoon with Edward, but we all know what happens after that.
Phoebe Cates, Fast Times at Ridgemont High
Phoebe Cates was immortalized in film history when she, er, revealed herself to a fantasizing Judge Reinhold in this '80s comedy.
Gwyneth Paltrow, The Talented Mr. Ripley
Gwyneth Paltrow [6] has it made in the shade in The Talented Mr. Ripley. She gets to cavort around Europe with not one but two sexy men.
Denise Richards, Wild Things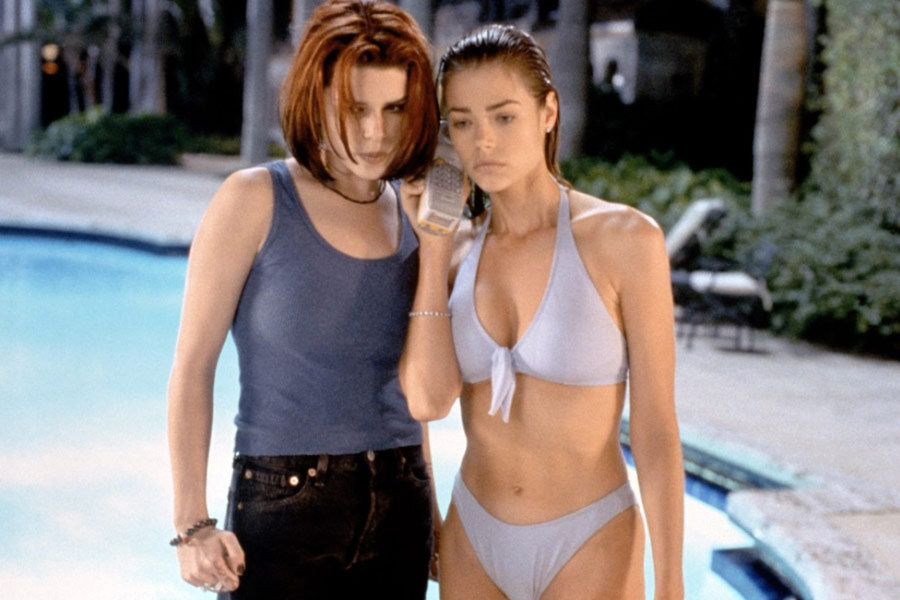 Denise Richards [7]'s insane bikini bod is just one of the notorious memorable things about cult classic Wild Things.
Cameron Diaz, In Her Shoes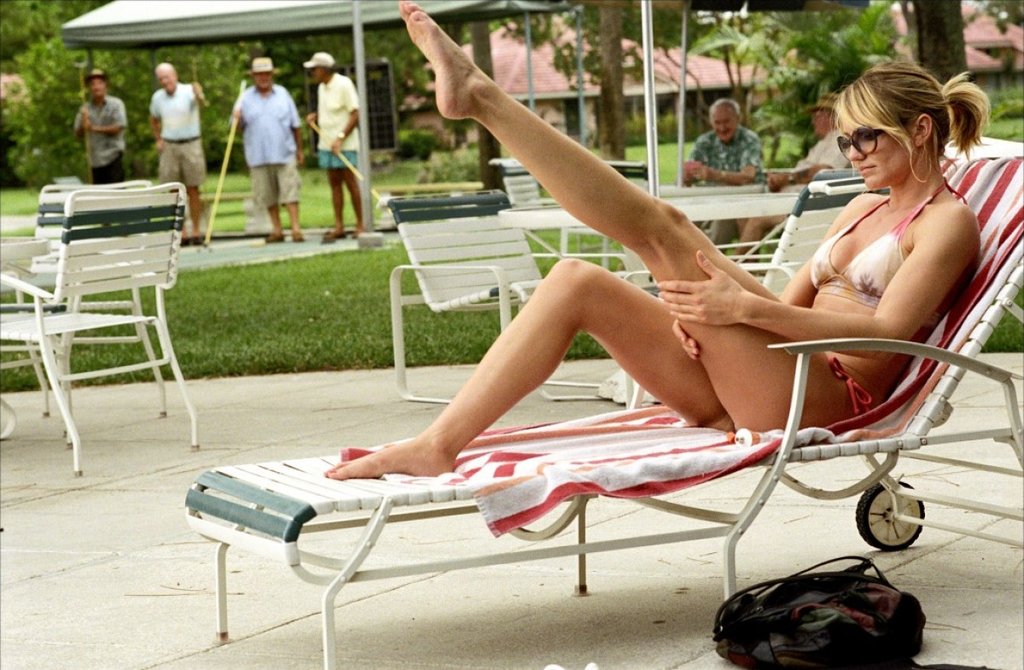 Is there some kind of mandatory bikini clause in Cameron Diaz [8]'s contracts?
Ashley Benson, Selena Gomez, and Vanessa Hudgens in Spring Breakers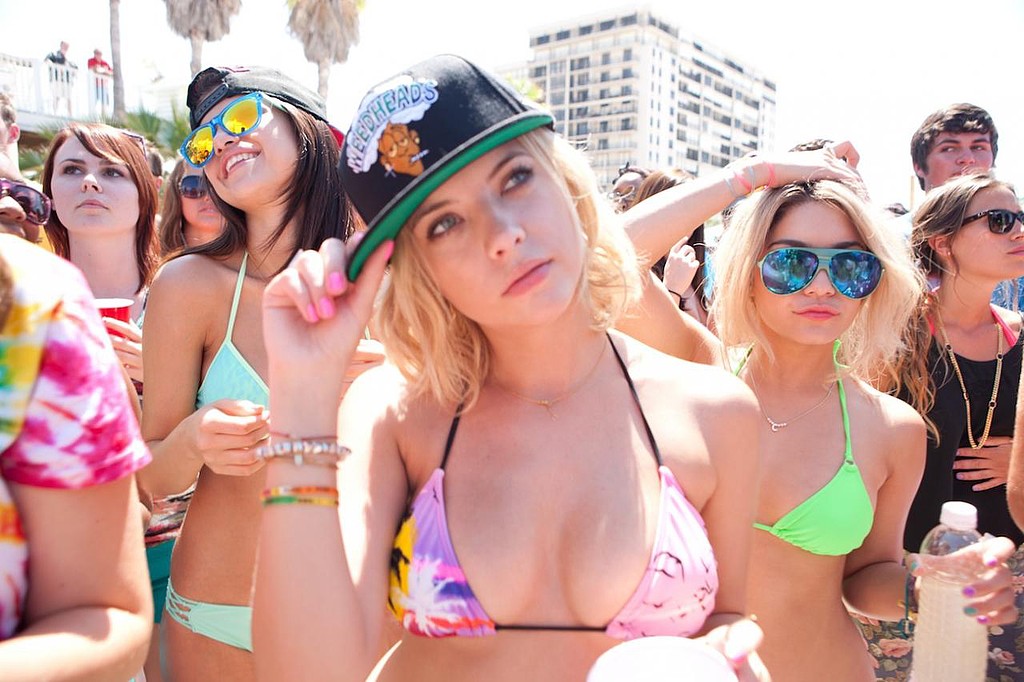 It's all about the neon for this bikini-clad crew.
Michelle Trachtenberg, Eurotrip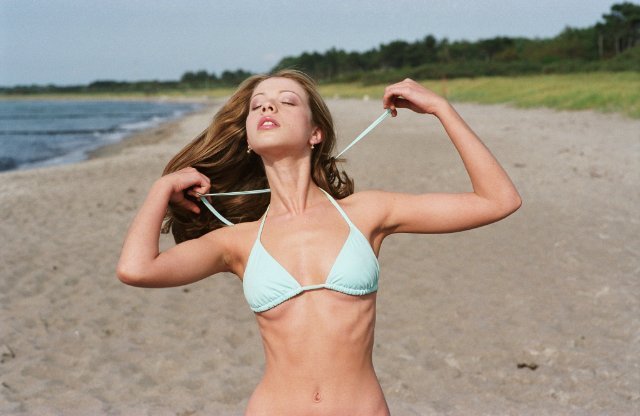 Michelle Trachtenberg [9]'s character in Eurotrip is all about partaking in the cultural customs abroad, even the nude beaches.
Elizabeth Banks, Wet Hot American Summer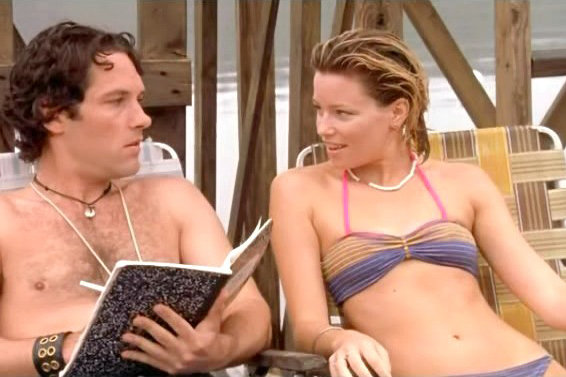 It's a good thing Elizabeth Banks can pull off a sexy bikini, 'cause we heard she tastes like a burger.
Brooklyn Decker, Just Go With It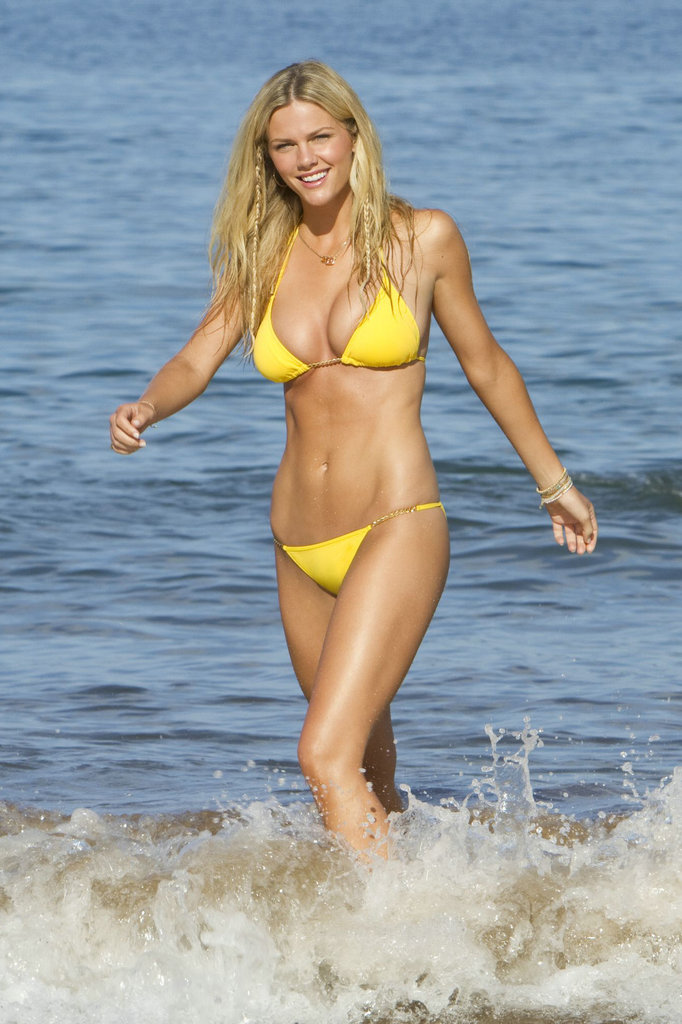 . . . and there goes everyone else's self esteem. Thanks, Brooklyn!
Mila Kunis and Kirsten Dunst, Get Over It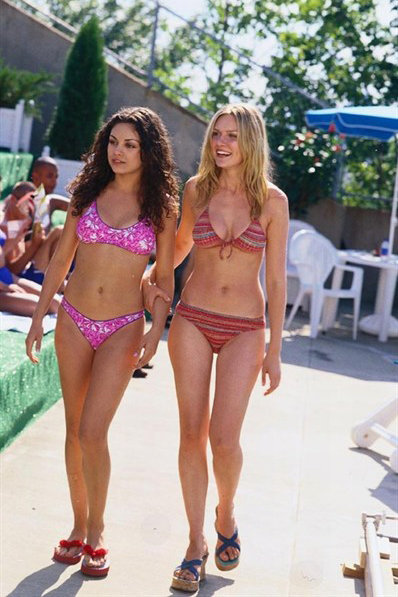 Mila Kunis [10] and Kirsten Dunst [11] rock the classic bikini/platforms combo poolside in Get Over It.
Anna Faris, The House Bunny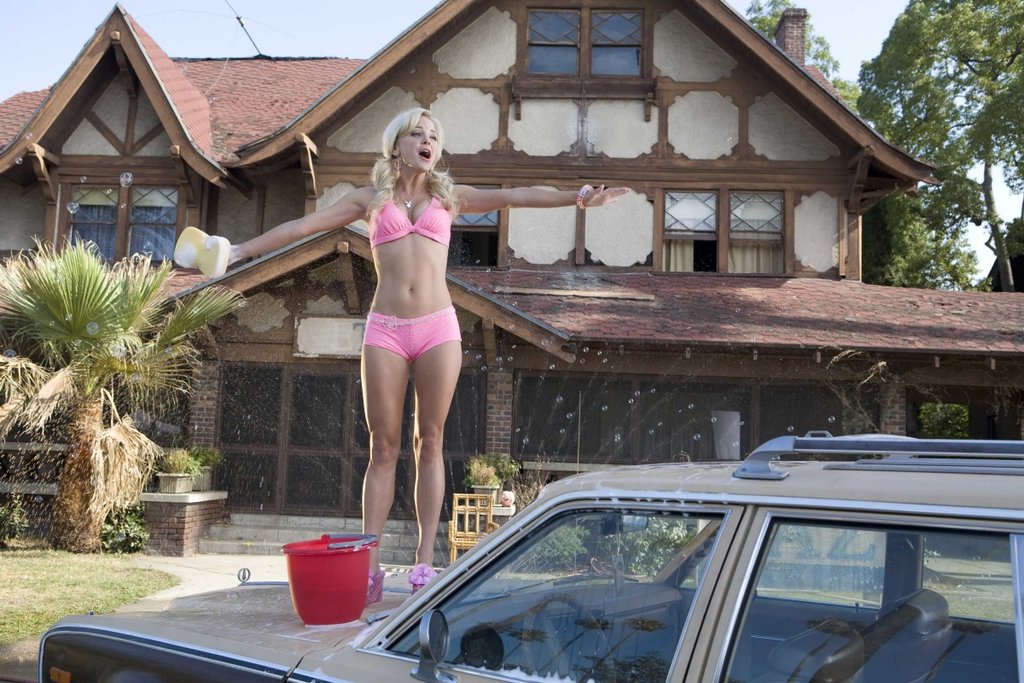 Faris's Playboy Bunny Shelley knows there's no better fundraiser than a bikini car wash!
Angelina Jolie, Tomb Raider: Cradle of Life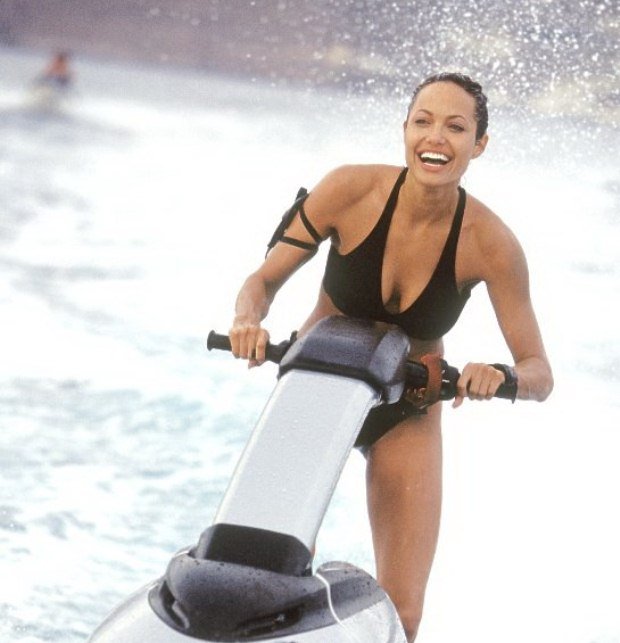 Don't underestimate this smiley, two-pieced historian. She will kick your ass into next week.
Jessica Simpson, The Dukes of Hazzard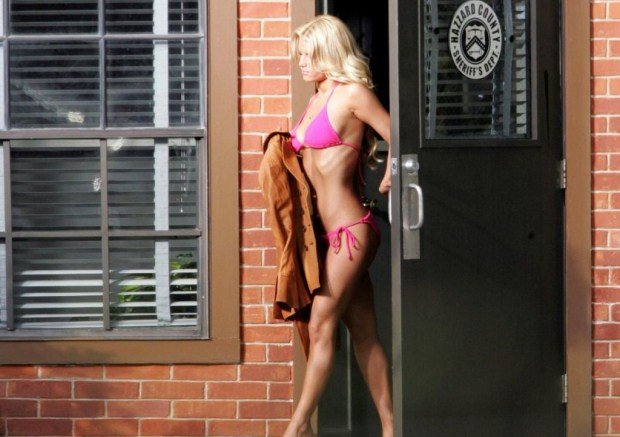 Daisy Duke's body is rockin', and she shows it off in this bikini in addition to her namesake short-shorts.
Heather Graham, Austin Powers: The Spy Who Shagged Me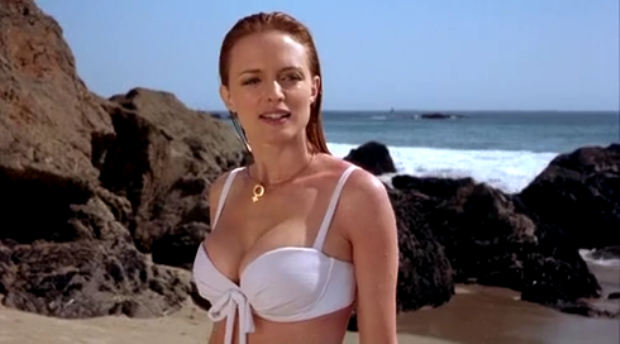 Austin Powers has the sexiest ladyfriends; case in point, Ms. Felicity Shagwell.
Sara Foster, The Big Bounce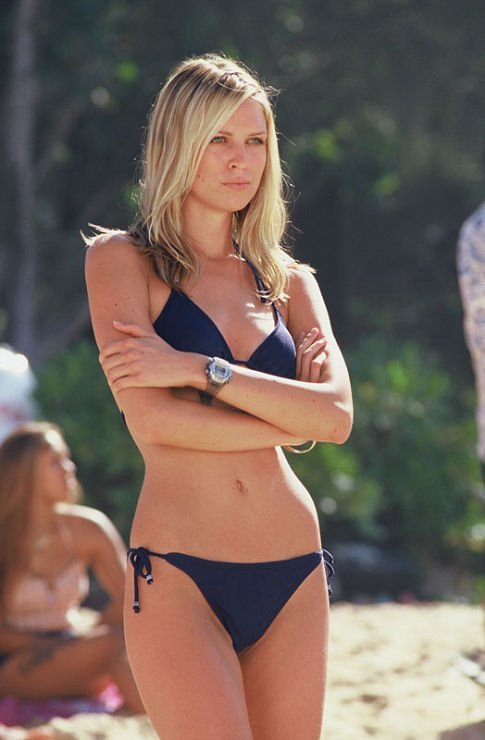 Sara Foster is more than just a pretty face (and killer bod) as a sneaky gold digger.
Rachel McAdams, The Notebook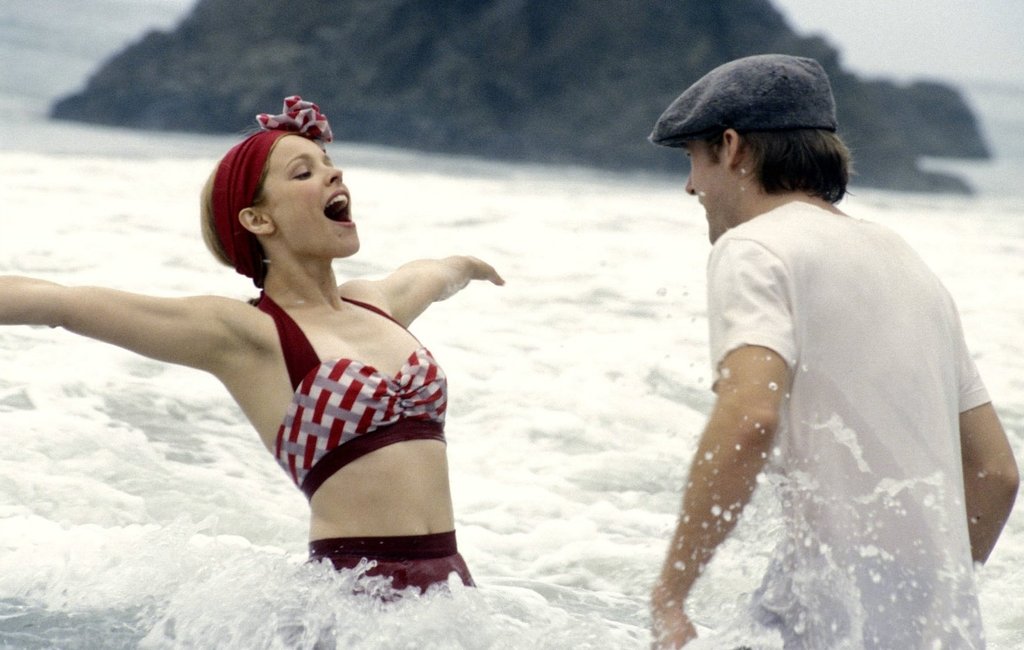 I'm jealous of Allie's adorable swimwear, but I'm even more jealous of her wave-frolicking partner.
Ursula Andress, Dr. No
Honey Ryder (Ursula Andress) is the original Bond girl, whose white-hot bikini look inspired many after her (see Halle Berry [12] in Die Another Day and Heather Graham [13] in Austin Powers: The Spy Who Shagged Me).
Kristen Bell, Forgetting Sarah Marshall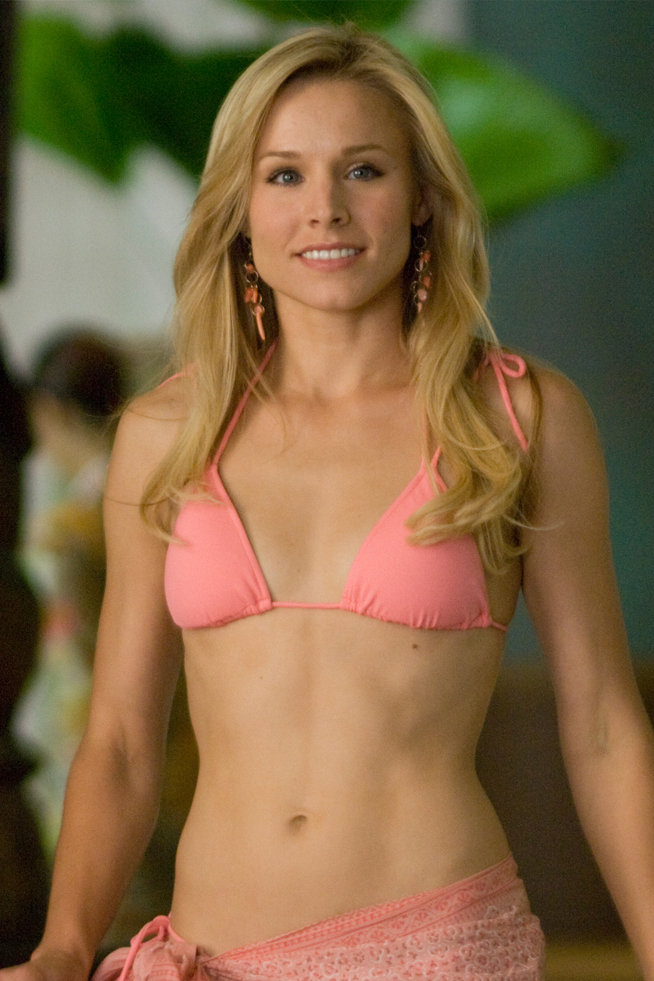 I kind of hate Sarah Marshall, but I totally love her pink bikini.
Tara Reid, The Big Lebowski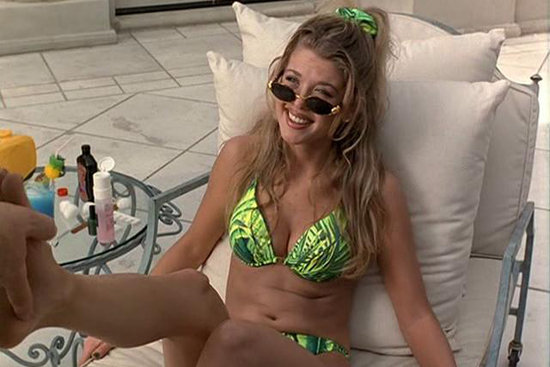 Bunny Lebowski may have been infamous for asking The Dude to blow on her freshly painted toes, but to me she'll always be the girl in the lime-green suit and matching scrunchie.
Vanessa Hudgens, Selena Gomez, Ashley Benson, and Rachel Korine in Spring Breakers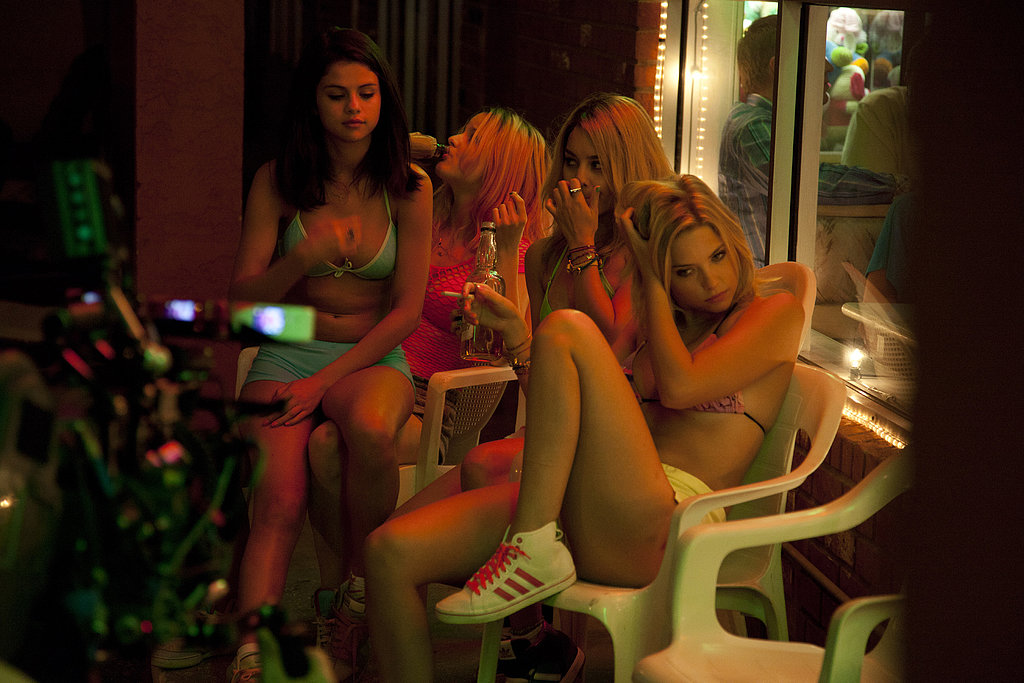 Bikinis are the only way to go for the Spring breakers.
Eliza Dushku, Bring It On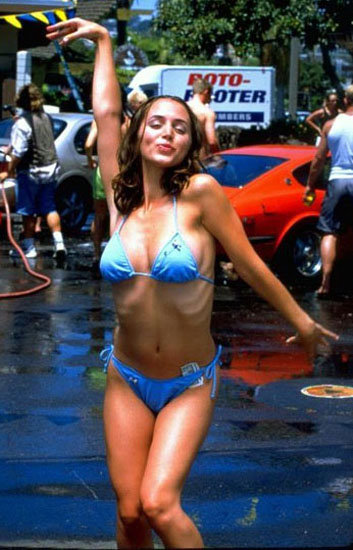 Missy adapts quickly to the demanding responsibilities of being a cheerleader.
Salma Hayek, From Dusk Till Dawn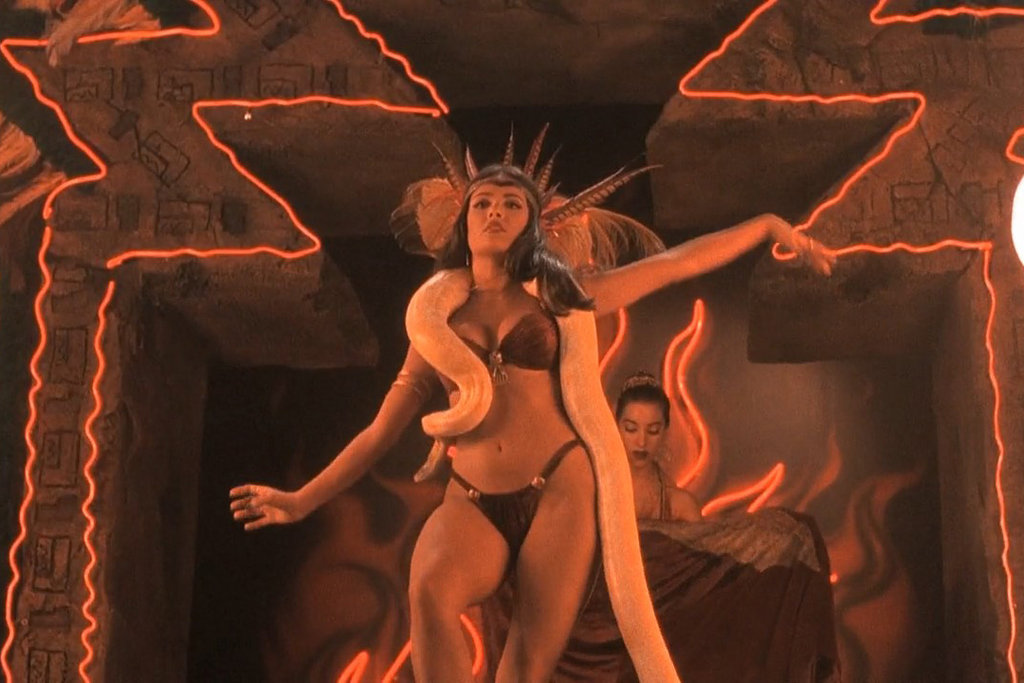 Salma's look is less beachy and more demonic as she entrances vampire hunters George Clooney [14] and Quentin Tarantino [15] with her wiles.
Raquel Welch, One Million Years B.C.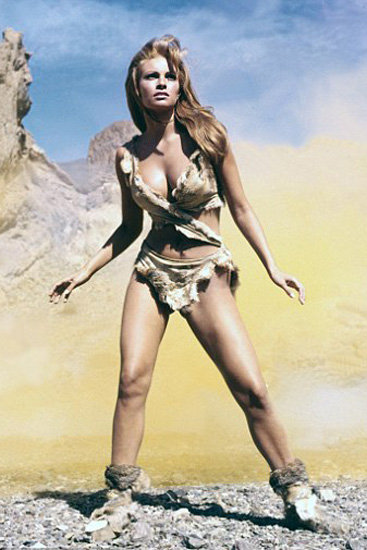 I like to think of this as the first bikini.
Carrie Fisher, Star Wars: Return of the Jedi
There may be no space bikini more iconic than Princess Leia's prisoner duds in Episode VI. The suit is hot, but I can't say as much about the company.
Devon Aoki, 2 Fast 2 Furious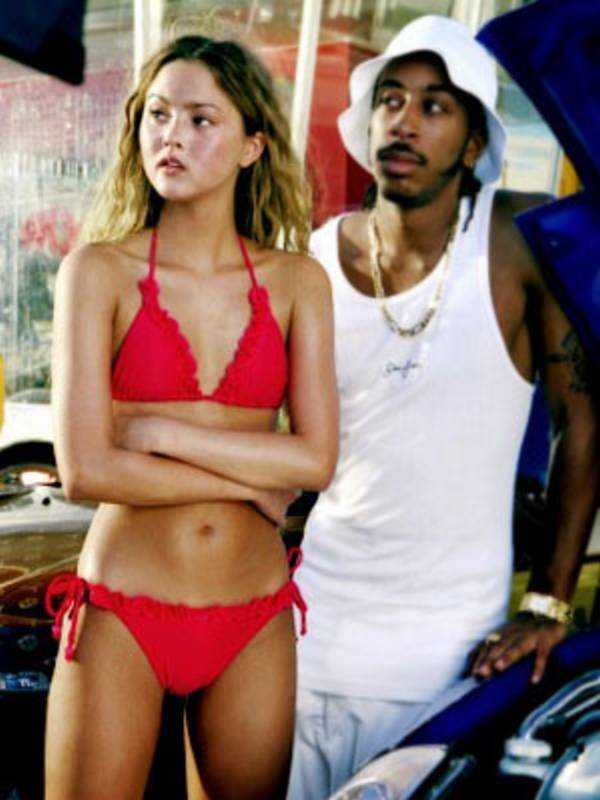 Don't be deceived by Devon Aoki's girlie ruffled suit; her character is actually an incredibly skilled drag racer.
Maribel Verdú, Y Tu Mamá También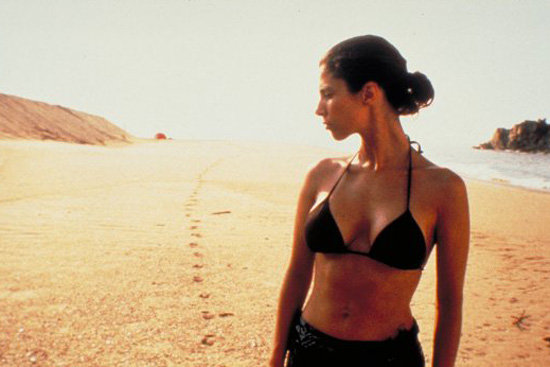 With a body like that, no wonder both Gael Garcia Bernal and Diego Luna lust after older woman Maribel Verdú.
Vanessa Hudgens, Selena Gomez, Ashley Benson, and Rachel Korine in Spring Breakers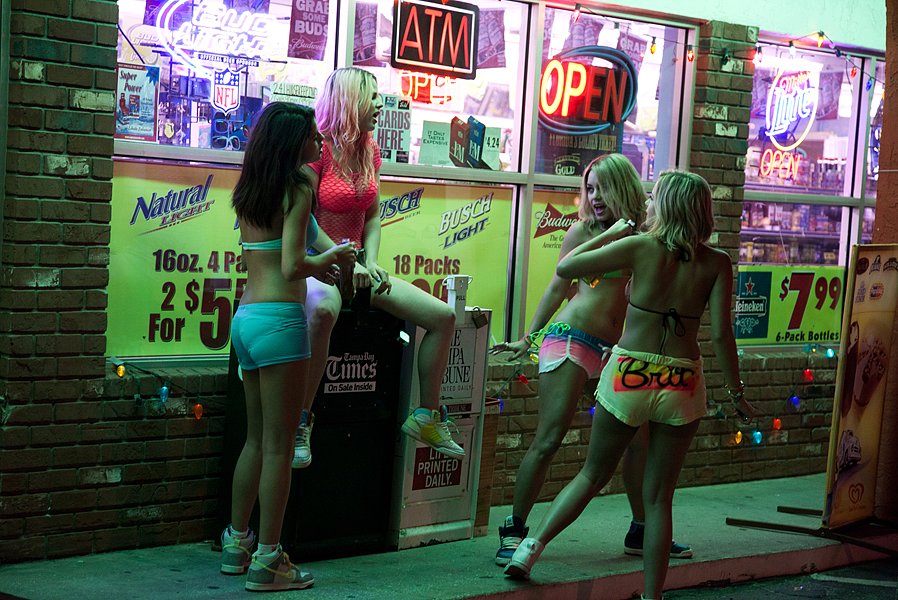 It's a bikini-and-sneakers uniform for the girls' trip to the market.
Alison Lohman, Matchstick Men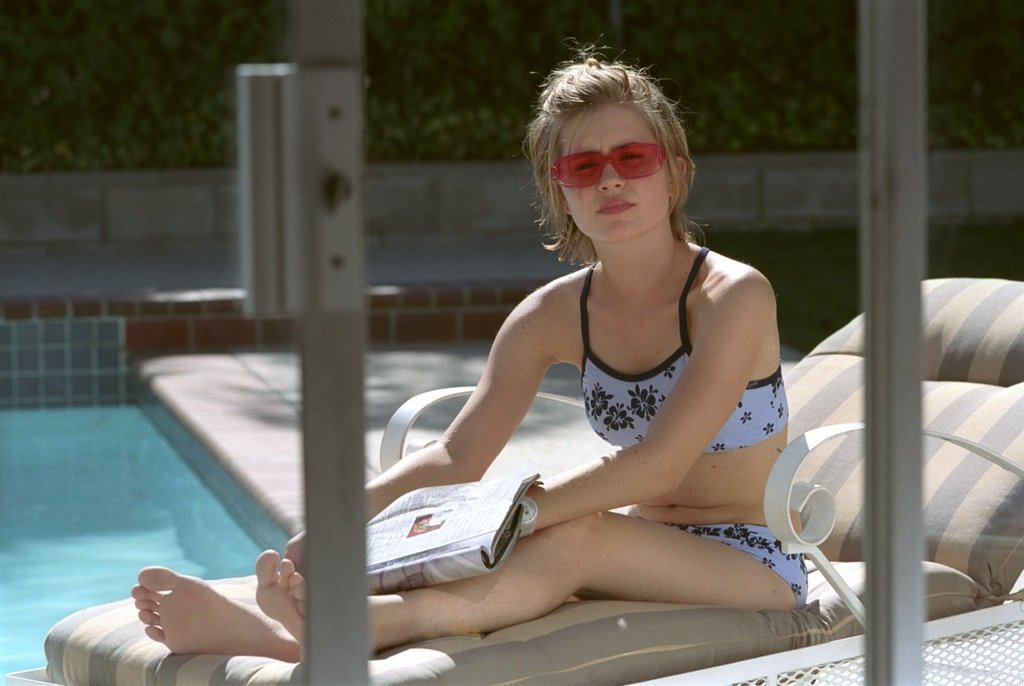 This little two-piece is deceivingly innocent, like Lohman's character.
Sarah Roemer, Disturbia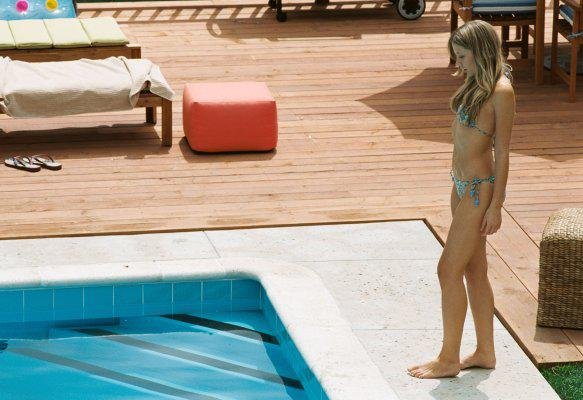 It's easy to understand why Shia LaBeouf [16]'s character enjoys this view.
Nicollette Sheridan, The Sure Thing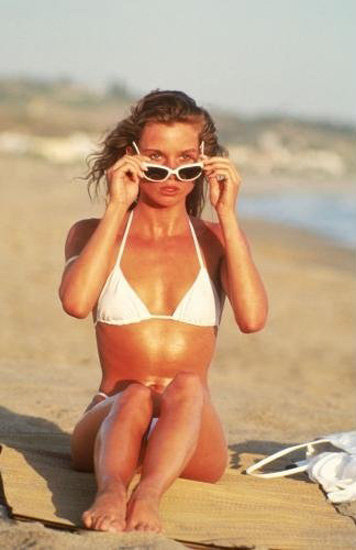 Looking great is a sure thing when you're Nicollette Sheridan.
Ludivine Sagnier, The Swimming Pool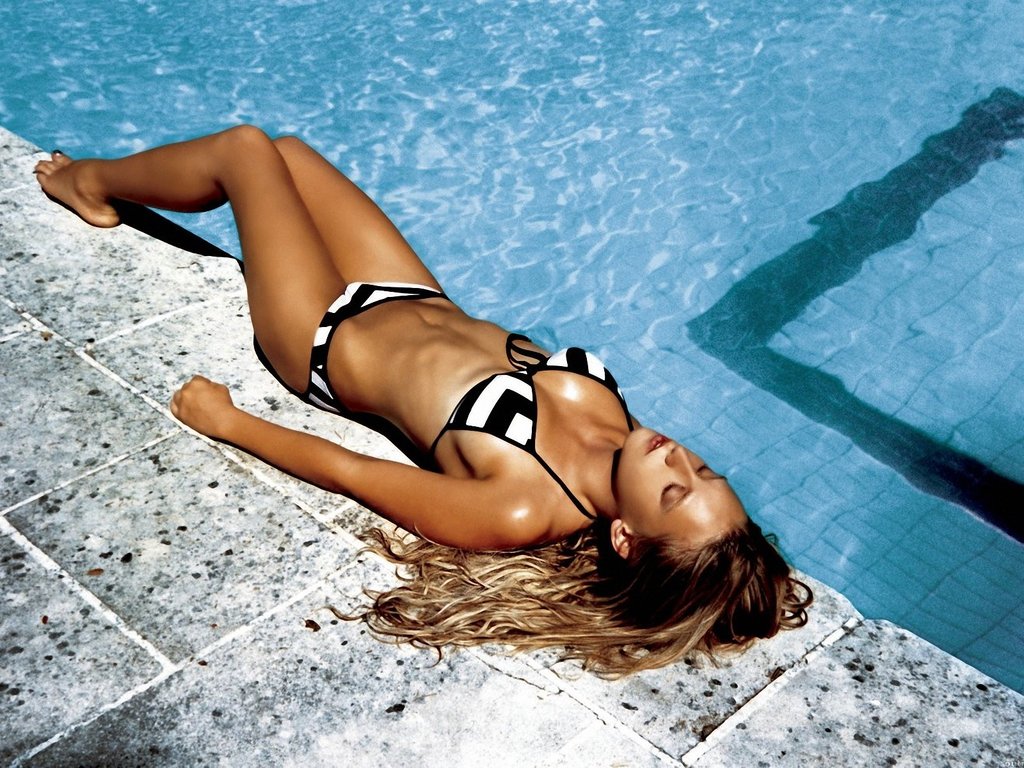 The French actress has an amazing body — and poolside perch — in this thriller.
Ari Graynor, Youth in Revolt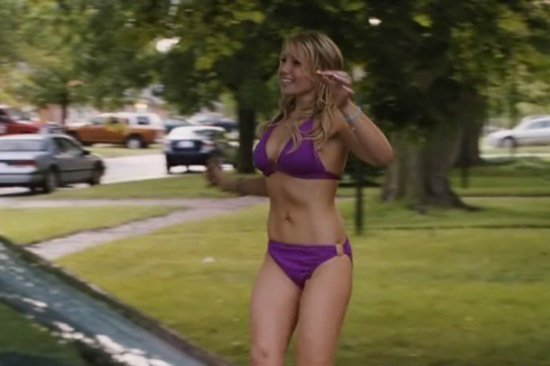 Funny gal Graynor looks great in her purple bikini.
Amber Heard, The Stepfather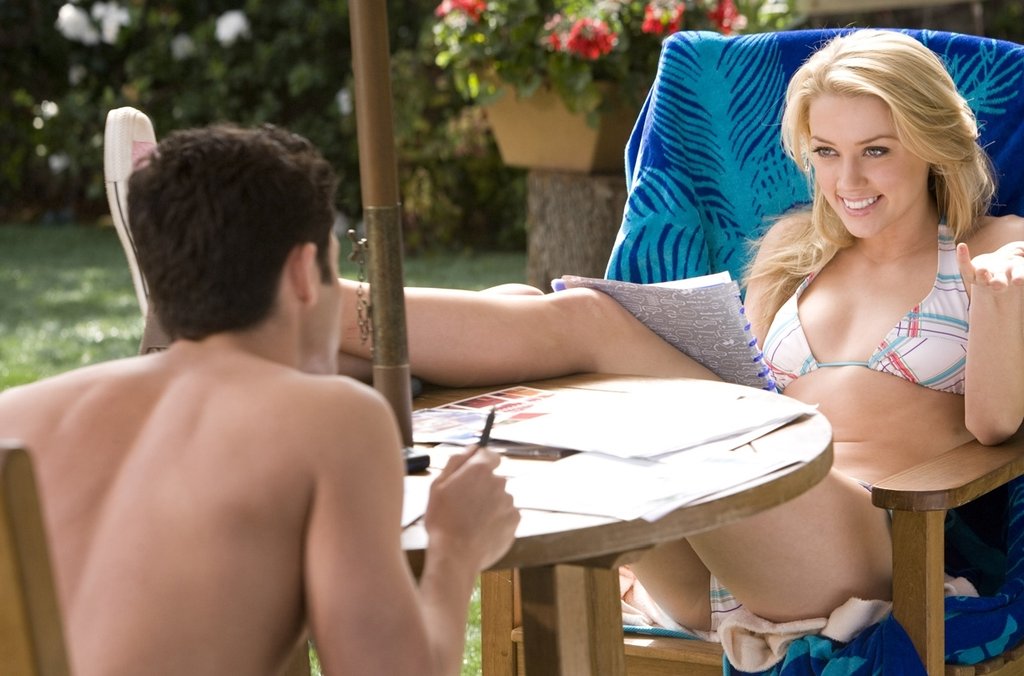 That's Penn Badgley [17] sitting opposite Heard. His eyes better be on her eyes.
Arielle Kebbel, The Uninvited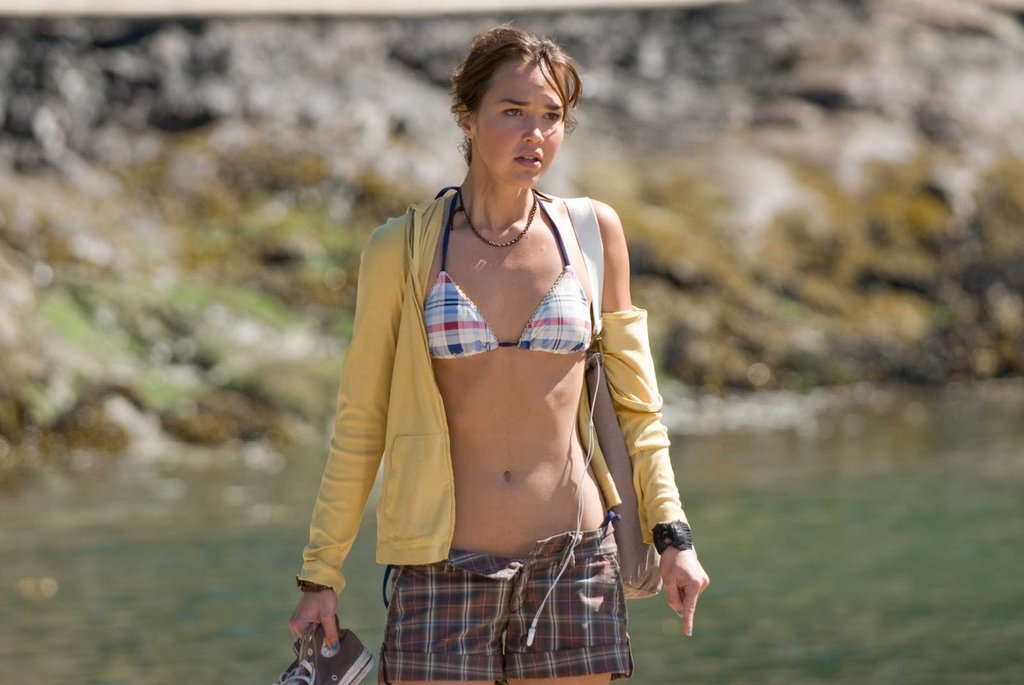 Kebbel fearlessly mixes her plaid prints on the beach.
Jennifer Aniston, Just Go With It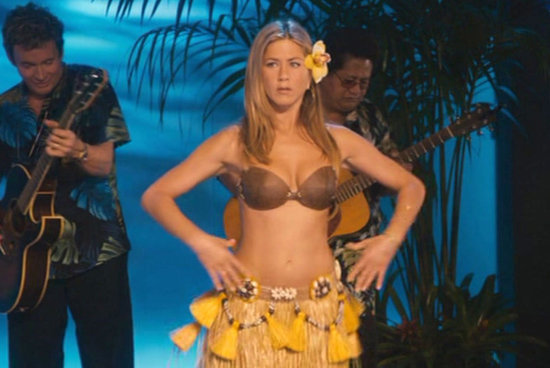 Aniston shows off her legendary yoga-toned bod in that Hawaiian wardrobe staple, the coconut bikini.
Penélope Cruz, Blow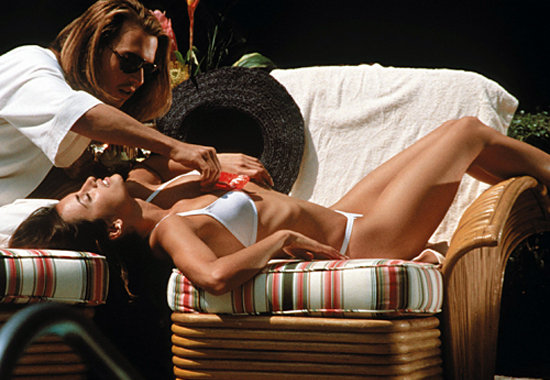 Among Penélope's onscreen skills? Seducing the likes of Johnny Depp [18] in her white bikini.
Dania Ramirez, American Reunion
Ramirez's suit is cute, but unfortunately it makes her an ogling victim of Stifler and co.
Kristen Bell, Couples Retreat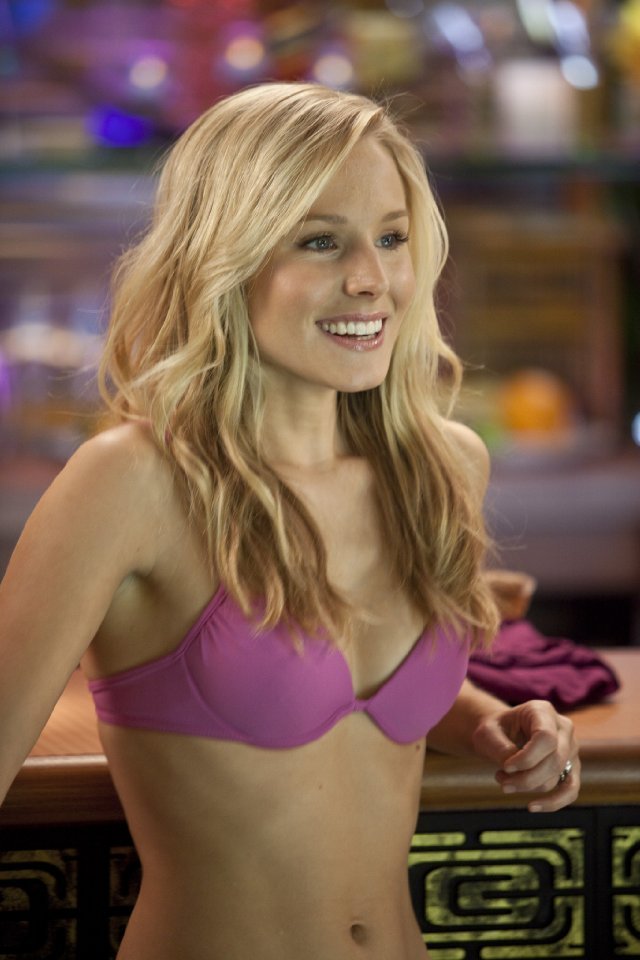 It should be easy to resuscitate the spark in your marriage when you look that good in your bathing suit.
Kristin Davis, Couples Retreat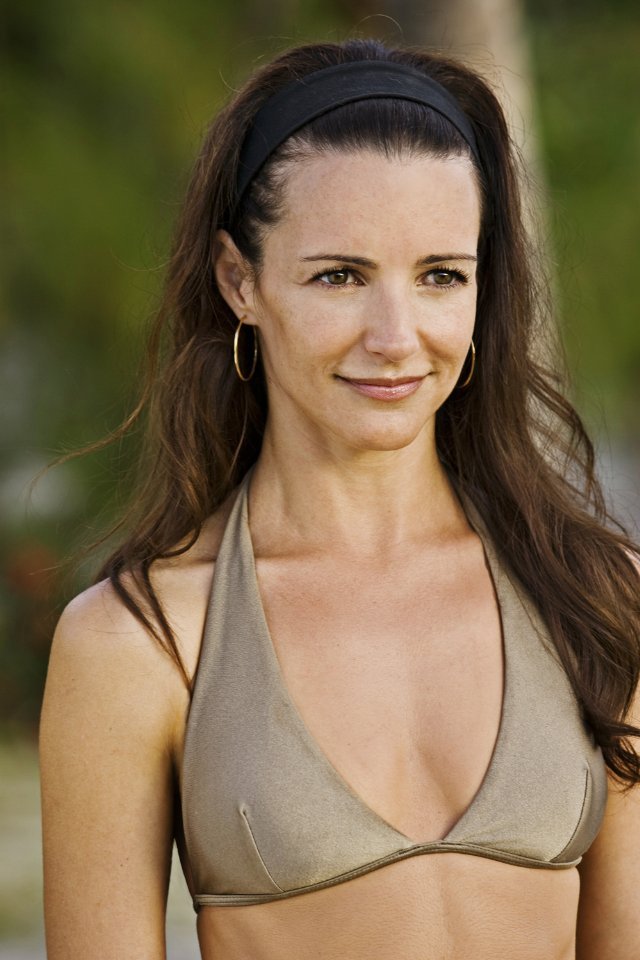 Couples Retreat: better known as that movie with tons of stars and not much clothing.
Eva Mendes, Stuck on You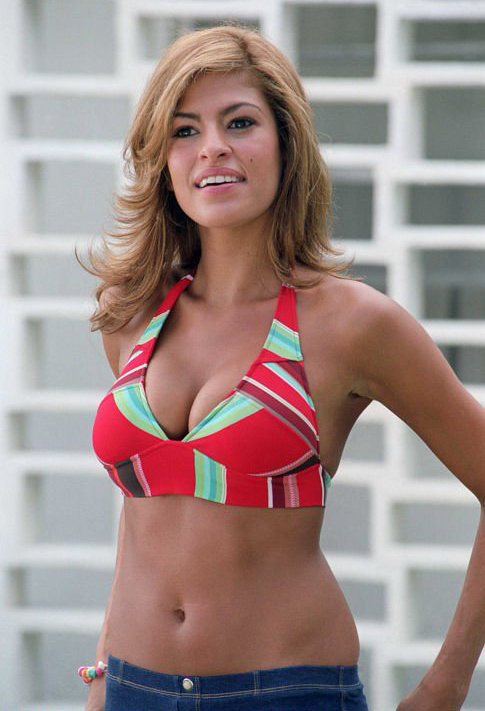 Mendes has a bangin' beach body in this silly comedy.
Virginie Ledoyen, The Beach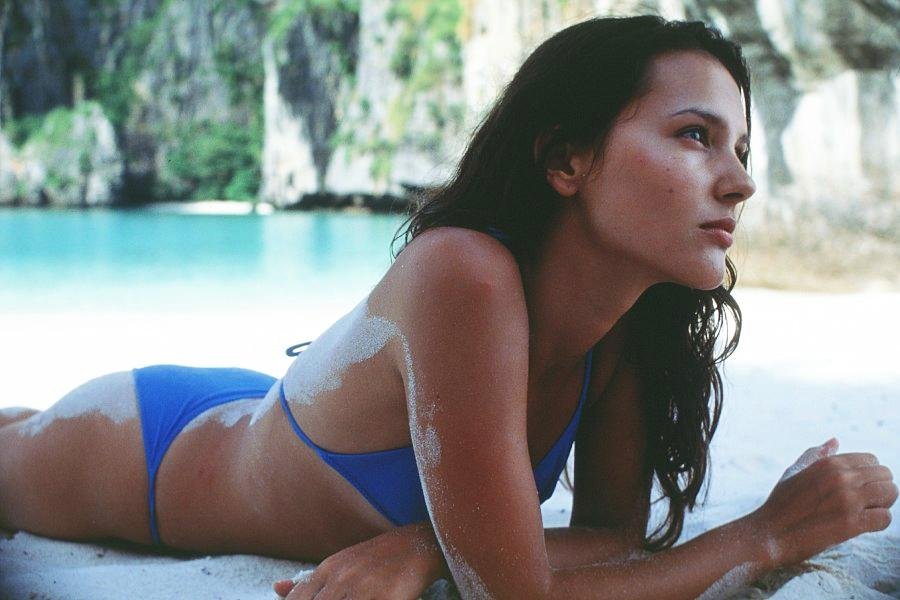 Of course Leonardo DiCaprio [19] falls for this French stunner in this drama.
Christina Ricci, The Opposite of Sex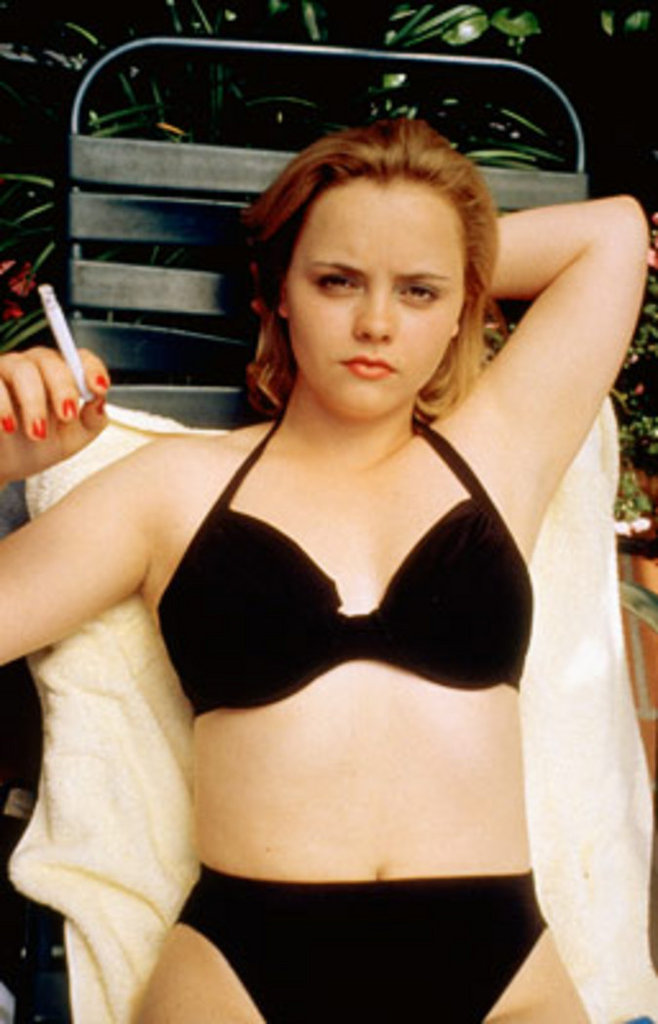 This black comedy calls for a black bikini on Ricci's bad-girl character.
Brigitte Bardot, The Girl in the Bikini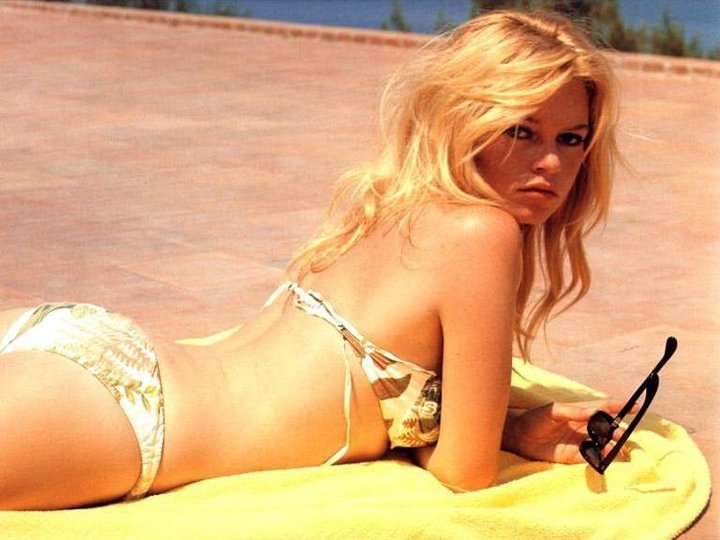 The blond French bombshell defines '50s sex appeal.
Sarah Paxton, Shark Night 3D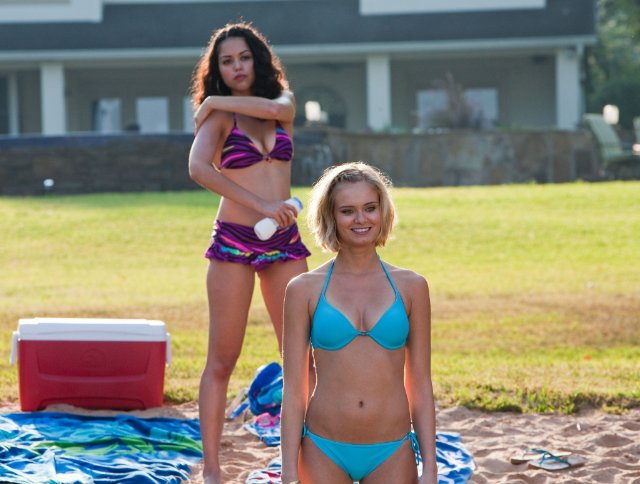 No cheesy horror movie is complete without some female eye candy.
Anne Heche, Six Days Seven Nights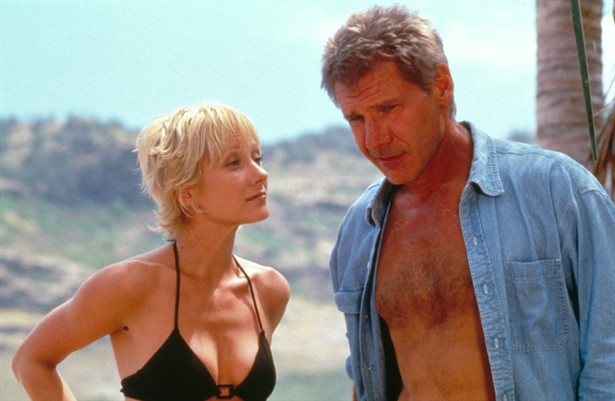 How do you turn tension into sexual tension? Two words: Black. Bikini.
Vanessa Hudgens, Selena Gomez, Ashley Benson, and Rachel Korine in Spring Breakers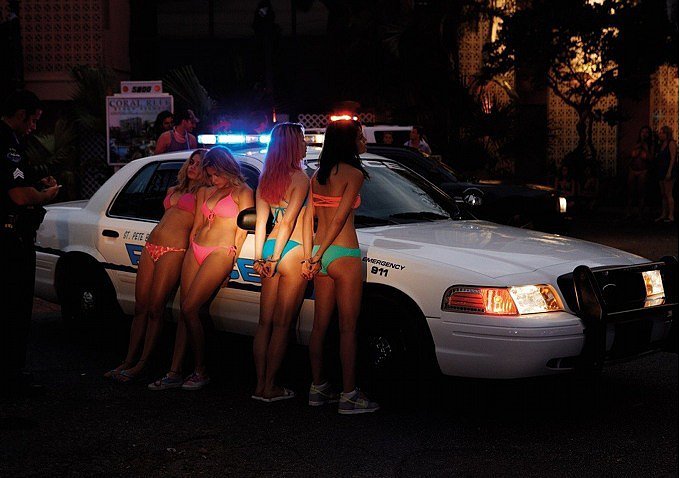 Nothing like a pair of handcuffs to accessorize a two-piece.
Kelly Clarkson, From Justin to Kelly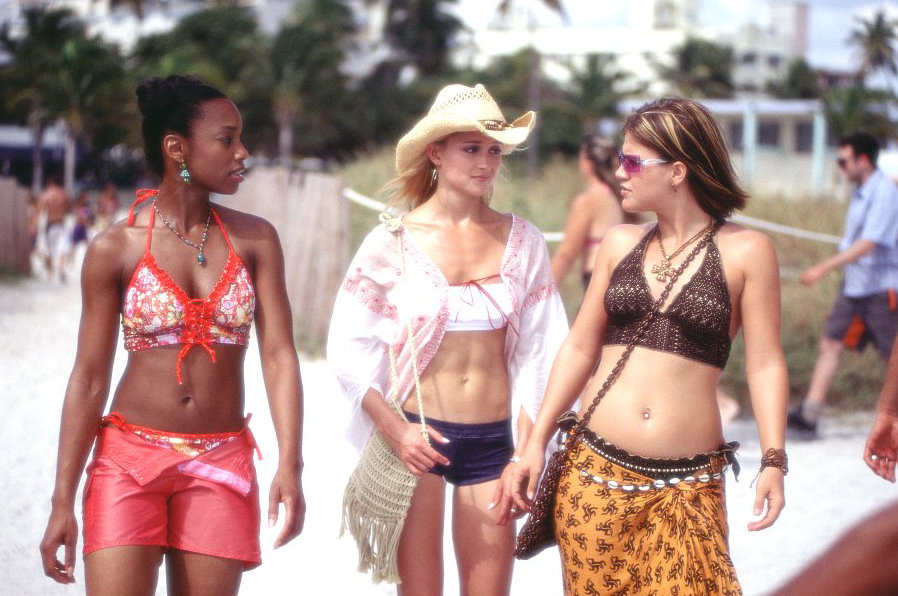 The American Idol belts out beachside tunes and bares her belly in this musical comedy.
Debra Messing, Along Came Polly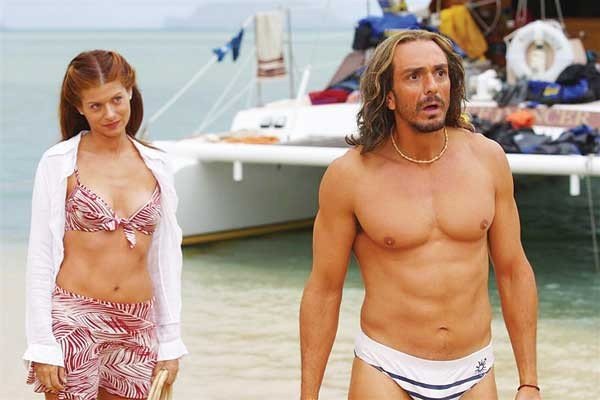 Messing's two-piece is skimpy, yet her scuba instructor's suit is skimpier. Go figure.
Elizabeth Hurley, Bedazzled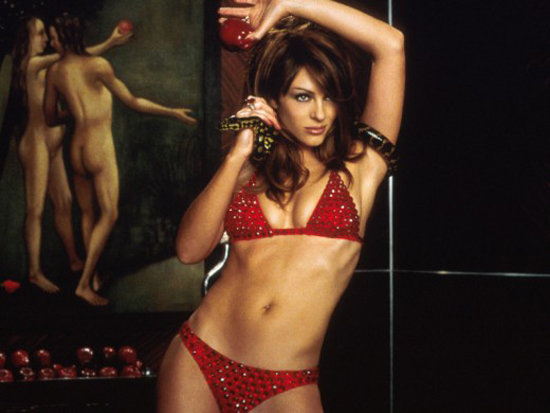 Who needs a devil in a blue dress when you can have a devil in a red bikini?
Gwyneth Paltrow, Shallow Hal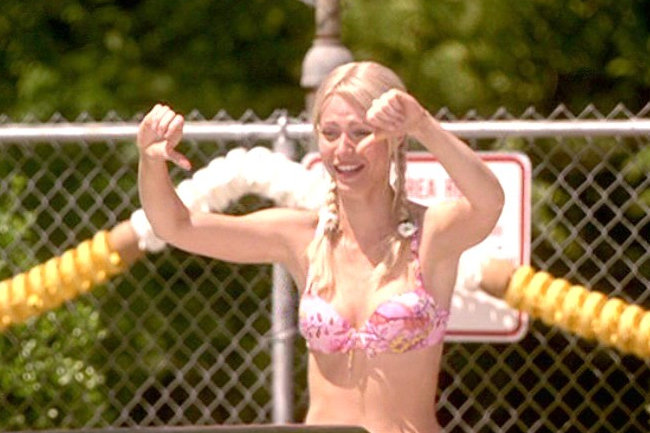 I'm a big proponent of being happy with yourself, but would Rosemary really wear a bathing suit that skimpy?
Sasha Barrese, The Hangover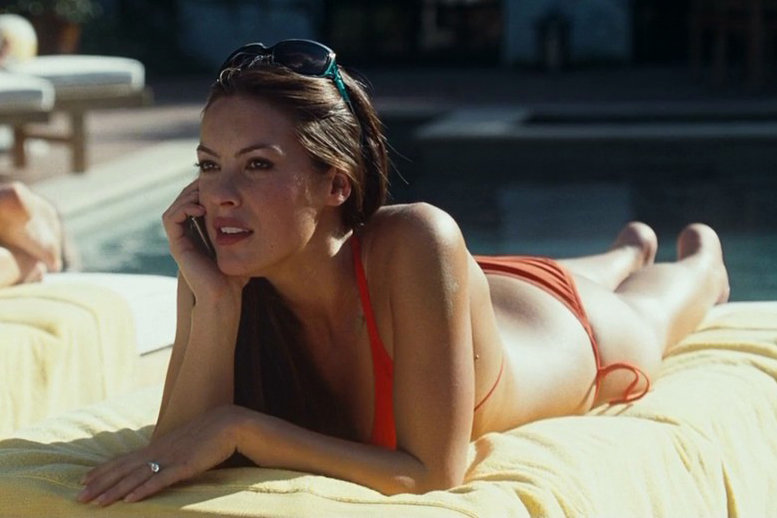 Lounging by the pool in a two-piece is a lot more relaxing than spending the weekend trying to find your missing BFF.
Sarah Jessica Parker, L.A. Story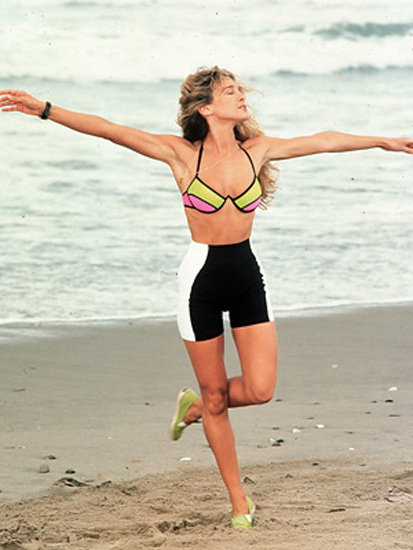 Ah, the '90s. The era of neon and bicycle shorts.
Vanessa Hudgens and Ashley Benson, Spring Breakers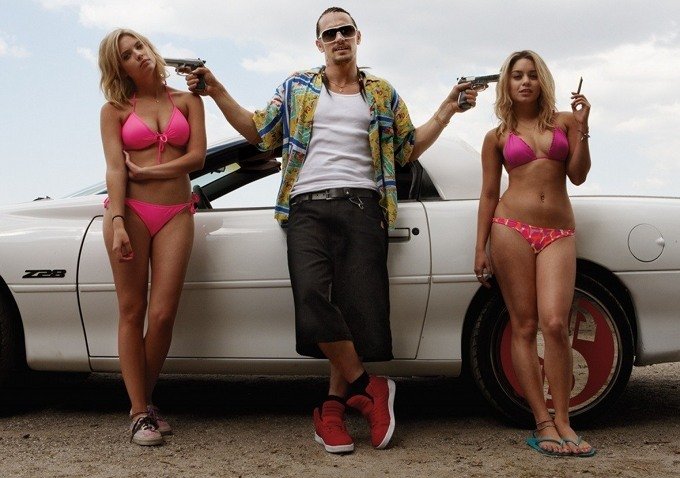 Even gorgeous girls like Vanessa Hudgens [20] and Ashley Benson can't tear our attention away from those cornrows on James Franco [21].
Amanda Seyfried, Dear John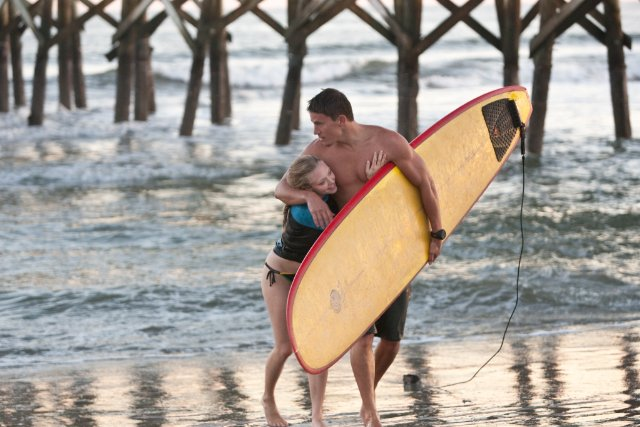 Not only does Amanda Seyfried [22] have a bangin' bikini bod, but she also gets to hug it out with a shirtless [23] Channing Tatum. Lucky.
Penélope Cruz, Sahara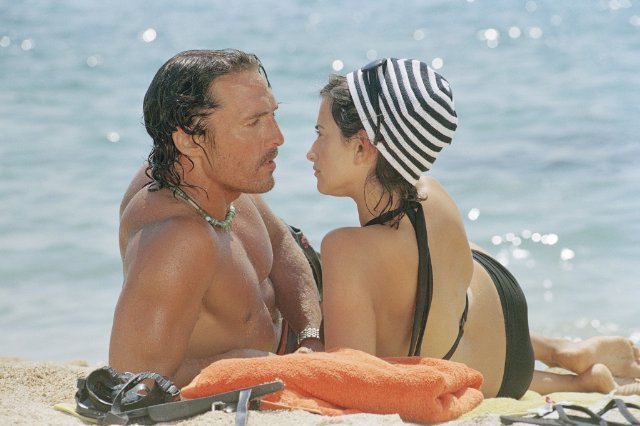 Shirtless [24] Matthew McConaughey and bikini-clad Penélope Cruz [25] were meant to be together.
Lorraine Nicholson, Soul Surfer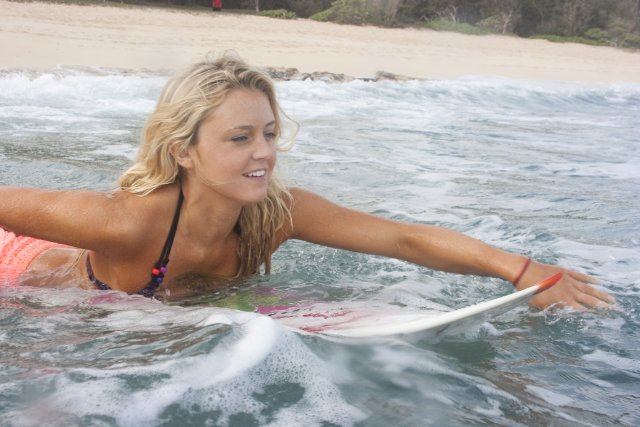 No surfboard is complete without the perfect bikini to accessorize it.
Vanessa Hudgens and Ashley Benson in Spring Breakers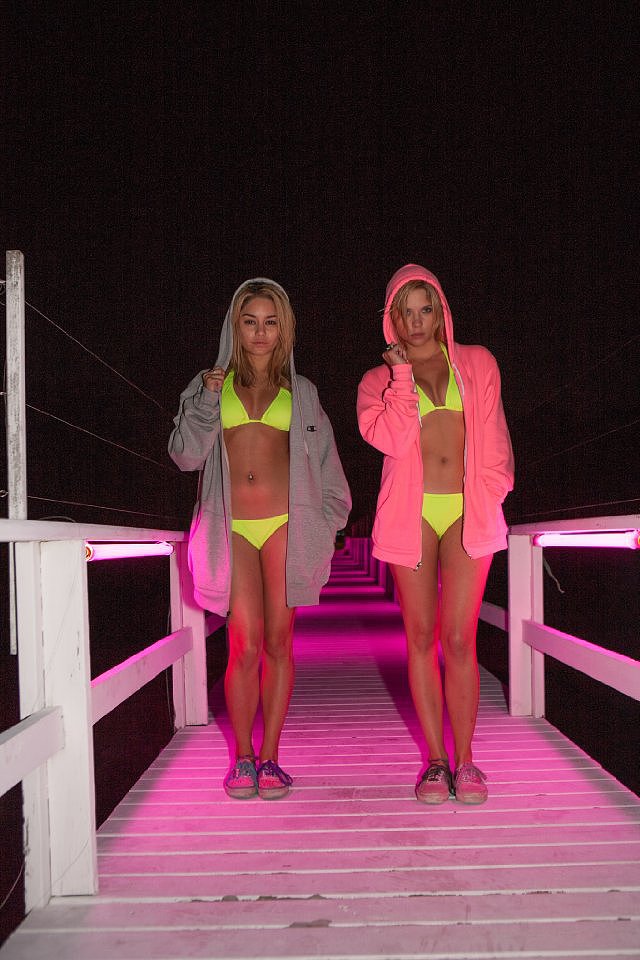 Even hooded sweatshirts can't tone down the neon bikinis.
Source: Muse Film [26]
Malin Akerman, The Heartbreak Kid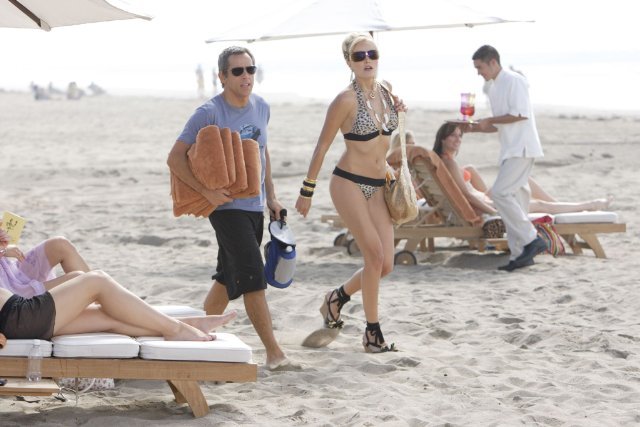 Nothing goes with a leopard-print bikini quite like wedge sandals in the sand.
Jessica Biel, Summer Catch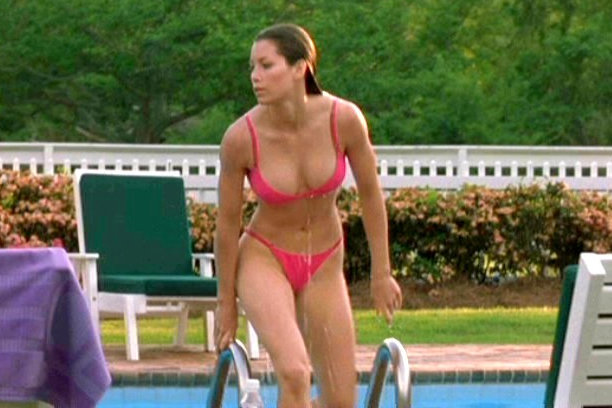 Ah yes, the bikini that launched a thousand "Sexiest Woman of the Year" titles.
Deborah Foreman, Valley Girl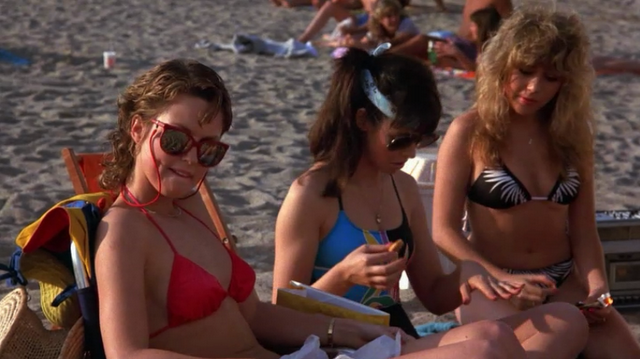 These Valley girls brought their mad '80s style to the beach, including skimpy tops, big sunglasses, and headbands.
Sigourney Weaver and Jennifer Love Hewitt, Heartbreakers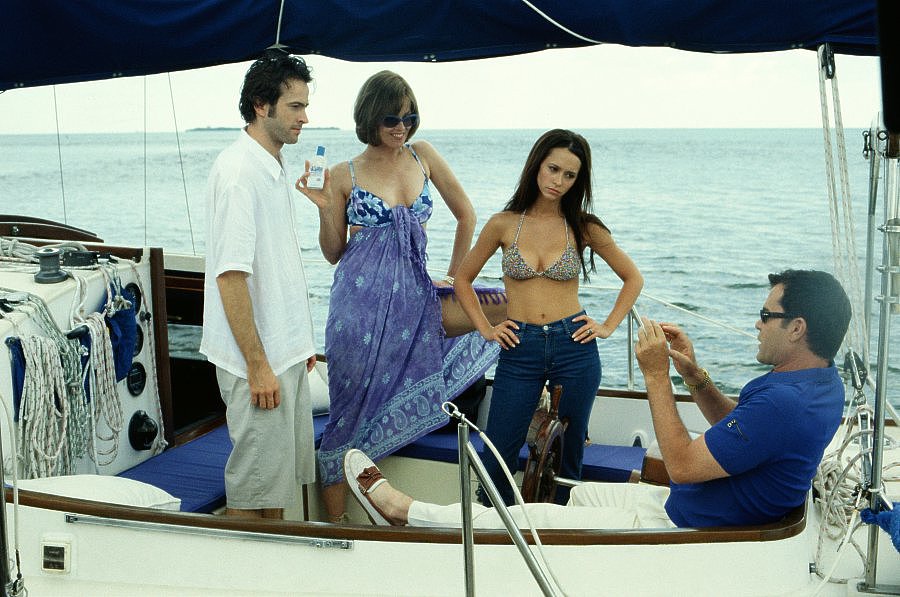 Jennifer Love Hewitt [27] and Sigourney Weaver's gold digging characters use their feminine wiles (including great bikini bodies) on love interests like Jason Lee [28] and Ray Liotta.
Lake Bell, It's Complicated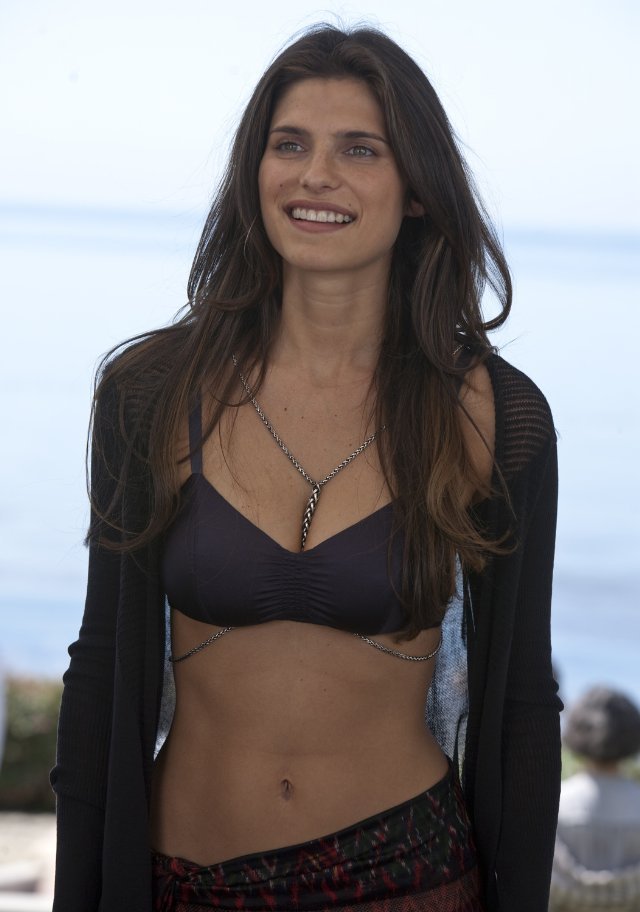 The bangin' bod is just part of the arsenal of the younger trophy wife Bell plays in It's Complicated.
Ashley Benson, Selena Gomez, Vanessa Hudgens, and Rachel Korine, Spring Breakers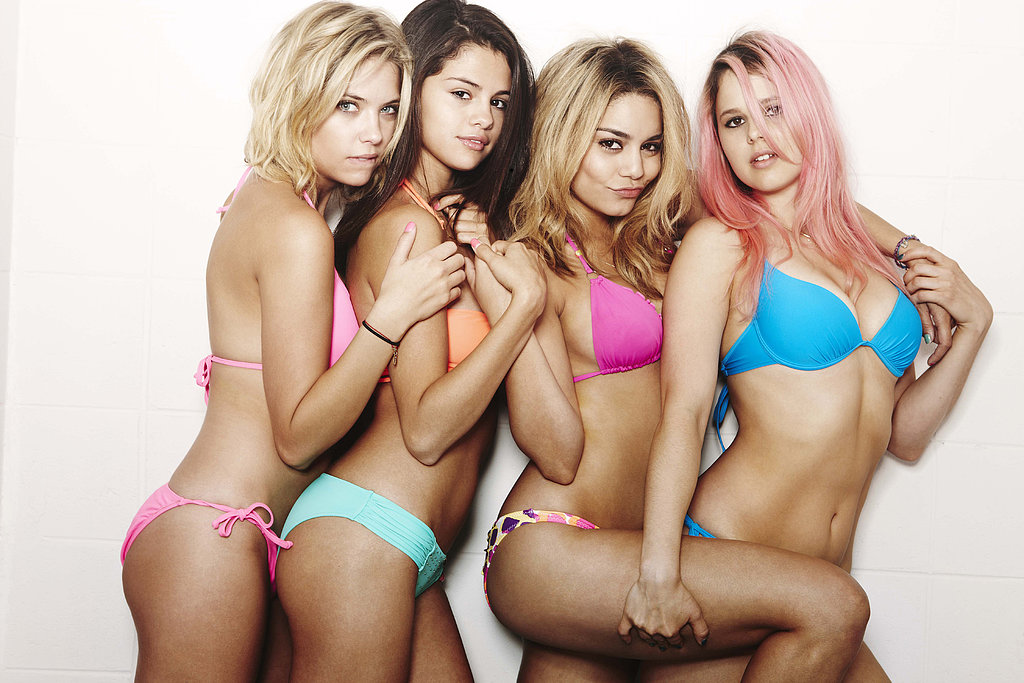 Spring break . . . forever.
Beyoncé, Austin Powers in Goldmember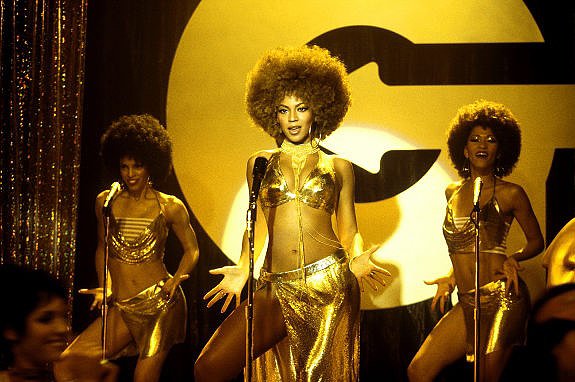 Thanks to her shiny gold bikini top, Foxxy Cleopatra definitely has the "foxy" part down.
Shailene Woodley, The Descendants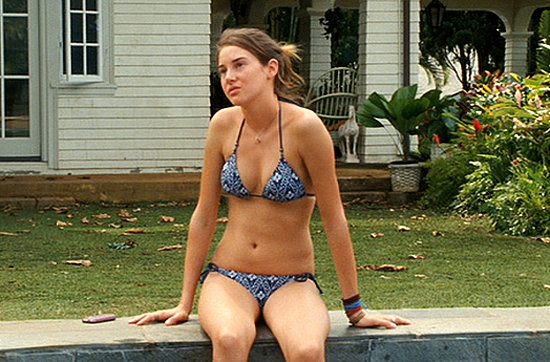 Looks like George Clooney [29] even has good fake-dad genes.
Random Party Girls, Project X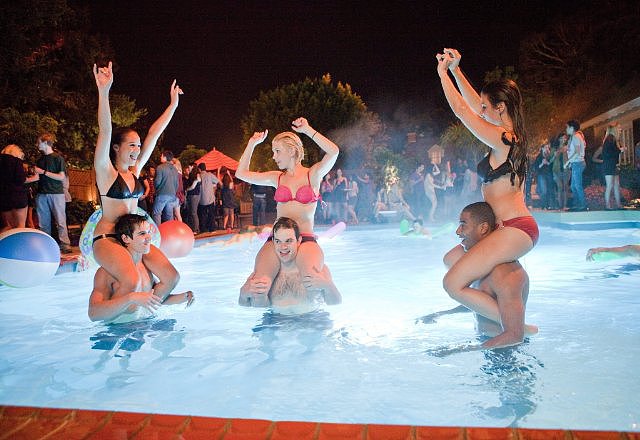 If you've seen Project X, then you know this doesn't even scratch the surface of the crazy stuff that goes down at this party.
Kate Upton, The Other Woman
Not many people can look like this in a white bikini.
Chelsea Dawn, Think Like a Man Too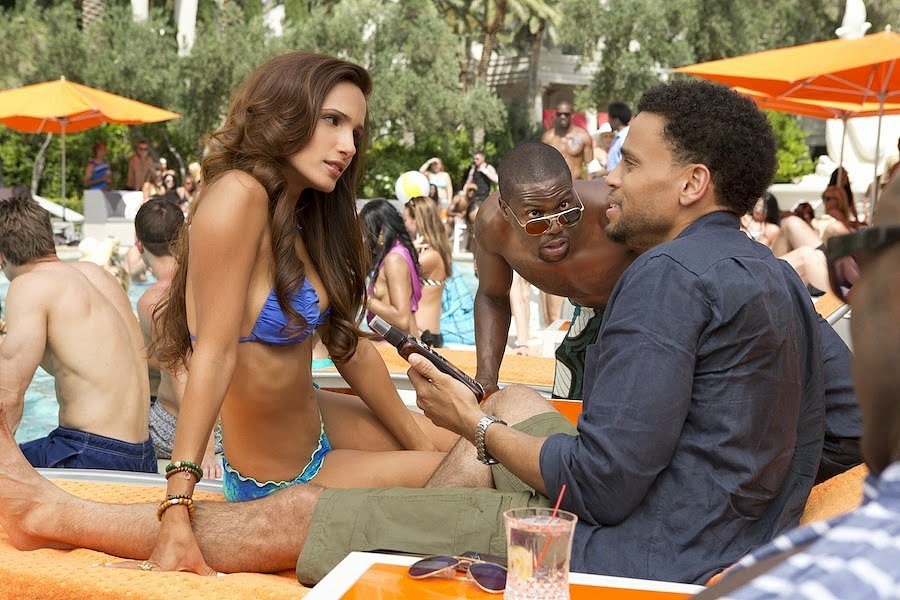 Dawn's sexy body tempts Michael Ealy.
Regina Hall, Taraji P. Henson, Gabrielle Union, La La Antony, and Meagan Good, Think Like a Man Too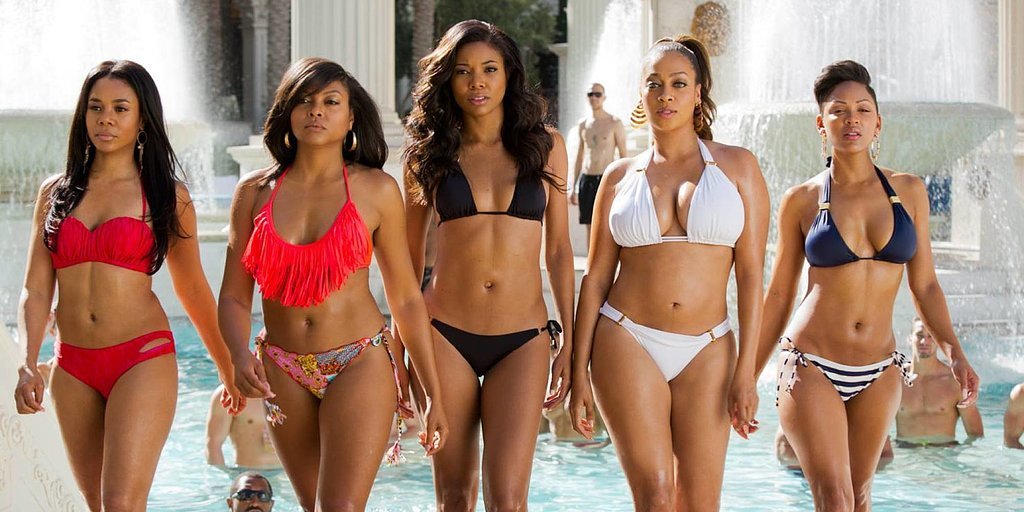 The ladies strip down to bikinis for a Vegas pool party.
Joyce Hyser, Just One of the Guys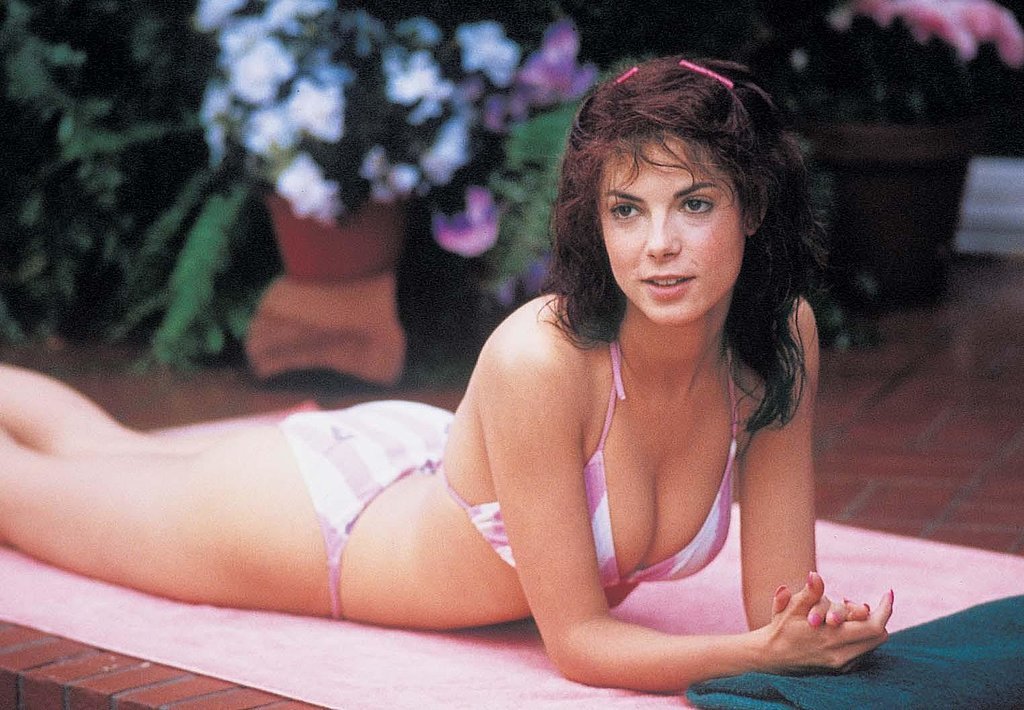 Though she poses as a dude to go to a different school, Hyser is very much a beautiful woman.
The Longest Ride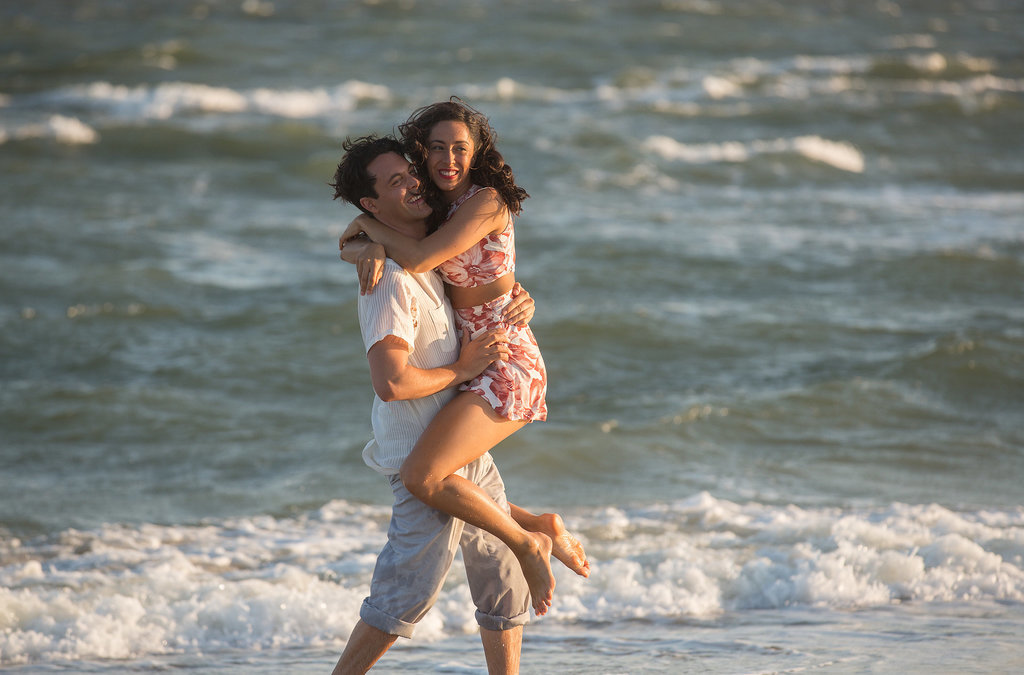 Oona Chaplin dons a retro suit in this blast from the past.
Focus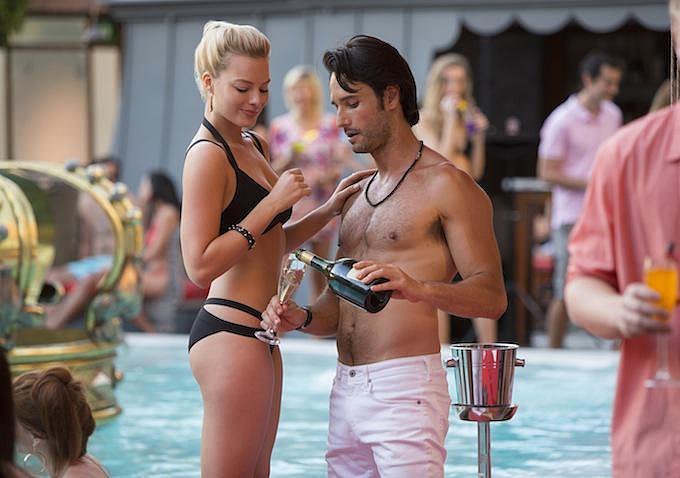 Jess (Margot Robbie) rocks a hot black bikini.
Focus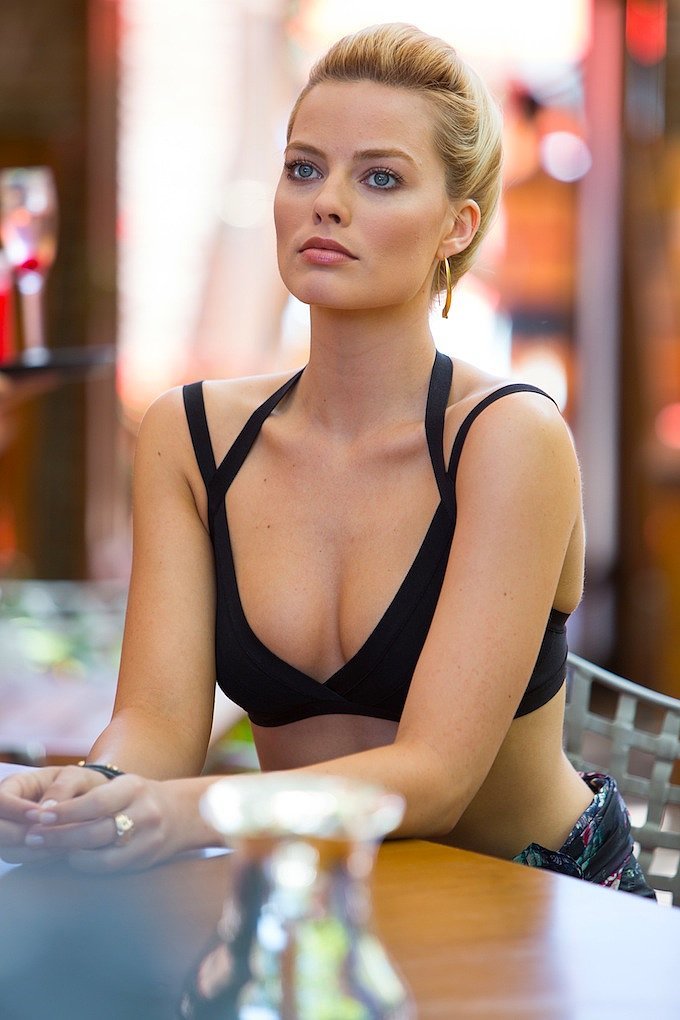 Robbie kills it in that bikini.
Grown Ups 2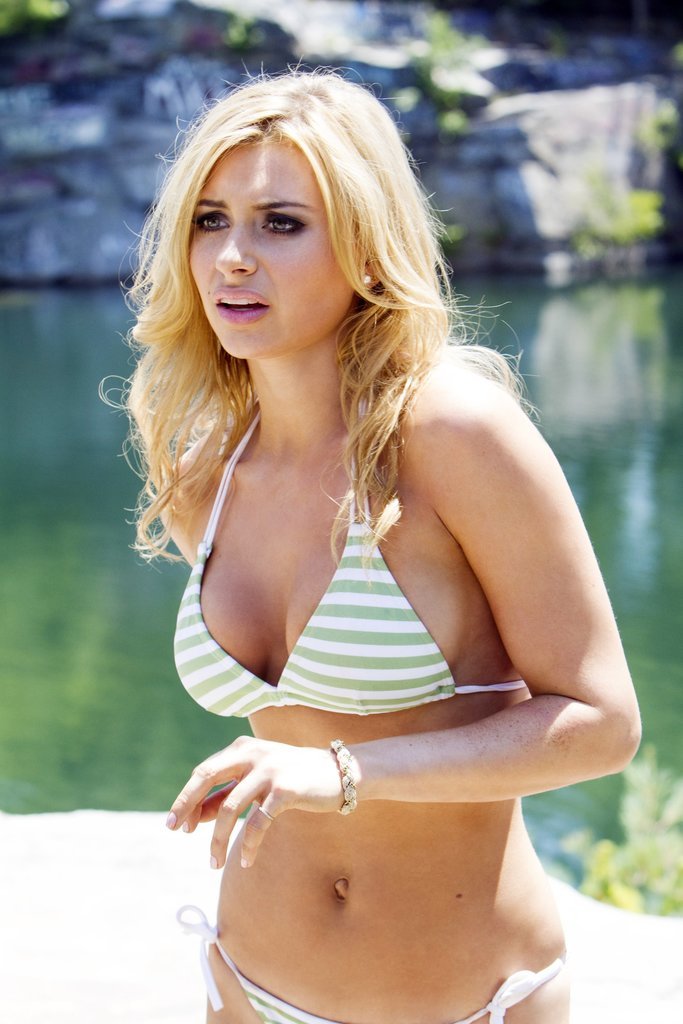 Aly Michalka rocks a teeny bikini in this sequel.
That's My Boy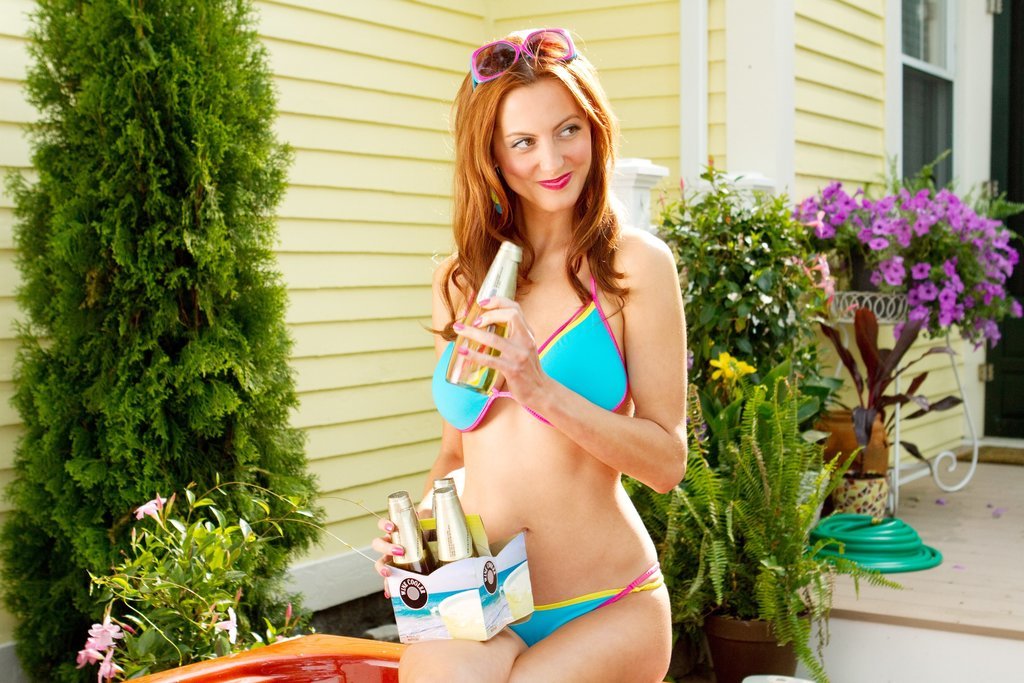 Eva Amurri Martino plays a sexy seductress in this Adam Sandler [30] movie.
Dr. No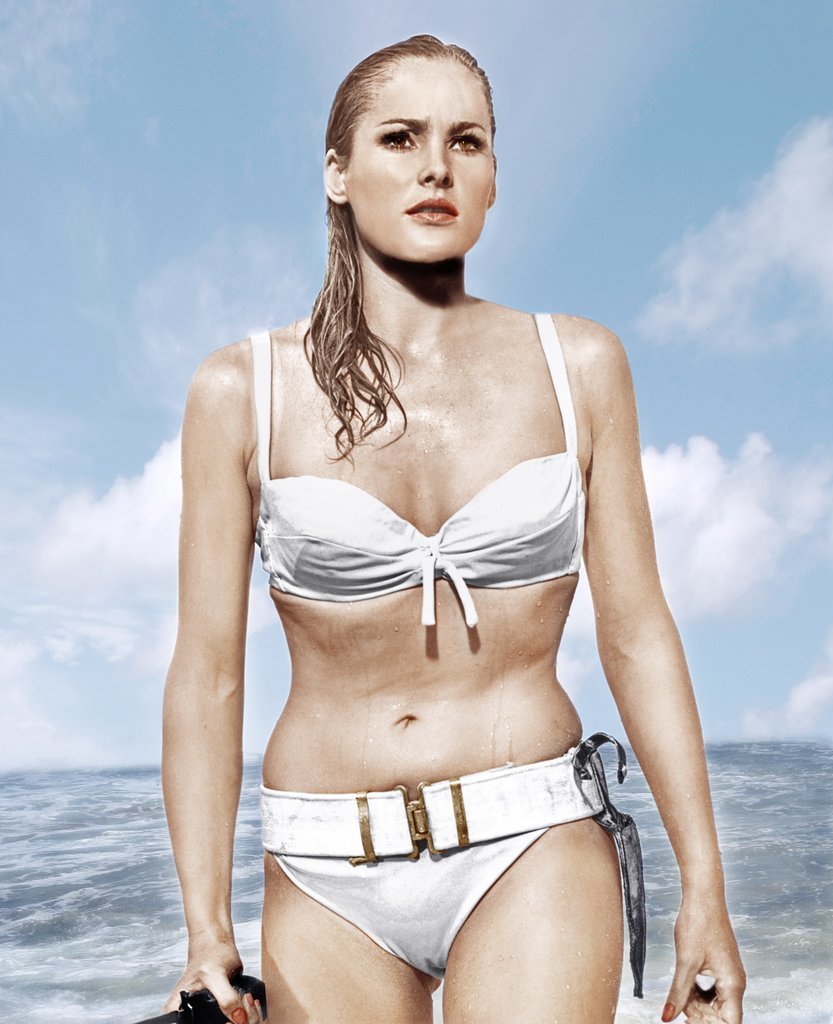 Sexy Bond girl Ursula Andress has maybe the most iconic bikini moment of all time in this 1962 film.